Darwin Journey Planner 
It is quick and easy to plan a trip in real time with the Darwin journey planner. This journey planner provides options and guidance for moving across Darwin. It displays the healthiest and active option first which also leads to fewer carbon dioxide emissions. It does not take into account weather or personal preferences.
E-scooters & E-bikes in the City of Darwin
The City of Darwin has provided consent for Neuron e-scooters and e-bikes to operate in the Darwin municipality under an exclusive exemption provided by the Northern Territory Government. Noting Neuron e-bikes do not require an exemption.
Where can e-scooters be used?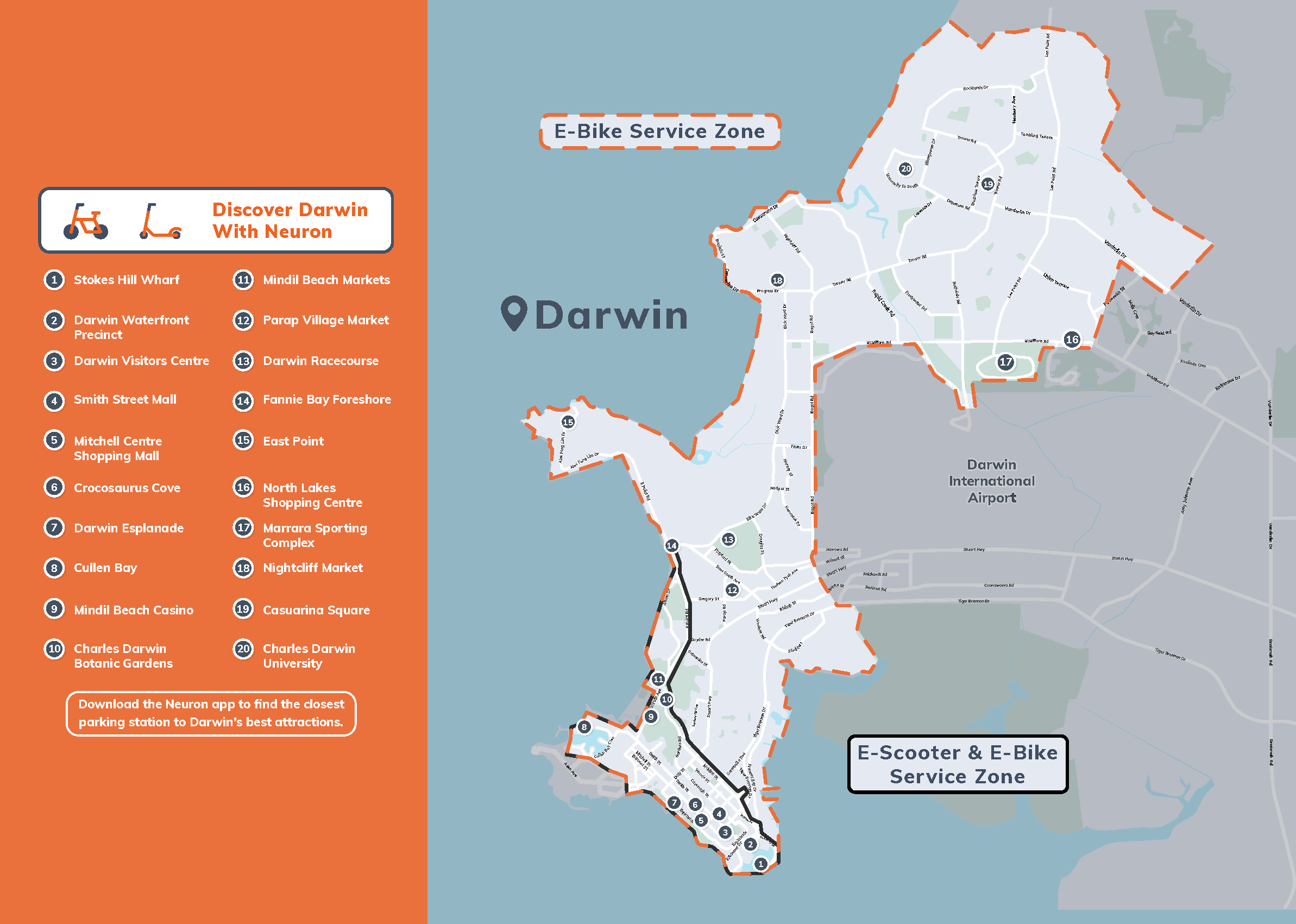 🛴 Neuron e-scooters operate in the Darwin CBD and can now also be ridden out to some of Darwin's most renowned venues including the Mindil Markets, Museum and Art Gallery of the Northern Territory (MAGNT), Darwin Ski, Sailing and Trailer Boat Clubs, Bundilla Beach and Fannie Bay Shops.
Key e-scooter parking locations
Darwin Waterfront
Darwin CBD
Cullen Bay
Mindil Beach
Fannie Bay
🚲 Neuron e-bikes operate in a much larger operating zone allowing users to ride further from the Darwin CBD out and around the suburbs of Parap, Nightcliff, Casuarina, Leanyer and Wulagi.
Key e-bike parking locations
Darwin CBD
Parap
Nightcliff
Charles Darwin University
Casuarina
E-scooters cannot be ridden
The e-scooters are geo-fenced and cannot be ridden or parked outside of allowable areas:
inside the George Brown Botanic Gardens
inside Mindil Beach during the Sunset Markets
Smith Street Mall at any time
around Parliament House and the Supreme Court
Mitchell Street between Peel and Knuckey streets from 7pm to 6 am
The e-scooter will reach a maximum of 15km/h, however speed is also limited in certain locations for safety reasons. These 'slow zones' are set by the E-scooter Working Group and they work in conjunction with GPS and geolocation.
E-scooter & E-bike Parking
You will find that Neuron has established a number of 'virtual parking stations' that can be seen in the app, where riders are rewarded for parking in predetermined spots. Riders must park their e-scooter/e-bike within the operating area in order to finalise the trip. If left outside the boundary, riders may continue to be charged.
E-scooter laws and road rules
The only e-scooters allowed to be used in the trial area are those owned by the operator permitted by the City of Darwin, Neuron Mobility. E-scooters are motor vehicles and all users must follow the road rules. Any offences or breaches of these road rules may result in penalties. Find all the information about the NT Road rules relevant to electric scooters here.
To enable the trial of electric scooters in the Northern Territory exemptions have been granted under the Motor Vehicles Act and Traffic Act.
Important Riding Rules and Safety Tips:
Neuron riders must be 18 years old and above
E-scooters can only be ridden on the pavement, and low-speed roads with a speed limit less than 50km/h and no dividing line.
E-scooters cannot be ridden on on-road bicycle lanes
Only one rider is allowed per e-scooter, and no tandem riding with children
Wearing a helmet is mandatory, there is one on every e-scooter
Maintain a safe distance between riders and pedestrians
Give way to pedestrians and mobility devices (such as wheelchairs) at all times
Do not ride under the influence of alcohol or any other substance
Park responsibly, don't obstruct access areas, don't park too close to a junction

Neuron asks all riders to follow the riding rules, you can visit the Neuron website to find out more.
Getting started
The e-scooters and e-bikes are unlocked using a smartphone app and are fitted with GPS tracking so that users and the operator can find them. To ride an e-scooter or e-bike in Darwin, you will need to be at least 18 years old. Simply download the Neuron Mobility app to your mobile device and then create an account.
Download on the Apple Store
As part of the account set-up you'll receive information about responsible riding and public safety while operating and riding the scooters. When you're ready, use the app to locate and unlock e-scooters.
Will e-scooters be available after the trial?
City of Darwin will monitor and evaluate the trial with any consideration of expanding the use of e-scooters, depending on the outcomes of the trial.
Facilitating the trial of e-scooters in Darwin has been a collaborative project between key stakeholders including City of Darwin, NT Government Department of Planning and Logistics, NT Police, NT Motor Accidents Compensation Commission, Darwin Waterfront Corporation, Cullen Bay Marina Corporation, and Neuron Mobility.
More information on Neuron's e-scooters
If you have any questions or concerns about e-scooters, including poorly parked scooters, user behaviour, and collisions, accidents, or injuries associated with e-scooters contact the provider customer service.
Website: https://www.rideneuron.com
Email: darwinsupport@neuron.sg
Q & A
Who is responsible for the e-scooters and e-bikes?

Neuron is operating the trial of e-scooters and e-bikes in Darwin. They are responsible for any issues to do with the scooters.
Neuron staff will:

collect e-scooters and e-bikes and park them at stations within the operating zone
replace batteries as required
sanitise vehicles at all touch points to ensure they are COVID safe.

Neuron's 24/7 operations team proactively rebalances over-crowded areas to nearby e-scooter deployment stations.

How do I contact Neuron?

Neuron can be contact through their website, via email or the app.

Can I be fined on an e-scooter?

You must follow the road rules when using e-scooters. Go to the NTG website for more information.