ANZAC Day Commemoration
ANZAC was the name given to a combined force of First Australian Imperial Force and New Zealand Army troops who landed on Turkey's Gallipoli Peninsula at around dawn on Sunday, the 25th day of April, 1915, barely nine months after the outbreak of World War I.
25 April is a day of national remembrance, which takes two forms. Commemorative services are held across the nation at dawn - the time of the original landing, while later in the day, former servicemen and servicewomen meet to take part in marches through the country's major cities and in many smaller centres. Commemorative ceremonies are more formal, and are held at war memorials around the country. In these ways, Anzac Day is a time at which Australians reflect on the many different meanings of war.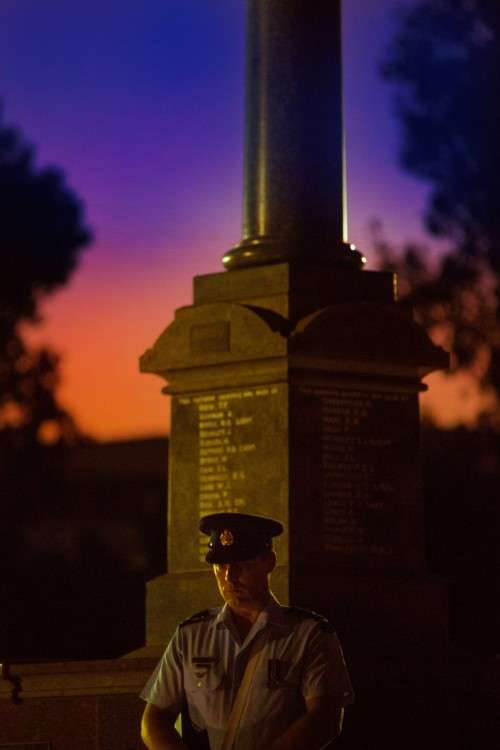 Darwin RSL 105th ANZAC Day Commemoration
0500 - 'Gunfire' breakfast – Hotel Darwin
0530 - Public begin assembling at Cenotaph
0550 - Veterans form up at ANZAC Walk at Bicentennial Park, the Esplanade and March to seating in front of Cenotaph
0600 - Dawn Service commences at The Cenotaph, The Esplanade
Order of Dawn Service
Master of Ceremonies, Mr Bill Buckley welcomes all guests
Arrival of the RSL contingent, led by the Drum Corps of the Australian Army Band - Darwin
The Prelude
Mounting of the Australian Defence Force Catafalque and Flag parties
Wreath or Book laying on Cenotaph
Guest Speaker: Wing Commander Steven Parsons, RAAF
Hymn Recessional
ANZAC Service – The Chaplin
Recitation of the Ode of Remembrance: Mr Stephen Gloster, President Darwin RSL
Last Post
One minutes Silence
Reveille
The Chaplain
The Darwin Chorale, accompanied by the Australian Army Band – Darwin, will lead the National Anthems of New Zealand and Australia
Dismount Catafalque and Flag Parties
Official Party Departs    
0700 - Reunion breakfast – Hotel Darwin
0730 - ANZAC Day Mass St Mary's Cathedral
0845 - Parade forms up on Esplanade
0900 - Parade moves off from
Esplanade
Along Knuckey St.
Right into Cavenagh St.
Dismiss at Bennett St/Civic Centre area
0930 - Reunion at Hotel Darwin