The Art to Street project transforms drab walls across Darwin, adding vibrancy and colour.
Seven local and emerging artists were chosen for their Art to Street project, from a quality field of 31 applicants. They will be mentored and develop skills and capacity to deliver murals on seven public spaces across Darwin. The artwork will add vibrancy and colour to otherwise uninteresting spaces.
The successful artists are;
Caleb Schatz - a local school student who wishes to become a professional artist, so he can share his creativity and inspire other people to find their inner creative also. 
Denise Quall - She is a local Larrakia artist and a descendant of the Dangalaba Gulubiringin Clan. With a passion for a variety of art it was in 2004 when Denise decided to showcase her art in which began a decade long involvement in public artworks around Darwin.
Jordan Connor- has recently started painting street art murals and is keen to explore painting murals as a business.  
Lara Connor - graduated high school in 2017 with a Merit Award in Visual Arts and has already completed 3 mural projects. 
Mandy Boots - She is a Darwin based artist and musician who has been teaching Design Technology and Art for 24 years. She perceives visual arts as an outlet of expression for mood and as such the majority of her work is patiently created, colourful and focussed on detail, accuracy and technical methods.. 
Ryan Medlicott - apprenticed as a tattooist and had his first mural commission in the 2018 Darwin Street Art Festival.
Taylor Smith - fell in love with the medium of spray paint at 15 years of age and is focused on developing a career as an independent artist and designer.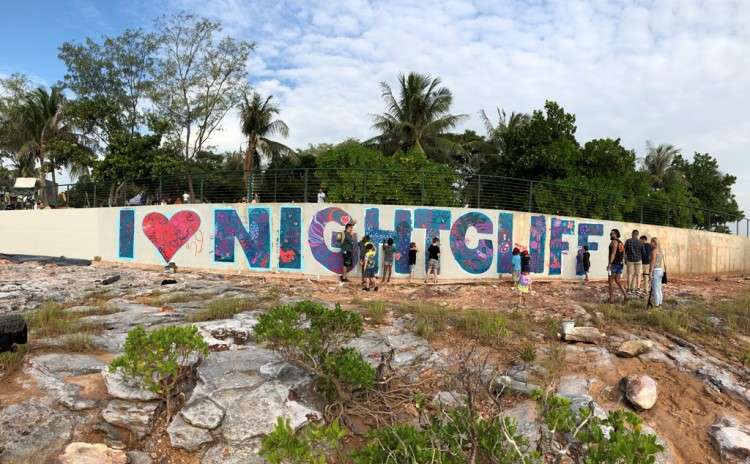 I love Nightcliff mural at Nightcliff seawall.
The sites chosen for the murals include the Nightcliff Seawall, Walkway 81 in Wagaman, the retaining wall on Gardens Hill Crescent in the Gardens, both sides of the Mindil Beach Sound Shell, West Lane in the CBD and Casuarina Library. 
Art to Street is a $90K project, jointly funded under the Federal Government's Building Better Regions Fund (BBRF).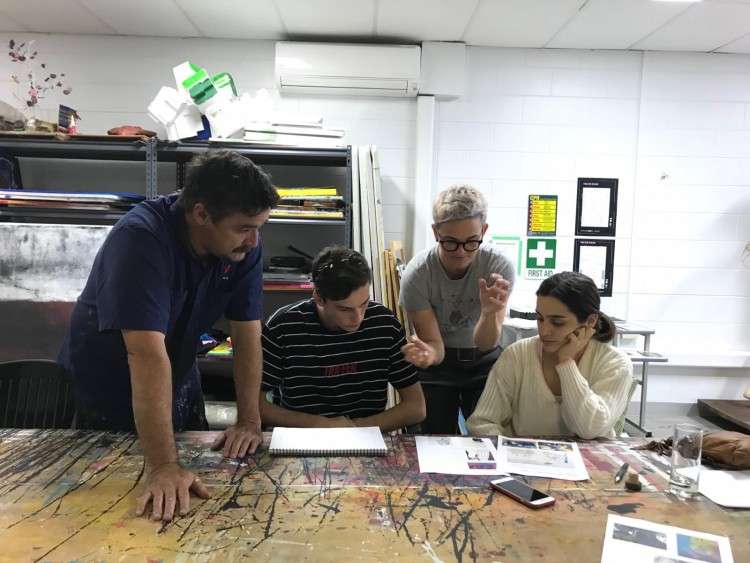 (L-R) Mentor David Collins of Proper Creative, Artist Caleb Schatz, Producer of Art to Street Tarzan and Artist Lara Connor developing their design for West Lane.
Site
Date
Designed By
Collaborator
Creative Mentor
Casuarina Library
(wall along Symes St)
15th – 19th July
Taylor Smith
Mandy Boots
Shaun Lee 
West Lane Carpark
6th, 7th, 13th, 14th, 20th & 21st July
Lara Connor and Caleb Schatz
Taylor Smith and Ryan Medlicott
David Collins 
Mindil Beach Sound Shell
15th – 22nd July
Denise Quall
Jordan Conrad
Shaun Lee 
Gardens Hill Crescent
22nd – 26th July
Mandy Boots
Lara Connor
David Collins 
Walkway 81, Wagaman
27th & 28th July
Ryan Medlicott
Caleb Schatz
David Collins 
More Information
For all enquiries regarding public art in the city of Darwin contact:
Arts and Cultural Development Coordinator (Public Art Project Manager)