Sponsorship can be a great way for you and your organisation to work with Council in a mutually beneficial way.
Sponsorship is when Council has an arrangement with an organisation or individual to support new or existing programs services, facilities or events which contribute to the quality of life for the Darwin community in return for specified benefits.
Sponsorship differs from Grants Programs or donations.
Sponsorships must fit the goals of Council (as outlined in the City of Darwin Strategic Plan) and the benefits to City of Darwin must be clear and demonstrable.
City of Darwin's 2020/21 Sponsorship Program Guidelines will tell you everything you need to know about Council's program and how to apply.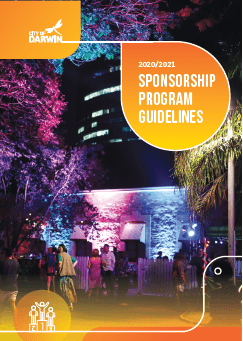 Sponsorship is not:
A donation or grant
An endorsement of any product, service or cause
Part of normal assistance programs of City of Darwin
Generally applicable to those programs or events eligible for consideration under the Grants Program
Advertising, or any part of an advertising package
Philanthropic as a sponsor expects to receive a reciprocal benefit beyond a modest acknowledgement
We do not generally sponsor conferences, seminars, functions, individuals, record attempts or fundraisers unless they are directly related to our corporate objectives or local government.
If you think sponsorship is for you – please read through this policy before applying.
The aim with Sponsorship is to have agreements that last for 1-3 years. There is provision for one-off sponsorship. (On occasion, where there are extenuating circumstances, sponsorship proposals may be considered  outside the annual Council process to allow for sponsorship for events in the current financial year.)
Sponsorships are reviewed when the agreements expire.
The annual Sponsorship Program opens for applications in March for events and projects in the following financial year. A report on the assessment of sponsorship proposals goes to Council in April-May each year and Council decides which Sponsorships will be supported for the following financial year/s (subject to the Council budget decision in May/June).
Apply for Sponsorship
Applications for both grants and sponsorships are through the online SmartyGrants system. Applications for 2020/21 closed on 22 March 2020.
City of Darwin is not accepting any out-of-round sponsorship proposals at the moment as the 2020/21 round is currently being assessed. 
Out-of-Round Sponsorship
A proposal may be considered outside the annual application process if there are extenuating circumstances that prevented submission through that process. These proposals will be assessed using the same criteria as used in the annual online application process.
The proposal may be considered for funding:
Using available sponsorship contingency funding
By consideration and decision of Council
Out-of-round sponsorship proposals of less than $10,000 value (including cash and in-kind contributions) may be approved by the CEO in liaison with the Lord Mayor (subject to funding availability)
For all sponsorships in excess of a total value of $10,000 value (including cash and in-kind contributions) a report will be prepared for review by Council.
If you would like more information or assistance with applying for sponsorship please contact Council.
Grants Program
In addition to sponsorship, we offer a Community and Environment Grants Program. This program are aimed at assisting community organisations with the development of activities and services to benefit a broad cross-section of the community.
Find out more about Community Grants.
What is the difference between City of Darwin Grant and Sponsorship Programs?
Grants and sponsorship programs both benefit the community and help the Council meet the goals in the Strategic Plan Darwin 2030: City for People. City of Colour. There are some key differences between the programs. Make sure you are applying for the appropriate program. Check in with Council if you need further clarification.
Not for profit vs commercial

Grants focus support on not-for profit organisations. So if you are a commercial organisation you will not be eligible for a grant but you may be eligible for sponsorship.

Ongoing support vs one-off funding

Grants are for one-off support for a particular project. Projects that have previously been funded through the Grants Program are ineligible for further grant funding. Sponsorships are different. Sponsorship agreements are for 1, 2 or 3 years. A focus of the sponsorship program is to build relationships with organisations. For example, iconic events and festivals may have ongoing support over many years.

Amount of funding available

Grants must be $10,000 or under. Sponsorships can be for any amount. The current Sponsorship program shows the range of events and projects being sponsored and the amounts funded. All the details are on page 78 of the City of Darwin Municipal Plan 2019/2020. The total value of the 2019/2020 program is $275,250. The total amount available for all community grants in 2019/2020 is $150,000.

Expectations of return on investment

Sponsorships must offer return on investment in the form of sponsor benefits. Grant recipients should acknowledge council support but not to the same level of 'return on investment'.

Iconic events vs niche projects

The events and projects in the Sponsorship program generally have broad appeal across the community and attract large numbers of participants. Projects with a more delineated audience may be appropriate for a community grant.