City of Darwin Lord Mayoral delegation participated in the N.T's Reaching South Program in 2019. The  Memorandum of Understanding with Qingdao Municipal Government was established on 17 October 2019 in Qingdao.
Signing on 17 October 2019
Background
It was initially introduced by the Northern Territory Government to establish a Friendship City with Qingdao, Shandong, China in August 2019. A delegation from Qingdao Foreign Affairs Office, Qingdao Municipal Government visited Darwin in September 2019 to further the discussion.
City of Darwin Lord Mayoral delegation participated in the N.T's Reaching South Program in 2019. City of Darwin Lord Mayor The Hon. Kon Vatskalis signed the Memorandum of Understanding with Mayor Fanli Meng of Qingdao Municipal Government on 17 October 2019 in Qingdao.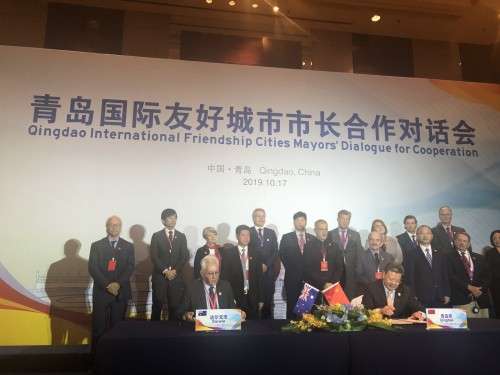 City Profile
Qingdao (formerly known as Tsingtao) is a city on the southern coast of China's Shandong Peninsula, the city faces the Yellow Sea to the south and east and, borders inland areas of Shandong Province to the north and west.
Qingdao covers a land area of 11,282 square kilometres and a sea area of 12,240 square kilometres. The city has a resident population of 10 million and has jurisdiction over seven districts, i.e. Shinan, Shibei, Licang, Laoshan, Huangdao, Chengyang and Jimo, and three county-level cities of Jiaozhou, Pingdu and Laixi.
Qingdao is one of the best-known tourist destinations in China. It has an 863-kilometer-long coastline dotted with 49 bays and 69 islets. Its indented coastline, temperate climate, and headland-bay beaches are ideal for holiday-making, sightseeing and for meetings, incentives, conferences, and exhibitions (MICE).
Over 100 exhibitions and conventions are held in Qingdao every year, including the Qingdao International Beer Festival and China International Consumer Electronics Show.
Qingdao is also an Olympic city and China's "sailing capital". It was the venue for the sailing competition of the Games of the XXIX Olympic games and the XIII Paralympic Games in 2008. Based on its Olympic success, the city hosted a series of sailing events including the Volvo Ocean Race, Clipper Round the World Yacht Race and ISAF Sailing World Cup. It also 
launched a Qingdao International Sailing Week, which has become an annual festival celebrated every August since 2009.
Qingdao is China's leading city for marine science and technology (MST) and a champion of the blue economy. It is the seat of the Ocean University of China, Qingdao National MST Laboratory, and National Deep Sea Center, which all serve as national platforms for innovation. The city of Qingdao boasts 30 percent of China's marine research institutions, 50 percent of elite Chinese marine scientists and 70 percent of the members specialised in MST at the Chinese Academy of Sciences and the Chinese Academy of Engineering.