Overview - Access and Inclusion
Our goal is to strive for efficient and non-discriminatory work practices and equity in the provision of services and facilities such as inclusive recreational equipment and disabled car parking permits. We facilitate an Access and Inclusion Advisory Committee which informs and advises us on its responsibilities for people with a disability and also hosts the annual celebration of Disability Awareness Festival in collaboration with several other community organisations.
Community Access Plan 2012 - 2017
Our Community Access Plan 2012 - 2017 describes actions to be undertaken to facilitate access and inclusion for all members of our community. The Plan will be instrumental in facilitating equitable and dignified access to our services, communications and employment systems, and will enhance access in the broader community.
Download the large print version here
For the audio version of the Community Access Plan 2012 – 2017 

<audio file not available>
RECHARGE Scheme
In partnership with RECHARGE Scheme Australia Limited, we are proud to be involved with the RECHARGE Scheme services.
For more go to Recharge Scheme
Accessible Equipment
We provide a variety of equipment that assist community events and activities at some of our popular recreation locations to be more accessible.
For more go to Accessible Equipment
Disability Awareness Festival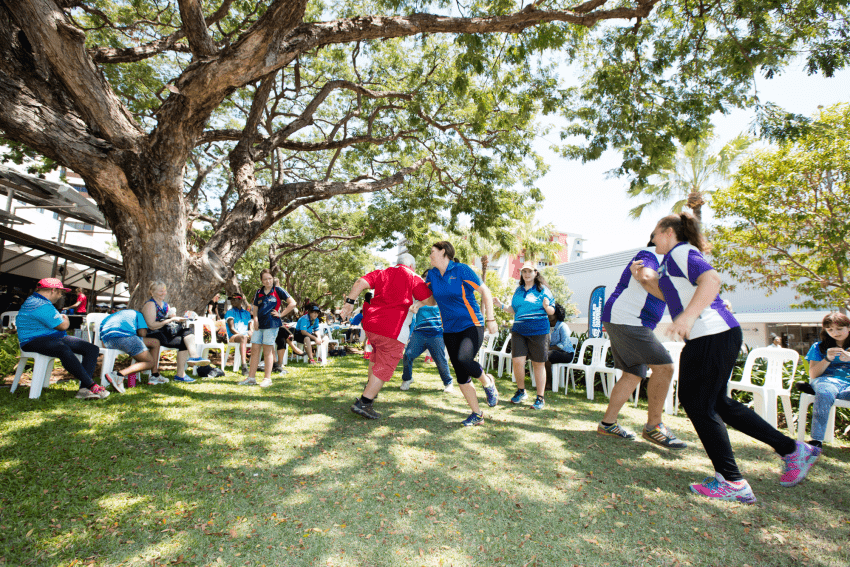 We are proud to sponsor the annual Disability Awareness Festival (DAF).
We and the Access and Inclusion Advisory Committee have been involved with Disability Awareness Festival since 2004 and the celebrations have gained momentum each year.
The festival aims to promote access to all community events for people with a disability; advocate for the rights of people with a disability and support the artistic, cultural and sporting aspirations of people with a disability. Information regarding disability services is distributed throughout the festival program and events, encouraging the community to think more broadly and creatively about what people with a disability can accomplish and how they can lead a fulfilled life in the community.
The 2017 Disability Awareness Festival will run from Monday 4 September until Friday 22 September.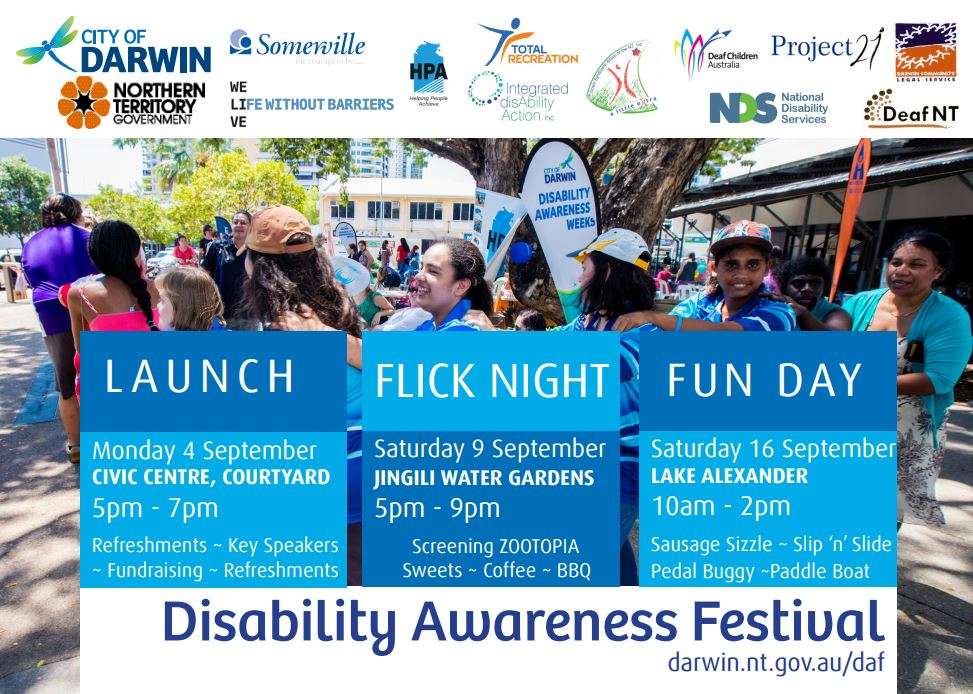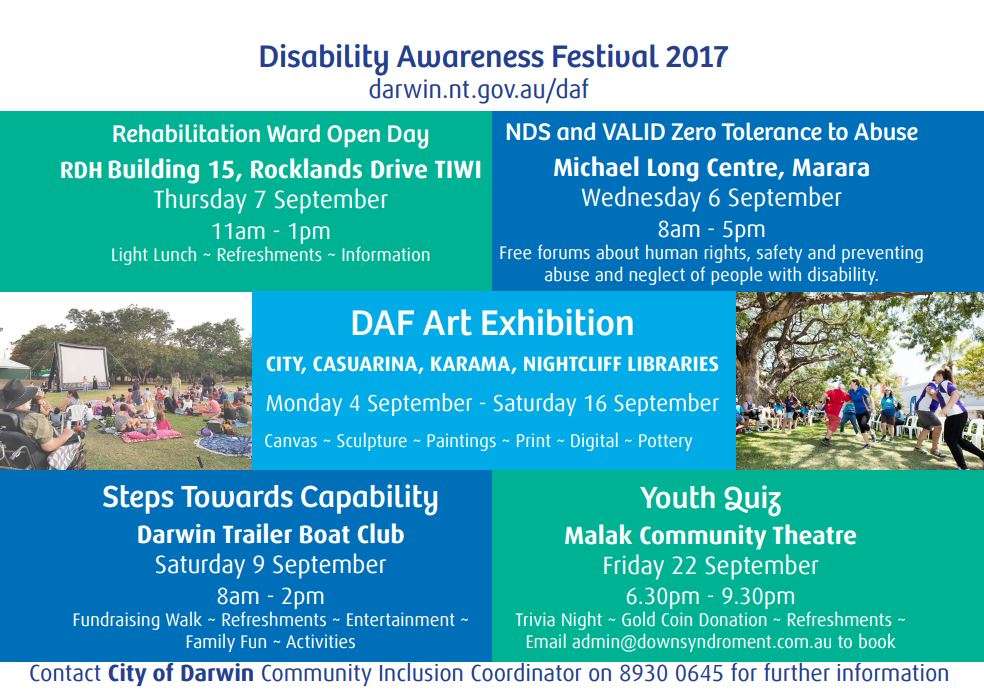 More Information
Download the 2017 Disability Awareness Festival flyer
For further information on the Disability Awareness Festival contact the Community Inclusion Coordinator:
Community Services Publications
Our community services directory is your one-stop shop for support services in Darwin. You can search and browse for services relating to
aged and disability services
youth services
support services.
View the Community Service Directory
Access and Inclusion Advisory Committee
Our Access and Inclusion Advisory Committee was established to ensure equity to access to people with disability with regards to our procedures, services and facilities.
For more go to Advisory Committee
Disability Parking Permits
The Australian Disability Parking Permit comes as a result of a project undertaken by the Australian Government and all States and Territories to harmonise disability parking programs throughout Australia. For the first time disability parking permits will look the same wherever you travel within Australia.
National Disability Insurance Agency
National Disability Insurance Agency (NDIA) are the agency delivering the National Disability Insurance Scheme (NDIS).
The NDIS is rolling out across the Northern Territory. From the 1 July 2018, the scheme will be available to Darwin residents who meet the accessibility requirements.
To find out more about the NDIS and assess your eligibility follow the link below, or call: