Overview - Access and Inclusion
We strive for efficient and non-discriminatory work practices and equity in the provision of our services and facilities.
Access and Inclusion Plan 2019 - 2022
Our new Access and Inclusion Plan (2019 - 2022) will build on the work of our Community Access Plan (2012 - 2017), and provide a framework to continue to support people with disabilities and other access challenges to engage with Council and access all areas of our operations.
Access and Inclusion Plan 2019 - 2022
Access and Inclusion Plan 2019 - 2022 (large text print)
Access and Inclusion Advisory Committee
Our Access and Inclusion Advisory Committee advocates, informs and guides Council on improved access and inclusion for all people of all abilities, living, studying or visiting the Darwin municipality.
For more go to Advisory Committee
DiversAbility Collective
The DiversAbility Collective is a network of organisations from the social service and disability sectors working collaboratively to build a capital city that is inclusive of all people.
The Inaugural Lord Mayoral Awards
In celebration of this year's International Day of People with Disability (IDPwD) on Tuesday 3 December, the DiversAbility Collective will be hosting a Carnival of Fun event at Tennis NT in Marrara.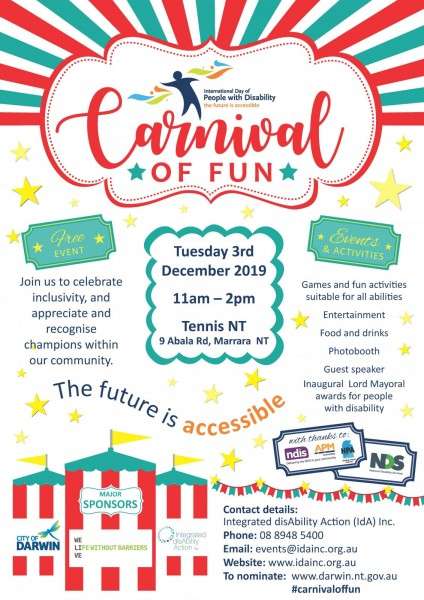 As part of the celebrations, City of Darwin is launching the inaugural Lord Mayoral Awards Program to appreciate and recognise champions within our community. There are two categories for the awards:
The Champion Award – for a person who has made an outstanding contribution advocating for the rights and well-being of people with a disability, and
The Rising Star Award – for a person under 25 years who makes an on-going contribution to their school, workplace or community advocating for the rights and well-being of people with a disability. 
Nominations open Monday 14 October and close 5.00pm on Wednesday 13 November, 2019.
RECHARGE Scheme
In partnership with RECHARGE Scheme Australia Limited, we are proud to be involved with the RECHARGE Scheme services.
For more go to Recharge Scheme
Accessible Equipment
We provide a variety of equipment that assist community events and activities at some of our popular recreation locations to be more accessible.
For more go to Accessible Equipment
Community Services Publications
Our community services directory is your one-stop shop for support services in Darwin. You can search and browse for services relating to:
seniors and disability services
youth services, and
support services.
View the Community Service Directory
Disability Parking Permits
The Australian Disability Parking Permit results from a project undertaken by the Australian Government and all States and Territories to harmonise disability parking programs throughout Australia.
National Disability Insurance Agency
The National Disability Insurance Agency (NDIA) are the agency delivering the National Disability Insurance Scheme (NDIS).
The scheme is now available to Darwin residents who meet accessibility criteria, providing funding to help people get the support they need so their skills and independence improve over time.
To find out more about the NDIS and assess your eligibility follow the link below, or call:
Visit the website for services in your area
Resources
Accessible Symbol

This symbol is one of the most internationally recognised symbols, but do you know what it really means? Did you know that it represents a set of values about accessibility and that it should be used to indicate a space is accessible to people with many different disabilities and health conditions, not just those who use a wheel chair? 
TED Ed Talk
We encourage you to watch this four minute TED Ed talk by Adrian Treharne to learn more about what the symbol represents and who it is designed to assist.
Richard Branson Video
#Valuable500 is a global movement putting disability on the business leadership agenda. Hear Richard Branson speak about why Virgin Media are part of the #Valuable500 movement.
The Principles of Universal Design
Universal design is the design of products, environments, programs and services to be used by all people of different ages and abilities over time, without the need for specialised design.
Last modified
14 Oct 2019