The municipality of City of Darwin is divided into four wards. Each ward is represented by three elected members on Council.
City of Darwin (Council) was established in 1957 and operates under the Northern Territory Local Government Act.
There are 13 Elected Members, one of whom is the Lord Mayor, all of whom are elected by the people.
---
By- Election for LYONS WARD - February 2020 - SUCCESSFUL CANDIDATE TO BE ANNOUNCED MARCH 2020

Alderman Sherry Cullen, who represented the Lyons Ward resigned effective Friday 15 November 2019.
 For frequently asked questions click here. 
---
Find out more about your Ward and Aldermen
Following the Lyons By-Election in February 2020, new Elected Member Profiles will be posted here and will replace these existing profiles.  (Click image to enlarge)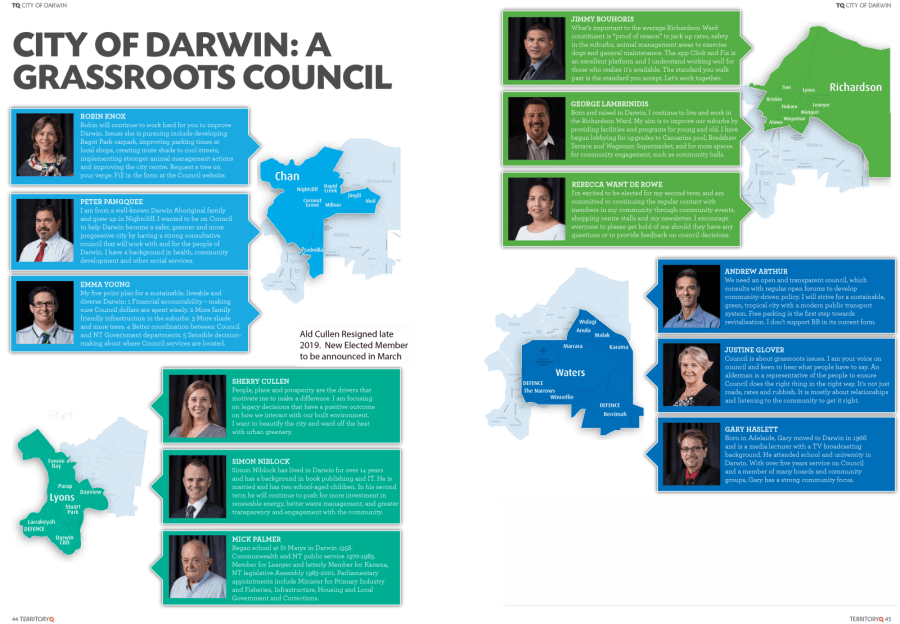 Elections
There are four electoral districts or wards within the Darwin municipality (Chan, Lyons, Richardson and Waters.) and each ward returns three aldermen at an election held every four years. 
The most recent election was held on 26 August 2017.
For more information:
NT Electoral CommissionInformation on erecting election Signs