The Municipal Plan and Annual Budget is prepared each year and outlines Council's deliverables for the financial year. These deliverables directly contribute to delivering on the Darwin 2030 Strategic Plan and 10 year vision City for People. City of Colour. The Municipal Plan is the key document to bring together the actions outlined in the Strategic Plan, 10 year Asset Management Plans and 10 year Long Term Financial Plan. 
2019/20 Municipal Plan and Annual Budget
The 2019/20 Municipal Plan and Budget of the Council paves the way for a strong, sustainable and smart future for our City.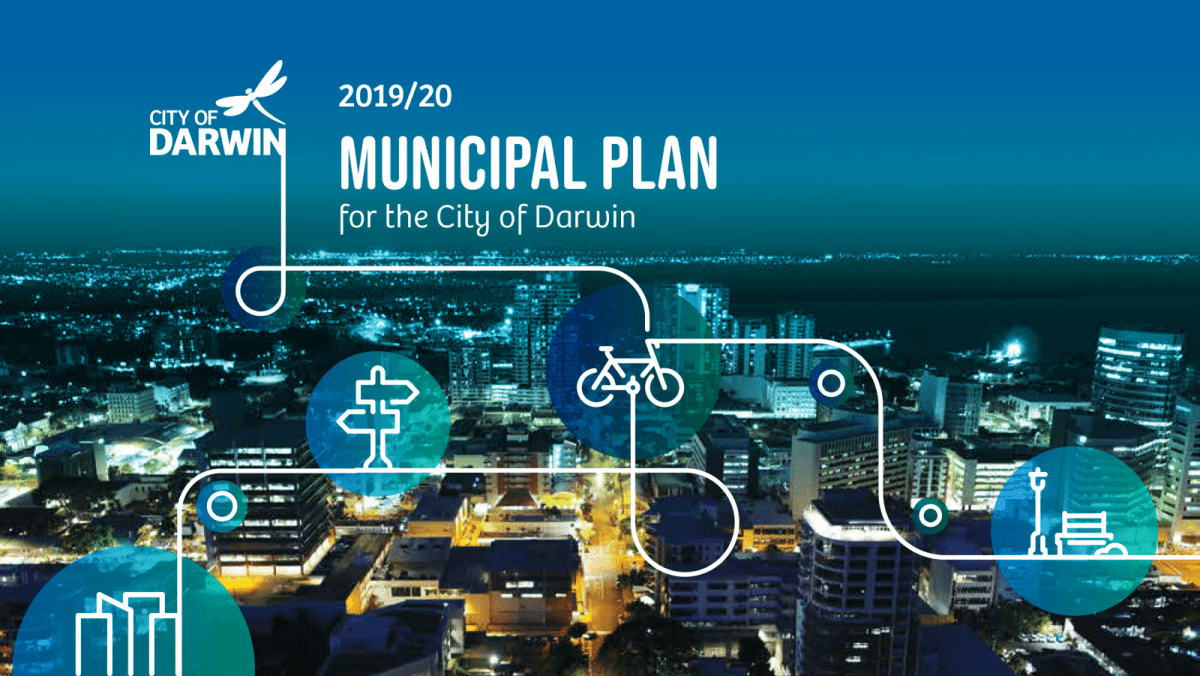 This plan is about putting 'Darwin First'.  The unprecedented $53.07M investment in community infrastructure, smart technology and local amenity initiatives will help to stimulate the local Darwin economy.
Key Projects 
Key projects include major works and upgrades at the Shoal Bay Waste Management Facility, undertaking Stage 2 of the Lakeside Drive upgrade project, delivering lights to key urban ovals and beautification projects across the municipality.
4,000 Trees – Greening Darwin

$1.10M has been allocated to plant 4,000 trees across the municipality as part of  Cyclone Marcus recovery and Council's objectives to Green Darwin.

The 4,000 trees will complement 3,000 trees planted in 2018/19 to bring the total replanting program to 7,000 trees post Cyclone Marcus.  The trees will be advanced plantings and are expected to be planted by December 2019

2019/20 Project Budget - $1.10M

Estimated Completion Date: December 2019

Daly Street Beautification

Daly Street will receive $2.0M for beautification works to be delivered in four stages.  Stages 1 and 2 will deliver works between Mitchell and Smith Street, Stage 3 between Smith and Cavenagh Streets and Stage 4 will deliver work from Cavenagh Street to McMinn Street.  The beautification works deliver in part Project MP007 as outlined in the Darwin City Centre Master Plan

2019/20 Project Budget - $2.0M

Estimated Completion Date: June 2020

Streetscape Beautification

City of Darwin has resolved to dedicate funds annually for five years to the upgrade of streetscapes across the municipality.  In 2019/20 each Ward will receive $400K.  The Streetscape Beautification Project is designed to improve amenity and is a key project to achieve Council's Strategic Direction for a Cool, Clean and Green City by 2030.

2019/20 Project Budget - $1.6M

Estimated Completion Date: June 2024

Shoal Bay Waste Management Facility

Shoal Bay Management Facility services the greater Darwin region and is the only licensed landfill in the area. The facility receives over 180,000 tonnes of waste per annum and has a forecasted operational life until 2034.

$13.2M has been allocated towards developing a Leachate Treatment System at the Shoal Bay Waste Management Facility. The Leachate Treatment System will boast innovative design that will ensure Darwin is recognised as a national leader in the treatment of leachate and is estimated to be delivered over three years to 2021.

In addition $8.0M has been allocated for the construction of a new cell (Cell 6), as well as $1.0M to deliver a new entrance and weighbridge at the facility this year.

2019/20 Project Budget - $22.45M

Estimated Completion Date: 2021

Lakeside Drive – Stage 2

City of Darwin will utilise $2.5M of the $3.4M of new funding under the Federal Government Roads to Recovery Program for Stage 2 resurfacing of Lakeside Drive.  Lakeside Drive is a critical link in Council's overall road network linking major connector routes to the northern suburbs.  Stage 1 of Lakeside Drive was completed in early 2019. Design of Stage 2 is currently underway with construction to commence immediately once design is complete.  The project will be completed by June 2020.

2019/20 Project Budget - $2.5M

Estimated Completion Date: June 2020

Urban Oval Lights

The Northern Territory Government has committed $4.8M for City of Darwin to light sports ovals under the Urban and Regional Oval Lights Program. Lights will be installed at Gardens One, Bagot and Nightcliff Ovals. The community have expressed strong support for the proposals.  The light projects for ovals at Gardens One and Bagot have been approved for installation. The Nightcliff Oval proposal has been submitted to the Development Consent Authority for approval.  Work is planned to commence in the 2019 dry season.

2019/20 Project Budget - $3.3M ($1.3M expected to be received 2018/19)

Estimated Completion Date: June 2020

Municipal Ward Projects

City of Darwin has allocated $1.0M to small projects across the municipality.  Small projects are focussed on improving the amenity of Darwin and delivering services specific to each Ward.  Small projects have arisen from the community's effective engagement with Elected Members.  As part of its commitment to the City of Darwin, the Northern Territory Government has matched Council's contribution with a further $1.0M bringing the small projects budget total to $2.0M.

Project Budget - $1.0M

Estimated Completion Date: June 2020
Highlights of Draft 2019/20 Municipal Plan 
Have your say:
The Draft Municipal Plan is open for public feedback from Wednesday 15 May to Friday 7 June.
To provide your feedback please go to our Engage Darwin page
Last modified
15 May 2019