The Sister City Subcommittees are advisory. Their purpose is to provide support to City of Darwin's Sister City program by sharing information, knowledge, expertise and cross-cultural links between Darwin and our Sister Cities. 
Applications are now open to become a member of the Sister cities subcommittee.
City of Darwin have five sister cities including Ambon (Indonesia), Anchorage (US), Dili (Timor Leste), Haikou (China) and Kalymnos (Greece).
Roles and Functions 
The role of the Sister City Subcommittees is to provide recommendations to the International Relations Advisory Committee about sister city program.
The key functions of the Sister City Subcommittees are to: 
Act in an advisory capacity to the International Relations Advisory Committee 
Provide support and contribution to City of Darwin Sister City programs 
Share knowledge, information, expertise and connection to City of Darwin to achieve its strategic outcomes
The subcommittees may assist the delivery of the sister city project endorsed by City of Darwin when needed.
Membership will be representative from Darwin and will reflect the skills and expertise required to meet the purpose and objectives of the program. The Sister City Subcommittee may comprise up to 10 members.
Members will be appointed for a two-year term being 1 July to 30 June.  
Meetings
The subcommittees will meet four times a year within the weeks nominated in the schedule.  Actual days of the week to be decided by the applicants. 
Reporting Guidelines 
The Subcommittee will report to the International Relations Advisory Committee and refer any unresolved matters/decisions to General Manager of Innovation Growth Development for deliberation.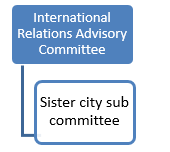 Become a member of a Sister City Subcommittee
We welcome applications to join our Sister City Subcommittees, which sit under the International Relations Advisory Committee. Complete the Application  Form.
FAQs
Who can be a member?

Membership will be representative from Darwin and will reflect the skills and expertise required to meet the purpose and objectives of the program

Experiences in local industries, for example Tourism, Agriculture, Education, etc.
Knowledgeable of international business opportunities
Support and develop relationships for mutual economic benefit of both locations
Has the ability and capacity to contribute skills and knowledge to sister city activities
Willing to operate within the guidelines of the program
Motivation and enthusiasm to contribute in committee meetings and international relations activities.

 

What is the key role of the Chair?

 

The Chair is responsible for the management the performance of the Sister City Subcommittee 
Serve as the Subcommittee representative on the International Relations Advisory Committee and act as a link between the Subcommittee and International Relations Advisory Committee 
Subcommittees are expected to provide collective recommendations to the International Relations Advisory Committee; however, a Chair may need to resolve a discussion from time to time if a matter raises disagreement.  At a minimum the Chair will be responsible for managing ("chairing") Subcommittee meetings – directing debates, ensuring that discussions do not stray too far from the prepared agenda and keeping members within the meeting procedures 
The Chair is also responsible for taking a leading role in keeping the vision alive, setting the group's course in agreement with other members and monitoring its direction, and for ensuring that proper meeting, procedures are in place
The International Advisory Board Committee is the direct communication of the Subcommittee Chair.

 

What is the key role of Ordinary Member?

 

Actively participate in sister cities activities and meetings through attendance, discussion, and review of minutes, papers and other committee documents.
Sharing information, knowledge, expertise and connections to support the sister cities program
Able to make the contribution to the sister city program to achieve the strategic outcomes 

 

What is the City of Darwin's next steps after I submit the Application Form?

 

Review the Application Forms received
Short listing
Q&A meeting
Notify of successful applicants

 
More information
For further information contact the Manager International Business Relations on
Sister City Subcommittee membership application form