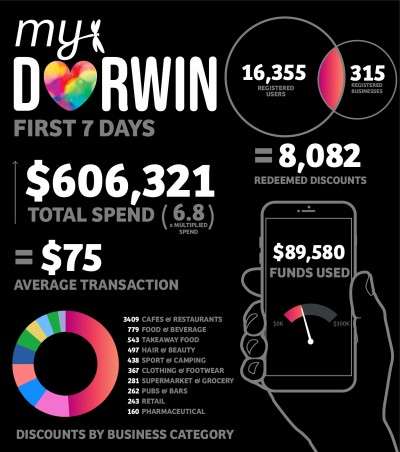 City of Darwin's myDarwin discount voucher program is proving a success, with more than 300 local businesses already benefitting from this initiative.
At the end of the first week, the program has seen 15,500 people register and more than 7,200 discount vouchers redeemed, with customers spending an average $75 to redeem their discount.
"City of Darwin is delighted with the program's success to date," said General Manager Innovation, Growth and Development, Josh Sattler.
"This is the first time a local government in Australia has launched this type of program and I'm proud we have taken the lead to support our community at this time."
"The myDarwin program is encouraging people to spend their money with local businesses, which is a terrific outcome."
"Customers have already spent more than half a million dollars at local businesses, in conjunction with the myDarwin vouchers."
If the program continues on its current trajectory the $300,000 allocated to the initiative from Council's parking reserves is expected to be expended by early July.   
Mr Sattler is encouraging customers and local businesses to sign up and benefit before funds run out.
"Many businesses and customers are already benefitting from the program and with significant funds still available there is still time to sign up, save and support local businesses," he said.
To date industries that have benefitted the most from the program are food and beverage, sport and camping, hairdressing and beauty.
"With more than 700 customers registering for the program daily it is likely the program will end early July."
Customers who register receive $40 worth of myDarwin discounts each day to spend at local small and medium retail, hospitality and tourism businesses.
Discount voucher details for customers are:
Receive $2.50 discount on minimum spend $10
Receive $5 discount on minimum spend $20
Receive $10 discount on minimum spend $40
Receive $20 discount on minimum spend $80
 Local businesses must have an ABN or ACN, have been operating for at least 6 months, operate in the retail, hospitality and tourism sectors, have a turn over less than $10M and have a local shopfront in the Darwin municipality.
For more information, to register your business or sign up to receive vouchers simply visit mydarwin.me