The Darwin City Deal is a joint initiative between the Australian Government, the Northern Territory Government (NTG) and City of Darwin to design a 10-year plan for the Darwin city centre that sets a long term and sustainable vision for the future.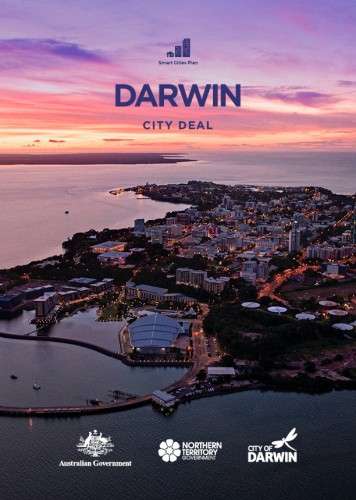 The $200 million Darwin City Deal is a joint initiative between the Australian Government, the Northern Territory Government (NTG) and City of Darwin to deliver a 10-year plan for the Darwin City Centre that sets a long-term vision for the future to address Darwin's unique challenges and put our city on the path to economic prosperity and sustainable growth.
Prime Minister Scott Morrison, NTG Chief Minister Michael Gunner and City of Darwin Lord Mayor Kon Vatskalis made the Darwin City Deal official during the Prime Minister's visit to Darwin on Friday, 16 November 2018.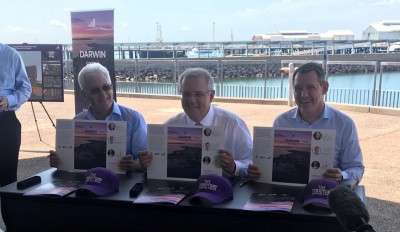 City Deals are a collaborative process between all three tiers of government to develop policies and investments which create future-ready cities.
Darwin is the social, cultural and economic heart of the Northern Territory. It is the capital of the Northern Territory and Australia's most northern city.
The city is positioned in close proximity to Asia, this makes the city perfectly placed to integrate further into Asian markets and enhance the links between global supply chains and the trade with Asia that will help drive Australia's future.
The city is facing a number of challenges, including the wind-down in construction of a major resource project and a slowing population growth.
For the first time, the Australian and Northern Territory Government's, and City of Darwin have come together, in consultation with the Darwin community, to agree a 10-year plan for Darwin's future – the Darwin City Deal.
The Darwin City Deal will position Darwin as a vibrant and liveable tropical capital city, supported by a growing population and diversified economy.
It will support catalyst projects to revitalise Darwin's city centre, as well as the planning and collaboration necessary to support Darwin's growth. This will help to unlock investment in Darwin, grow its population, boost visitor economy and support greater business activity.
Darwin City Deal Key Commitments
A new education and civic precinct, including a new Charles Darwin University city campus, will transform the city centre, attracting more international students to Darwin, boosting retail activity and bringing vibrancy to the CBD.

The precinct will make a clear statement about the importance of education and research for Darwin's future.

A redeveloped and greener State Square will cool the city, making it more liveable and increasing space for outdoor events and festivals, ensuring Darwin is a vibrant tropical capital.

This will be complemented by the development of a new Art Gallery in State Square – a major new tourist drawcard for Darwin.

Innovations to cool and green the city, along with promoting climate-appropriate design, will help change the face of Darwin, transforming it into a best-practice example of tropical urban living.

This includes a CSIRO-led 'Urban Living Lab', a collaborative effort between governments to test, monitor and evaluate improvements in Darwin's liveability, sustainability and resilience.

Support for the Larrakia people as the traditional owners of Darwin, including increasing the share of jobs held by Indigenous Australians through employment targets for City Deal projects, promoting Larrakia culture to locals and visitors, and planning for the future development of a Larrakia Cultural Centre at Stokes Hill.
Unlocking the potential of dormant sites in Darwin, such as the Stokes Hill 'Tank Farm', to better activate the harbour foreshore.
Additional City of Darwin Key Commitments
City of Darwin is a proud partner with the Australian and Territory Governments and Charles Darwin University in the Education and Civic Precinct. Council is offering its land on Cavenagh Street, currently a large open-air car park, and considering the future of Council establishing a new state-of-the-art integrated facility, including library facilities and civic garden spaces.
This is a trans-generational project that will change the face of our city and create momentous opportunities for the education, public and private sectors.
City of Darwin is working with NTG on a $4 million plan to revitalise and activate our laneways and small streets to develop key points of interest, opportunities for small business and better connectivity in the city centre.
Revisiting our strategic planning approaches, by reviewing the Darwin City Centre Masterplan, is part of the Darwin City Deal - beautifying our city, introducing smart technology, LED lighting, digital way-finding and promoting Darwin's unique heritage and strong ancient culture to improve experiences for visitors to our city.
Expanding growth in our outdoor dining and entertainment culture, creating shading and significantly increasing green spaces by removing bitumen car parks for underground facilities will make Darwin City a prime destination for festivals and events.
Following Tropical Cyclone Marcus, City of Darwin is working towards informing future tree planting with resilient trees that provide shade to our public places and creating a city of colour.
Next Steps
The signing of the City Deal is just the beginning. By Mid-2019, all three levels of government will jointly prepare an Implementation Plan that will set out key milestones for projects, timeframes and responsibilities.
Progress will be reported annually.
More information on the Darwin City Deal is available at https://darwincitydeal.nt.gov.au/.