Capital work on roads includes minor and major safety and traffic improvements, new street lighting, road resurfacing, major rehabilitation works and from time to time new roads.
Darwin's road network is 442km long. We allocate funds for road resurfacing, reconstruction and new works to ensure the road network meets the comfort, safety and aesthetic needs and expectations of all road users and the community as a whole.
Road Safety Improvements  
We are committed to improving the safety of Darwin's road network through partnerships with the Federal Government and NTG through Black Spot and Local Area Traffic Management (LATM) programs. This continues to deliver road safety improvements for the community.
Current Projects
Please see below lists for current road safety improvement projects happening around Darwin.
Cavenagh Street Asphalt Resurfacing Works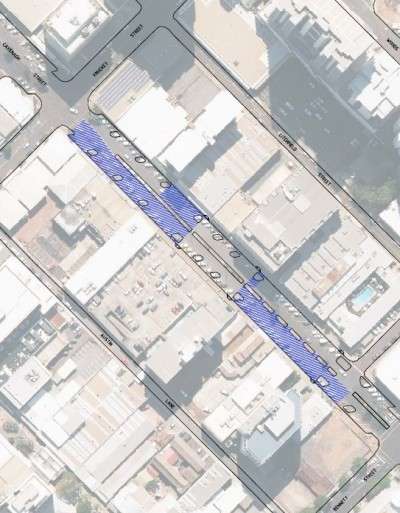 City of Darwin advises that asphalt resurfacing works will be taking place on sections of Cavenagh Street (see plan overleaf) between Bennett Street and Knuckey Street.
The resurfacing works will involve the removal of the existing asphalt layer and replacing with new asphalt as well as the reinstatement of line marking.
Works will commence on Tuesday 10 December 2019 with asphalt works taking place over three (3) nights to complete and line marking being competed in the week beginning 15 December 2019, weather permitting.  Works will take place at night between the hours of 7:00pm and 5:00am in order minimise the impacts of traffic, including to pedestrians, during the busier daytime hours.
As one side of the road will be closed to traffic each night, detours will be in place. Please note that the opposing lane of traffic will remain open.  There will also be parking restrictions in place on the day and night of the side being worked on in order to complete the works uninhibited.  Please follow the directions of the traffic controllers on site.
For further information regarding the construction of the project please contact City of Darwin's Senior Technical Officer Peter Heffernan.
Peter.Heffernan@darwin.nt.gov.au
Road Resurfacing/Reconstruction Program
Road condition surveys are conducted every four years and this information is used to model surface and pavement deterioration and allows Council to develop the program of works required to ensure the roads are safe and comfortable for road users.
For more information contact Council's Civil Projects Officer
Road Program 2018/19
Asphalt Resurfacing
| Street | Suburb | Location | Status |
| --- | --- | --- | --- |
| Cavenagh Street | Darwin City | Bennett Street - Knuckey Street | Scheduled for 2018/19 |
| Athanasiou Road | Coconut Grove | Full length | Complete |
| Watts Street | Ludmilla | Full length | Scheduled for 2018/19 |
| Malak Shops Car Park | Malak | Full length | Complete |
| Bengal Court | Malak | Full length | Complete |
| Welsh Court | Malak | Full length | Complete |
| Ryland Road | Millner | McMillans Road - Robinson Road | Complete |
| Duke Street | Stuart Park | Dinah Beach Road Intersection | Scheduled for 2018/19 |
| Hassan Place | Stuart Park | Full length | Complete |
Spray Seal Resurfacing
| Street | Suburb | Status |
| --- | --- | --- |
| Fountain Street | Anula | Complete |
| Floyd Court | Coconut Grove | Complete |
| Hart Court | Coconut Grove | Complete |
| Martin Crescent | Coconut Grove | Complete |
| Brogan Street | Fannie Bay | Complete |
| Borella Circuit | Jingili | Complete |
| Schultze Street | Larrakeyah | Complete |
| Stirling Place | Larrakeyah | Complete |
| Fern Court | Leanyer | Complete |
| Abbott Crescent | Malak | Complete |
| Marchant Court | Malak | Complete |
| Palmer Court | Malak | Complete |
| Brooks Place | Millner | Complete |
| Marsh Street | Millner | Complete |
| Buchanan Terrace | Nakara | Complete |
| Macredie Street | Nakara | Complete |
| Ferntree Street | Nightcliff | Complete |
| Palm Street | Nightcliff | Complete |
| Stokes Street | Parap | Complete |
| Evans Street | Rapid Creek | Complete |
| Norcock Place | Rapid Creek | Complete |
| Charles Street | Stuart Park | Complete |
| Eden Street | Stuart Park | Complete |
| Roper Street | Tiwi | Complete |
| Undoolya Street | Tiwi | Complete |
| Haritos Street | Wanguri | Complete |
| Harmanis Street | Wanguri | Complete |
| Carpentier Crescent | Wagaman | Scheduled for 2018/19 |
| Groote Street | Wagaman | Scheduled for 2018/19 |
| Macassar Street | Wagaman | Scheduled for 2018/19 |
| Tasman Circuit | Wagaman | Scheduled for 2018/19 |
| Brolga Street | Wulagi | Scheduled for 2018/19 |
| Emu Court | Wulagi | Scheduled for 2018/19 |
| Jabiru Street | Wulagi | Scheduled for 2018/19 |
| Owl Court | Wulagi | Scheduled for 2018/19 |