Roads
Capital work on roads includes minor and major safety and traffic improvements, new street lighting, road resurfacing, major rehabilitation works and from time to time new roads.
Darwin's road network is 442km long. We allocate funds for road resurfacing, reconstruction and new works to ensure the road network meets the comfort, safety and aesthetic needs and expectations of all road users and the community as a whole.
Road Safety Improvements  
We are committed to improving the safety of Darwin's road network through partnerships with the Federal Government and NTG through Black Spot and Local Area Traffic Management (LATM) programs. This continues to deliver road safety improvements for the community.
Current Projects
Please see below lists for current road safety improvement projects happening around Darwin.
Tambling Terrace Pedestrian Crossing - Wanguri
Speed Limit Reduction to 50 km/hr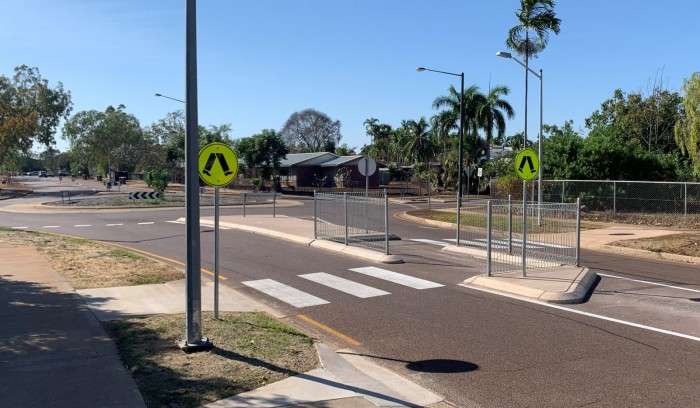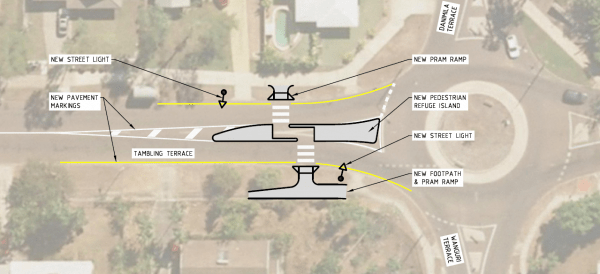 Recent investigations along Tambling Terrace revealed that pedestrians, particularly primary school children, were having difficulty crossing the road due to the volume of traffic using the road. To provide better pedestrian connectivity between the suburbs of Wanguri and Lyons, Council recently installed a pedestrian (zebra) crossing on Tambling Terrace near the intersection of Wanguri Terrace and Danimila Terrace.
To align with road safety requirements, the speed limit of Tambling Terrace has been reduced from 60km/h to 50km/h between 23 Tambling Terrace and Lee Point Road. Recent traffic counts undertaken along the road reveal that this speed limit aligns with the current operating speed of this section of road.
Please be reminded that when travelling towards a pedestrian (zebra) crossing, you must drive at a speed so that you can stop safely. At a pedestrian (zebra) crossing you must give way to any pedestrian on the crossing and not overtake another vehicle which has stopped at the crossing.
For further information regarding the construction of the project please contact City of Darwin's Capital Works Project Officer Antonios Yiannakos.
antonios.yiannakos@darwin.nt.gov.au
Trower Road - Pedestrian Connectivity Improvements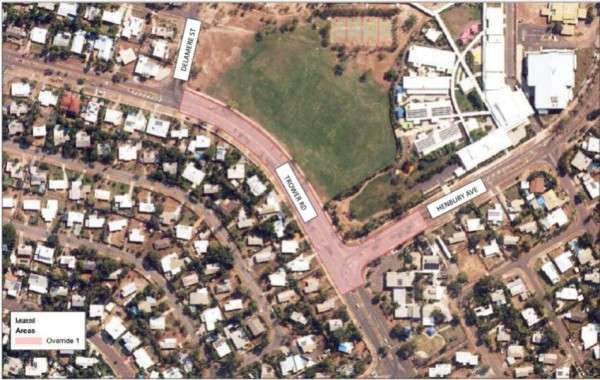 A road safety audit identified a number of changes along Trower Road to improve road safety and pedestrian use for the area.  Works will commence Monday 13 May 2019. Council will be reducing the amount of lanes from 2 each way to 1 each way between the Trower Road/Delamere and Trower Road/Henbury Avenue intersections. A pedestrian refuge will also be constructed and a series of paths and ramps to be upgraded. 
To view the designs and find out more information go to Engage Darwin
Road Resurfacing/Reconstruction Program
Road condition surveys are conducted every four years and this information is used to model surface and pavement deterioration and allows Council to develop the program of works required to ensure the roads are safe and comfortable for road users.
For more information contact Council's Civil Projects Officer
Anula and Wulagi
City of Darwin has planned several traffic management improvements in Anula and Wulagi to help reduce speeding and improve road safety.
A number of road treatments will be installed in the area to address speeding and improve road safety for vehicles and pedestrians.
Three intersections will be modified with the construction of traffic islands and pedestrian refuges which will help to reduce vehicle speeds and improve road safety.
Kerbside traffic islands, both painted and physical will be added along Union Terrace and Wulagi Crescent and parking lanes will be marked.
The works will be commencing during April 2019.
For further information regarding the construction of the project please contact City of Darwin's Senior Capital Works Coordinator.
Road Program 2018/19
Asphalt Resurfacing
| Street | Suburb | Location | Status |
| --- | --- | --- | --- |
| Cavenagh Street | Darwin City | Bennett Street - Knuckey Street | Scheduled for 2018/19 |
| Athanasiou Road | Coconut Grove | Full length | Complete |
| Watts Street | Ludmilla | Full length | Scheduled for 2018/19 |
| Malak Shops Car Park | Malak | Full length | Complete |
| Bengal Court | Malak | Full length | Complete |
| Welsh Court | Malak | Full length | Complete |
| Ryland Road | Millner | McMillans Road - Robinson Road | Complete |
| Duke Street | Stuart Park | Dinah Beach Road Intersection | Scheduled for 2018/19 |
| Hassan Place | Stuart Park | Full length | Complete |
Spray Seal Resurfacing
| Street | Suburb | Status |
| --- | --- | --- |
| Fountain Street | Anula | Complete |
| Floyd Court | Coconut Grove | Complete |
| Hart Court | Coconut Grove | Complete |
| Martin Crescent | Coconut Grove | Complete |
| Brogan Street | Fannie Bay | Complete |
| Borella Circuit | Jingili | Complete |
| Schultze Street | Larrakeyah | Complete |
| Stirling Place | Larrakeyah | Complete |
| Fern Court | Leanyer | Complete |
| Abbott Crescent | Malak | Complete |
| Marchant Court | Malak | Complete |
| Palmer Court | Malak | Complete |
| Brooks Place | Millner | Complete |
| Marsh Street | Millner | Complete |
| Buchanan Terrace | Nakara | Complete |
| Macredie Street | Nakara | Complete |
| Ferntree Street | Nightcliff | Complete |
| Palm Street | Nightcliff | Complete |
| Stokes Street | Parap | Complete |
| Evans Street | Rapid Creek | Complete |
| Norcock Place | Rapid Creek | Complete |
| Charles Street | Stuart Park | Complete |
| Eden Street | Stuart Park | Complete |
| Roper Street | Tiwi | Complete |
| Undoolya Street | Tiwi | Complete |
| Haritos Street | Wanguri | Complete |
| Harmanis Street | Wanguri | Complete |
| Carpentier Crescent | Wagaman | Scheduled for 2018/19 |
| Groote Street | Wagaman | Scheduled for 2018/19 |
| Macassar Street | Wagaman | Scheduled for 2018/19 |
| Tasman Circuit | Wagaman | Scheduled for 2018/19 |
| Brolga Street | Wulagi | Scheduled for 2018/19 |
| Emu Court | Wulagi | Scheduled for 2018/19 |
| Jabiru Street | Wulagi | Scheduled for 2018/19 |
| Owl Court | Wulagi | Scheduled for 2018/19 |
Last modified
04 Sep 2019