Our goal is to provide and maintain a stormwater system that meets the needs of the whole community. 
The works that are often undertaken include investigating and upgrading existing pipe systems, replacement of damaged and poor condition infrastructure, installation of gross pollutant traps, installation of subsoil drainage, installation of erosion protection devices where required and systemic minor repairs and routine maintenance.
If you would like to report an issue or find out information on our stormwater maintenance please see the Streets and Roads - Stormwater Drains page.
Jingili Water Gardens - Stormwater Replacement Works
Part of the existing Ø2050mm reinforced concrete pipe within the Jingili Water Gardens has collapsed and investigations along the remainder of the pipe identified significant damage along the full length of the pipe.
The existing pipe will be replaced with a Ø2100mm reinforced concrete pipe between Freshwater Road and Rapid Creek.
This stage of works will remediate the area that has collapsed around the damaged stormwater pipe near the Community Orchard in the Jingili Water Gardens. 
Construction was halted due to the wet season however works have recommenced with construction taking place over the coming months with an expected completion date of September 2020.
Working hours will be between 7am and 4:30pm Monday to Friday. Works may also occur on the occasional Saturday from 7am to 4:30pm.
The site of works has seen asbestos de-contamination works undertaken. 
There will also be restrictions to the area from the entry closest to the community garden. It is advised that this area should be avoided.
Council will be using machinery that may cause a noise disturbance for the duration of the works.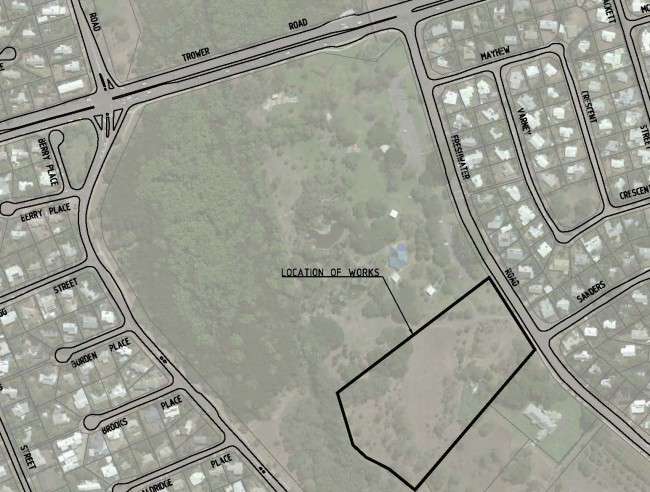 Alternatively you can contact Council's Capital Works Project Officer, Antonios Yiannakos, on 8930 0430 or antonios.yiannakos@darwin.nt.gov.au.
Stormwater Drainage Studies
As part of our stormwater management program we regularly undertake analysis of the existing stormwater drainage systems in our suburbs and public spaces. These studies provide information on the adequacy of the existing underground pipe/pit network and make recommendations for improving the capacity where required.
The outcomes of this work will help City of Darwin priorities upcoming stormwater upgrade work.