City of Darwin's first-ever Innovate Reconciliation Action Plan 2020-2022, outlines Council's commitment to promoting and working towards greater reconciliation in Darwin.
The Reconciliation Action Plan (RAP) sets out actions that Council will undertake to promote understanding and reconciliation between Indigenous and non-Indigenous Australians.
That journey has already seen the City of Darwin undertake numerous measures towards reconciliation such as establishing sister city relations with Milikapati, engaging a local Larrakia artist to design the Lord Mayor's robes and promoting recognition of Australia's First Peoples through flying the Aboriginal flag and delivering an Acknowledgements of Country at the commencement of each Council meeting. As a result of the initiatives already in place, City of Darwin was able to move immediately towards developing an Innovate RAP as its initial commitment to reconciliation. Through this RAP, our Council is committed to addressing three key priorities:
Creating social and economic benefits for Australia's First Peoples;
Providing youth-focused programs, employment and support; and
Building a culturally safe workplace and vibrant community.
"Council is honoured to adopt our first-ever RAP, and in doing so, we were joined by the members of the RAP Working Group, who joined Council in the Chamber for this historic event and I would like to acknowledge them for their great work.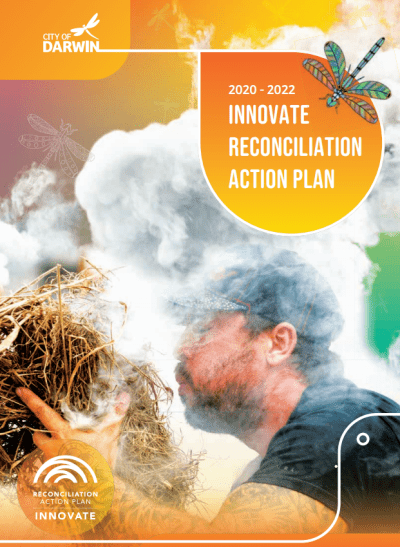 The Working Group is formed of 78% Aboriginal members; descendants of Larrakia, Wurramungu, Yolngu, Kabi Kabi, Yanyula, Marrathiel, Yankunytjatjara and Tiwi, and 22% non-Aboriginal Territorians, born on Larrakia and Jawoyn land:
Richard Fejo 
Lynette Fejo 
Helena Wright 
Alderman Peter Pangquee
Amy Griesbach 
Mark Pocock
Sade Waugh 
Tony Vincent
Tristan Cook
The RAP will now go to Reconciliation Australia for approval, and following that approval, the final version will be published here.