City of Darwin's first-ever Innovate Reconciliation Action Plan 2020-2022, outlines Council's commitment to work towards greater reconciliation in Darwin.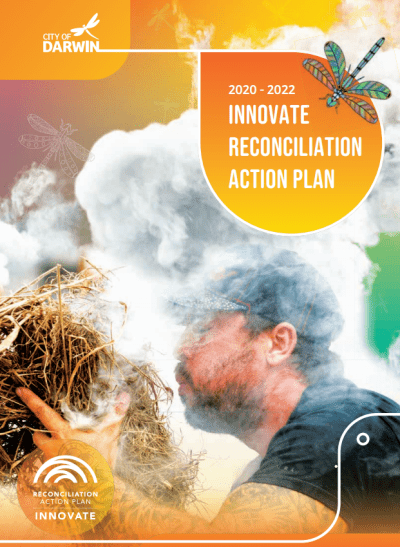 The Reconciliation Action Plan (RAP) sets out actions that Council will undertake to promote understanding and reconciliation between Indigenous and non-Indigenous Australians.
Here in Darwin, we are privileged to live, work, raise our children, and call home, a place that the Larrakia people have lived in, and cared for, for more than 60,000 years. Our RAP is a commitment to our staff and community to recognise the significant contributions of the Larrakia People in Darwin, and to work collaboratively with Larrakia People and all Aboriginal and Torres Strait Islander people to build a vibrant, creative and inclusive community.
Our RAP was developed by a nine-member RAP Working Group, comprising three community members, an Elected Member, and five staff. It builds on the foundations City of Darwin has already developed, through structured and deliverable actions across three pillars: Relationships, Respect, and Opportunities. Through this RAP, our Council is committed to addressing three key priorities:
Creating social and economic benefits for Australia's First Peoples;
Providing youth-focused programs, employment and support; and
Building a culturally safe workplace and vibrant community.
Download Innovate Reconciliation Action Plan August 2020- July 2022
FAQ's
What is a Reconciliation Action Plan (RAP)?

A RAP is a strategic document that details how an organisation will contribute to reconciliation within their organisation and within the communities in which they operate.

What are the different kinds of Reconciliation Action Plans (RAP's)?

There are four types of RAP that an organisation can develop: Reflect, Innovate, Stretch and Elevate. Each type of RAP is designed to suit an organisation at different stages of their reconciliation journey. City of Darwin will be undertaking an 'Innovate' RAP.

Why is City of Darwin implementing a RAP?

Darwin is a multicultural city, built on Aboriginal land; undertaking a RAP is an acknowledgement of our history and cultural past and an important step in establishing a connected community that has pride in our cultural identity.
More Information
For further information about City of Darwin's RAP please contact City of Darwin's Manager Community and Cultural Development on 8930 0560.
City of Darwin staff participate in a two-day Cultural Safety and Respect workshop.
RAP Staff Launch and Saltwater Ceremony