Lakeside Drive is 50 years old (built in 1968) and needs reconstruction and resurfacing works.
Lakeside Drive has a high flow of traffic with approximately 6,000 vehicles utilizing daily. The road is accessed by a range of the public including: emergency services, residents/commuters, uni students/lecturers, public transport.
Through ongoing assessment it has been identified that the surface of the road and a portion of the underlying road base is in need of improvement. The project, jointly funded by City of Darwin and the Australian Governments Roads to Recovery Program, will involve removing and replacing the road pavement to a depth of approximately 50cm. Further improvements to Lakeside will include upgrades to the pedestrian and bicycle crossing points which will enhance the roadway for all users.
Works on stage one, from Trower Road to Stasinowsky Street are planned to start Monday 5 November 2018 and be completed January 2019. 
City of Darwin thanks the local residents for their patience during the construction phase.
Works in Progress Construction Update - November 22 2018
The existing road surface is currently being removed to a depth of 500mm in the stage 1 area (On Lakeside Drive between Trower Road and Stasinowsky Street).
A grassed area for use as a temporary stockpile location was identified in the project planning. This area has had no excavation or digging.
The road base material is placed in a temporary stockpile area on top of the existing grass and then fenced and controlled. (That is, no construction materials will be buried.)
The material is then transported to Shoal Bay Waste Management Facility where the clean fill will be recycled and used for road maintenance at the Shoal Bay Waste Management Facility
The stockpile area will be completely remediated upon completion of the project.
Traffic Management Stage One
Traffic management will be on site for the duration of the works with detours in place.
The works will be staged to allow for one lane to remain open to traffic. This section (yellow) of road will be accessible only to vehicles travelling inbound (south) towards Trower Road.
Image: Stage One (yellow section)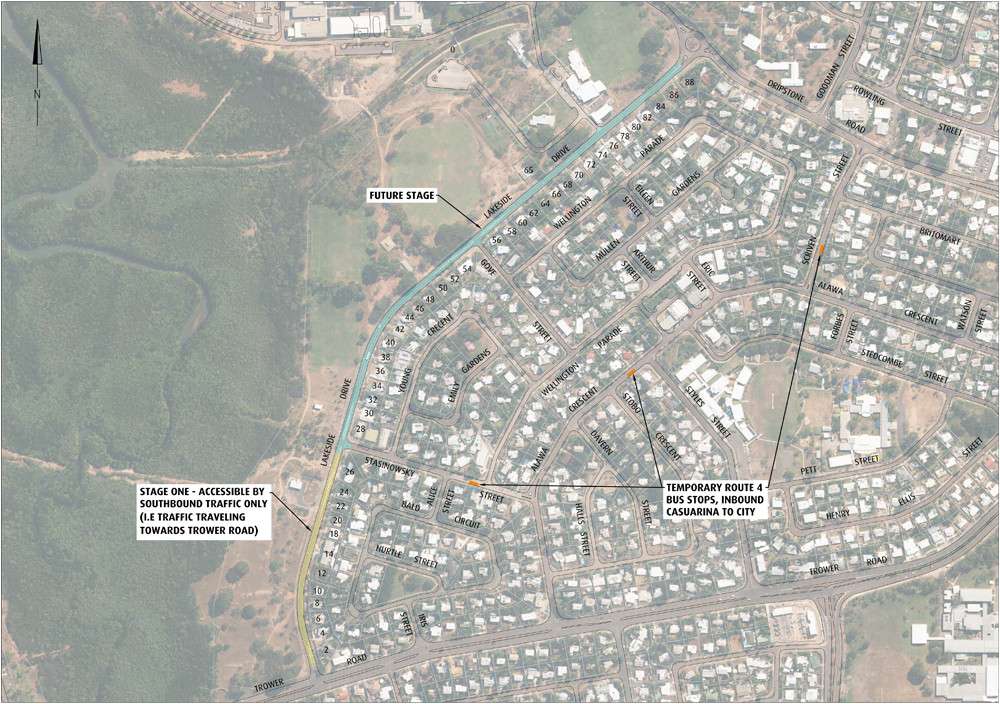 More detailed information on the Traffic managment Plan for Stage one with all detours and signage.
NT Transport advises passengers that due to road works, Route 50 services that currently travel along Lakeside Drive will deviate via Alawa Crescent.
Nt Transport advises:
"Students, parents and carers are advised that due to road works Routes 50, 54, 104, 131, 203 and IEU3 services that currently travel along Lakeside Drive will deviate via Alawa Cres, from Monday 5 November 2018.
Stage one road works are expected to be completed by the end of January 2019.
All bus stops along Lakeside Drive will not be in use for the duration of the works.
Additional bus stops will be installed on Alawa Cres and Stasinowsky St.
Please see the map below for your nearest bus stop."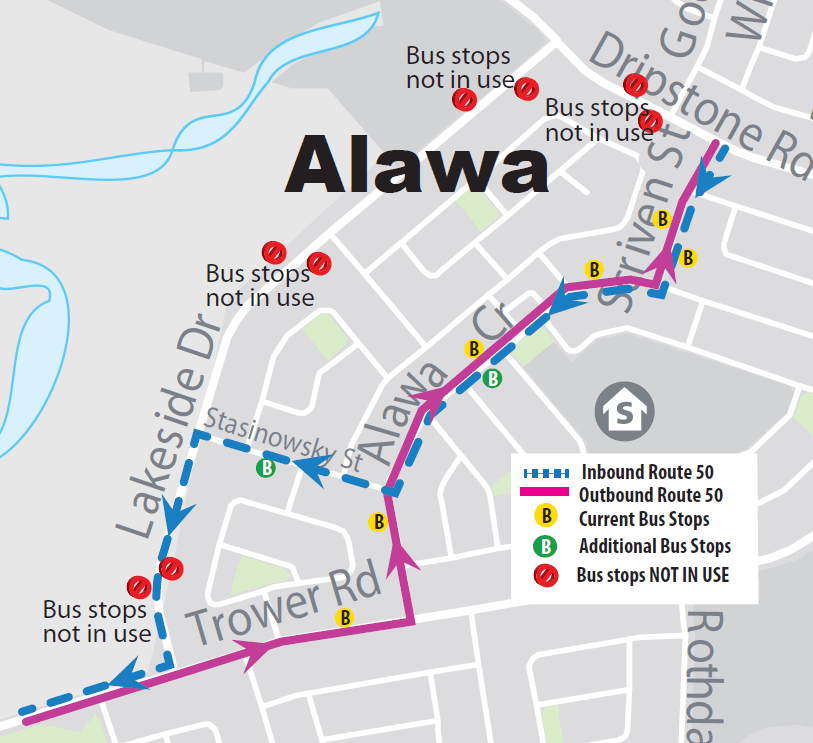 For up to date information on these detours visit their Facebook page https://www.facebook.com/NT.DIPL  or website www.nt.gov.au/publictransport or phone Public Transport on 8924 7666
NT Transport Public Notice Bus Route 50, 54, 104, 131, 203 Change November 2018
NT Transport Public Notice Bus Route 4 Change November 2018
Due to the scope of this project there will be unavoidable delays, and disruptions to driveway access at times.
Council will work with all directly affected residents and business owners who have properties on Lakeside Drive to discuss likely impacts and how we can minimize the inconvenience to you during these works.
To receive updates about this project please register your details through  engage.darwin.nt.gov.au/lakeside-drive-upgrade
Last modified
22 Nov 2018