Greening and beautifying our streets and parks is important to many locals.  A recent survey of 1600 people in Darwin showed that the majority of our community highly values our green spaces and wants more greening and beautification. Council has responded by investing $1.6M to transform key suburban streetscapes from grey to green this year.
This program is broken up into 8 smaller projects which will be delivered throughout the Darwin suburbs, and it is anticipated the full program will be delivered by June 2020. 
The program aims to:
Upgrade the streetscapes to create a better experience for those using the area, including cooling and greening.
Develop a sustainable low maintenance landscape for the long term.
Enhance biodiversity with native vegetation.
Be water smart.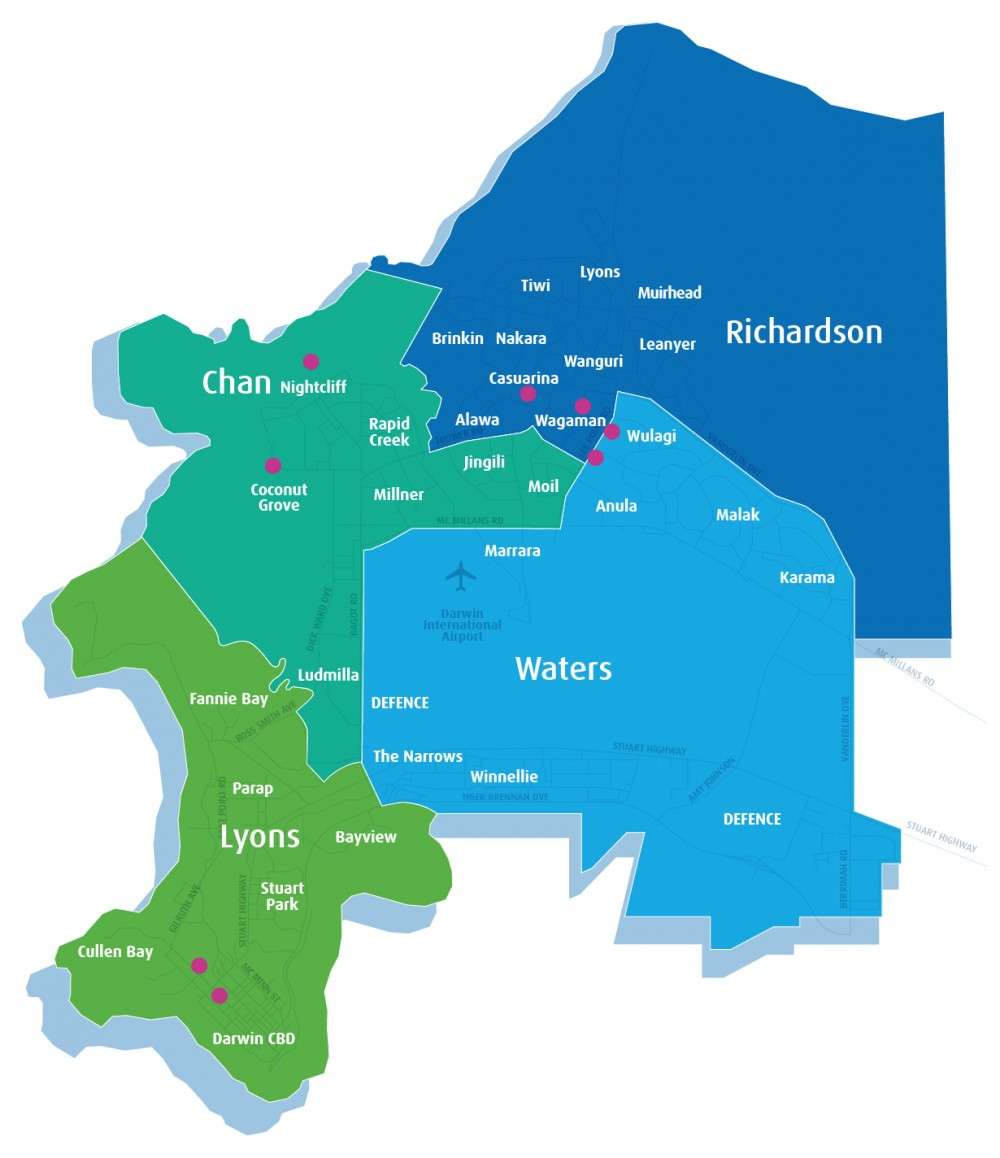 The first project being delivered is the landscaping at Wagaman Shops with $100,000 allocated for beautification.
Richardson Ward
 

Bradshaw Terrace

Description
This is a landscaping project to beautify the centre median along
Bradshaw Terrace between Symes Street potentially extending to Scaturchio Street.
The landscaping will include garden beds. 
Location
Bradshaw Terrace, Casuarina
Dates
Project commences May 2020
Budget 
$210,000
Delivery 
City of Darwin has awarded the works to a local contractor for completion.

Concept Plans

 

 

.

Groundcovers & Trees

Wagaman Shops - Completed

Description
This is a landscaping project to beautify the area at the front of the Wagaman Shops.
The landscaping will include garden beds, irrigated turf, tree planting, seating
and footpath infrastructure.
Location
Wagaman Shops – Corner of Wagaman Terrace and Malay Road
Dates
Complete
Budget 
$132,000
Delivery 
The project was delivered by City of Darwin's internal workforce.

 

Concept Plans

Groundcovers & Trees
Chan Ward
Progress Drive 

Description
This is a landscaping project to beautify the southern verge of Progress
Drive. The landscaping will include garden beds, irrigated turf and planting. 
Location
Progress Drive, between Nightcliff Road and Dick Ward Drive.
Dates
Construction has begun and is expected to complete by July 
Budget 
$320,000
Delivery 
City of Darwin has awarded the works to a local contractor for completion.

Concept Plans

Groundcovers & Trees

Nightcliff Road

Description
This is a landscaping project to beautify the intersection of
Nightcliff Road and Casuarina Drive.
The landscaping will include garden beds, irrigated turf and tree planting.
Location
Nightcliff Road, at the intersection with Casuarina Drive.
Dates
Works are expected to complete mid May
Budget 
$60,000
Delivery 
The project will be delivered by City of Darwin's internal workforce.

Concept Plans

Groundcovers & Trees
Waters Ward
Anula Greenbelt

Description
This is a landscaping project to beautify the entrance to the Anula Greenbelt at Lee Point
Road. The landscaping will include garden beds, irrigated turf, tree planting
and footpath infrastructure.
There is also provision for a 'living lab' to conduct trial plantings in the future.
Location
Lee Point Road at the entrance to the Anula Greenbelt.
Dates
May - June 2020.
Works are anticipated to take 12 weeks.
Budget 
$215,000
Delivery 
The project will be delivered by City of Darwin's internal workforce.

Concept Plans

Groundcovers & Trees

Wulagi Greenbelt

Description
This is a landscaping project to beautify the entrance to the Wulagi Greenbelt at Lee Point
Road. The landscaping will include garden beds, irrigated turf, tree planting
and footpath infrastructure.
Location
Lee Point Road at the entrance to the Wulagi Greenbelt.
Dates
May - June 2020
Works are anticipated to take 12 weeks.
Budget 
$175,000
Delivery 
The project will be delivered by City of Darwin's internal workforce.

Concept Plans

Groundcovers & Trees
Lyons Ward
Smith Street

Description
This is a landscaping project to beautify the western verge of Smith Street.
The landscaping will include garden beds, irrigated turf, tree planting and footpath
infrastructure.
Location
Smith Street, between Lambell Terrace and Montoro Court.
Dates
Construction is anticipated to commence in June 2020.
Works are anticipated to take 4 weeks.
Budget 
$255,000
Delivery 
City of Darwin has awarded the works to a local contractor for completion.

Concept Plans

 

 

Image: Existing site on Smith Street

Mitchell Street

Description
This is a landscaping project to beautify the eastern verge of Mitchell Street.
The landscaping will include garden beds, tree planting, seating and footpath
infrastructure. 
Location
Mitchell Street, between 96 Mitchell Street and Daly Street.
Dates
Works have commenced and expect to finish by Mid June 2020
Budget 
$100,000
Delivery 
The project will be delivered by City of Darwin's internal workforce.

Concept Plans

 

Image: Existing site on Mitchell Street