Roll-out Phase 1 (2018-2019)
City of Darwin is currently rolling out our first phase of technology and infrastructure. This first wave of enabling technology and infrastructure will support our transition to a data-driven, people-oriented city that values and enables collaboration,  innovation and participation. It is just the first step in our journey towards our #SmartDarwin Strategy.
Phase 1 roll-out will build our base capacity to collect, store, analyse and use big data. It provides the community, businesses, researchers and government agencies with greater access to open-data.
Click on the numbers on the image to find out more details about them.

1. Smart Street Lighting

Street lighting can have a major influence on both the appearance and ambience of a city. It can also affect when and how a space is accessed and how the space is used.
The provision of lighting can also bare a significant cost both from an energy consumption and infrastructure maintenance perspective.
The ability to control illumination i.e. brightness and timing through sensors can result in cost savings while maintaining the usability and safety of an area. The motion sensors can also provide key insights into when a space is most used through  statistical analytics.
2. Public Wi-Fi and Analytics

Free public Wi-Fi is a drawcard for people using public spaces, especially for visitors and those with limited internet access.
The expansion of the existing free Wi-Fi network across the city will enable businesses to reach more potential customers and attract people to spend more time in the precincts. In addition to visitors, it also provides amenity to residents and workers.
The Wi-Fi network can also be used to inform users about local activities and upcoming events. It will link to an analytics portal which will provide valuable de-identified data that can be used to make better decision by governments and businesses.
3. CCTV

CCTV is a very useful tool especially given the advanced capabilities in video analytics, artificial intelligence and machine learning.
Public safety and crime prevention are important to the Darwin community and a high priority of council and the government. The addition of more CCTV cameras in strategic locations across the city allow for both prevention and solving of crime.
4. Video Analytics

Captured video is significantly enhanced when coupled with analytical tools that provide useful statistical information.
5. Parking

Easing traffic flows through the city, finding parking easily and creating streets that are walkable; all improve the overall function of a city.
The implementation of a parking sensor system will enable drivers to locate an available parking space via an indicator or app.
Traffic congestion should ease, and vehicle emissions should decrease as a result of being able to locate a parking spot within greater convenience.
Additionally, the ability to pay for parking and for council to monitor parking more efficiently and understand parking usage and demand at any given time, are added benefits.
6. Environmental and Noise Sensors

Sensors monitoring the local environment will provide improved weather warnings and information on the impacts of a changing climate.
7. Smart City Platform

Each technical solution can produce and collect a broad range of data. Instead of each of these being monitored in isolation, the development of a Smart City Platform will enable the data to be aggregated in one spot and integrated.
The Smart City Platform is a centralised data platform that can analyse and visualise big data to inform and enhance decision making. This capability leads to more efficient design and delivery of products and services and improves governance.
8. Open Data Platform

The City of Darwin is pleased to announce the launch of a new platform for innovation: the Transparency Portal, powered by OpenGov.
OpenGov is a partner of Council via the Switching on Darwin project, their mission being to empower local governments around the world to increase accountability and transparency in budgeting, reporting, communications, and performance.
Check out the #SmartDarwin Strategy story which gives insight into the Switching on Darwin project. Scroll through the various deliverable item pages to learn more about the technologies and their benefits to Darwin.
Being a 'Smart City' means leveraging the latest digital technologies to make improvements to the lives of Darwin residents; with OpenGov, Council is committed to increased transparency and honesty in spending heading into the future.
9. Microclimate Sensors

Microclimate sensors and Internet of Thing (IoT) devices enable a range of data to be collected about the city such as rain, humidity, air quality and CO2 among others.
The data collected from these sensors and devices can be shared on Open Data platforms as a mechanism to drive innovation. It can be analysed to develop specific insights which can then be used by council, business, government, key  stakeholders etc. to enhance understanding and ultimately lead to better decision making.
Microclimate sensors can be used to assess the impacts of heat mitigation or cooling and greening initiatives or provide improved weather warnings and real-time changes in the local climate.
10. Location Insights

Location Insights derived from mobile phone signals can be used at festivals or events to manage crowds, analyse people movement patterns and detect abnormal occurrences.
Emerging Opportunities (2019-2021)
The focus beyond the first phase roll-out will be on open-innovation and how ubiquitous access to digital technologies and data can enable new value to be created by disrupting old business and governance models.
The opportunities to use new data to solve old problems are endless and City of Darwin will pursue a range of these. The scope however of many may be beyond our core business and this will in turn create new opportunities for researcher and  industry.
Collaboration and partnerships will be key to realising the benefits of the Phase 1 rollout in the short to medium term.
Click on the numbers on the image to find out more details about them.

11. Water and Wastewater Monitoring

Water quality and water network monitoring will contribute to improved environmental outcomes, efficiency gains and cost reductions.
12. Leak Detection

Automated water leak detection in water pipes will help reduce maintenance response time and cost.
13. Device Proximity Detection

Monitors the location of communications devices for analytics such as foot traffic to provide data in decision making and urban planning.
14. Waste Management Sensors

Automated leak and gas detection will increase community safety and comfort.
15. Energy Monitoring

Power consumption monitoring in public assets that indicates required changes and leads to reductions in consumption and cost.
16. Vehicle Fleet Communications

Location tracking and communication with publicly owned vehicles will enable theft protection and usage monitoring, leading to cost reductions.
17. Transport Optimisation

Automatic optimisation of traffic flows based on demand and events resulting in reduced travel times.
18. Inventory Monitoring

Automated tracking and analytics on public inventory through sensors and GPS will reduce both loss of items and cost.
19. Real-time Public Transport Updates

GPS based system for tracking and public reporting of public transport positioning in real time.
20. Smart Kiosks

Community facing digital stations that will provide information and enable interaction with council.
21. Community Innovation

A mobile app that enables easy access to information about events and locations around the city. Such an app will provide analytics to council such as visitor numbers and points of most interest to the community. Feedback can also be provided to council to enhance community experience.
22. Advanced Video Analytics

Advanced analysis of captured video will further improve safety, the efficiency of council services, and real-time responses to local events.
Transformative Opportunities (beyond 2021)
City of Darwin is recognised as an ambitious city, characterised by its willingness to challenge the status quo and create opportunities. While we focus on the opportunities of today, it is imperative that we keep a watchful eye on the trends of tomorrow.
To achieve our #SmartDarwin Strategy, we cannot be limited by our individual imagination. A truly smart city travels this journey together - as a collective - embracing change, uncovering opportunities, supporting entrepreneurship and taking risks.
What could lie beyond 2021 for City of Darwin?
Click on the numbers on the image to find out more details about them.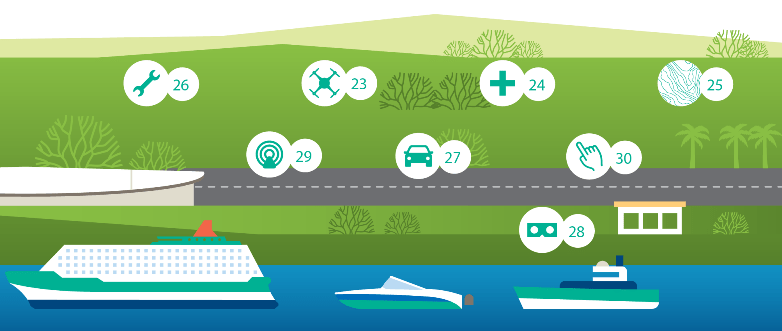 23. Drone Delivery

Delivery of goods via autonomous drone will expedite delivery times and reduce costs.
24. Emergency Services Drone

Drones that act as first responders or support emergency services provision where humans are impractical.
25. Development Surveying Drone

Drones that survey development areas to enhance and accelerate the building application process.
26. Maintenance Drone

Drones that assist in providing maintenance services on public assets will reduce costs and increase efficiency of maintenance services.
27. Autonomous Vehicles

Self-driving vehicles to provide public services such as bus transport more efficiently.
28. Augmented Reality

Headsets that provide additional information on the local area for tourists and council workers.
29. Road Condition Monitoring

Cameras and sensors that monitor roads for defects, automatically reporting to authorities for preventative maintenance.
30. Community App Development

A community targeted mobile application that provides information to the public on events and locations of interest.