Our interactive public art map includes artworks commissioned by City of Darwin, the Northern Territory Government and the Darwin Waterfront Authority.
Public artworks include outdoor sculptures and murals.
It does not include commemorative plaques or temporary art. Our map is not a complete listing of all works in the municipality and focuses primarily on works under our care.
HMS Beagle Ship Bell Chime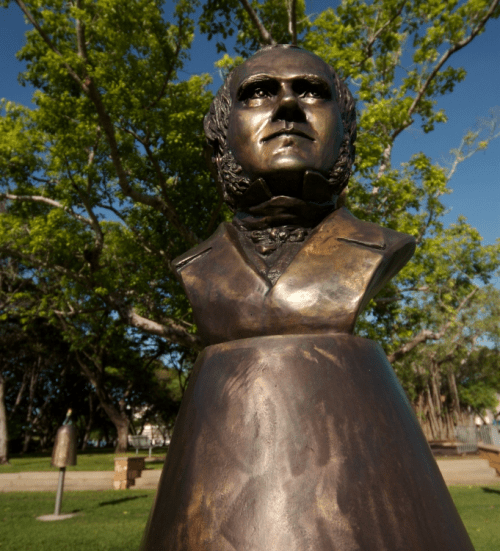 The HMS Beagle Ship Bell Chime was commissioned by City of Darwin in 2009 to celebrate 200 years since the birth of Charles Darwin (1809-1883).
The Bell Chime can be heard daily and this musical instrument highlights Charles Darwin's second expedition on the HMS Beagle from 1831-1836 which is famously referred to in the book 'Voyage of the Beagle'.
The Bell Chime features a series of cast bronze bells and a replica HMS Beagle ship's bell, cast in brass, and atop each bell is a selection of birds cast in bronze from the small Budgerigar to the large Black Cockatoo.
Created by Dr Anton Hasell of Australian Bell Pty Ltd, the Bell Chime is located in Civic Park outside the Civic Centre entrance. For more information on Dr Anton Hasell and his work please visit www.ausbell.com.au
Program of Musical Compositions
The HMS Beagle Ship Bell Chime is programmed to sound at regular times of the day, featuring musical compositions by local composers and composers from around the world.
Convergence by Kris Keogh Listen/Download
Origin of the Stars by Madeleine Davey Listen/Download
Unwind by Anthony Jarvis Listen/Download
Sound recordings by Jeremy Conlon - Left of Elephant Sound
Download the musical program of Musical Compositions
More Information
For further information contact
Page header image: Intertwined by Aly De Groot 2014
Last modified
06 Dec 2018