Bombing of Darwin Day Commemoration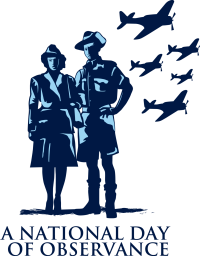 We remember
On the 19th of February 1942 an event occurred which changed Australia forever. Australia was bombed at Darwin.
Bombing of Darwin Commemorations 2020 Programme
Date

Time

Event

Venue

Host

Wednesday
19 Feb 2020

8.15-9.00am

USS Peary Memorial Service

The Esplanade

Australian American Association NT

Free, open to the public

Wednesday
19 Feb 2020

9.30-10.45am

Bombing of Darwin Day Commemorative Service

The Cenotaph

City of Darwin

Free, open to the public

Thursday
20 Feb 2019

10.00-11.00 am

Ecumenical Service

Adelaide River War Cemetery

Coomalie Council

please contact admin@coomalie.nt.gov.au

(08) 8976 0058
Free, open to the public
We remember
On the 19th of February 1942 an event occurred which changed Australia forever. Australia was bombed at Darwin.
We lost
Many died and many were injured in the first and subsequent attacks on Northern Australia over a 21 month period. It was a defining moment in Australia's history, one that highlighted the tenacity and Australian spirit of those living in Darwin.
We unite
The events of 19 February 1942 were shocking and brought the war home to a country previously untouched by foreign conflict.
On 7 December 2011, the Governor General of the Commonwealth of Australia, declared 19 February in each year as a national day of observance to be known as Bombing of Darwin Day.
We commemorate
Bombing of Darwin Day commemorates the lives of those lost in the series of attacks across Northern Australia and provides the opportunity to appropriately remember and acknowledge those, including the surviving veterans and civilians, who contributed to the defence of our county during World War II.
The recognition of this national day of observance ensures that the older generation has the opportunity to pass the baton of remembrance on to younger Australians so they too may understand the place this historic event plays in our lives today and ensure that our nation never forgets the horrors of war and the value of peace.

A defining moment in Australia's history
On the 19th of February 1942 an event occurred which would change Australia's history.
Australia's most northern capital was bombed by enemy forces. The official government death toll was more than 240 with hundreds of casualties, but it's a figure many veterans say is nowhere near the mark. Nine ships were sunk in Darwin Harbour and up to 15 others were damaged.
For the first time, the effects of a war that had raged for the most part in countries on the other side of the world, was now being felt on home soil.
The events of 19 February 1942 were as shocking and calculated as the attack on Pearl Harbour just weeks before. It brought the war home to a country previously untouched by foreign conflict.
In the initial attack on Darwin at 9.58am, there were 188 Japanese planes. A greater number of bombs were dropped over Darwin on that day than were used in the attack on Pearl Harbour. These were the most serious of at least 64 air raids on the Top End of Australia which continued until 12 November 1943.
Despite its drama and importance, the impact of the Bombing of Darwin and the war fought over northern Australia often remains overshadowed by subsequent events in Australia.
The devastation suffered by Territorian families was profound, but it also highlighted the tenacity of those living in the Territory as well as the Australian spirit. The rebuilding of Darwin took courage and commitment which helped shape the city into what it is today.
Remnants of WWII are still visible at many locations across Darwin, Katherine and Adelaide River. These sites offer visitors a chance to pay homage to both the heroes who fought on the frontline and the Territory's multicultural community affected by the bombing raids. Asian, European and Indigenous people worked alongside the allied servicemen as Darwin was attacked over an 18 month period.
The evacuees who returned and the wide community came together to rebuild Darwin after the war, and many stories of tragedy and survival have been shared during the years in which Darwin has grown into the cosmopolitan, tropical city it is today.
Timeline
08 December 1941

Japanese Imperial Forces attacked Kota Bahru and Pearl Harbour (7 December local time in Hawaii).

One hour after the attack by the Japanese at Pearl Harbour, Prime Minister John Curtin of Australia declared that "from one hour ago, Australia has been at war with the Japanese Empire".

10 December 1941

British warships, Prince of Wales and Repulse, are attacked and destroyed off Malaya.

16 December 1941

Evacuation of non-essential civilian women and children from Darwin ordered. By 18 February more than 2,000 people were evacuated. The normal civilian population during that era was around 5,000.

15 February 1942

The British fortress of Singapore falls to Japanese forces who then prepare to invade Timor on 20 February.

An Allied convoy leaves Darwin to reinforce Timor.

16 February 1942

Heavy air attack forces the Allied convoy to turn back and return to Darwin.

18 February 1942

The Allied convoy arrives back in Darwin.

19 February 1942

8:00am Japanese aircraft (36 Zero Fighters, 71 Dive Bombers and 81 Level Bombers) commence their mission.

9:15am Japanese aircraft are seen over Melville Island and then again over Bathurst Island at 9.35am. Warnings are sent by wireless but are misinterpreted. Allied Catalina aircraft are attacked and Bathurst Island airstrip is strafed.

9:58am Japanese aircraft drop the first bombs and commence their attack on Darwin Harbour and the city surrounds.

12 noon Second wave of 54 Bombers attack the Darwin RAAF Base area.
More information
For further information contact the Community Events Coordinator
Photo Gallery
Last modified
24 Sep 2019