On-street and off-street parking is available throughout the CBD. Fees range between $1.30 and $2.50 per hour depending on where you park. The higher rates are charged in the zones closest to the main shopping and business precinct.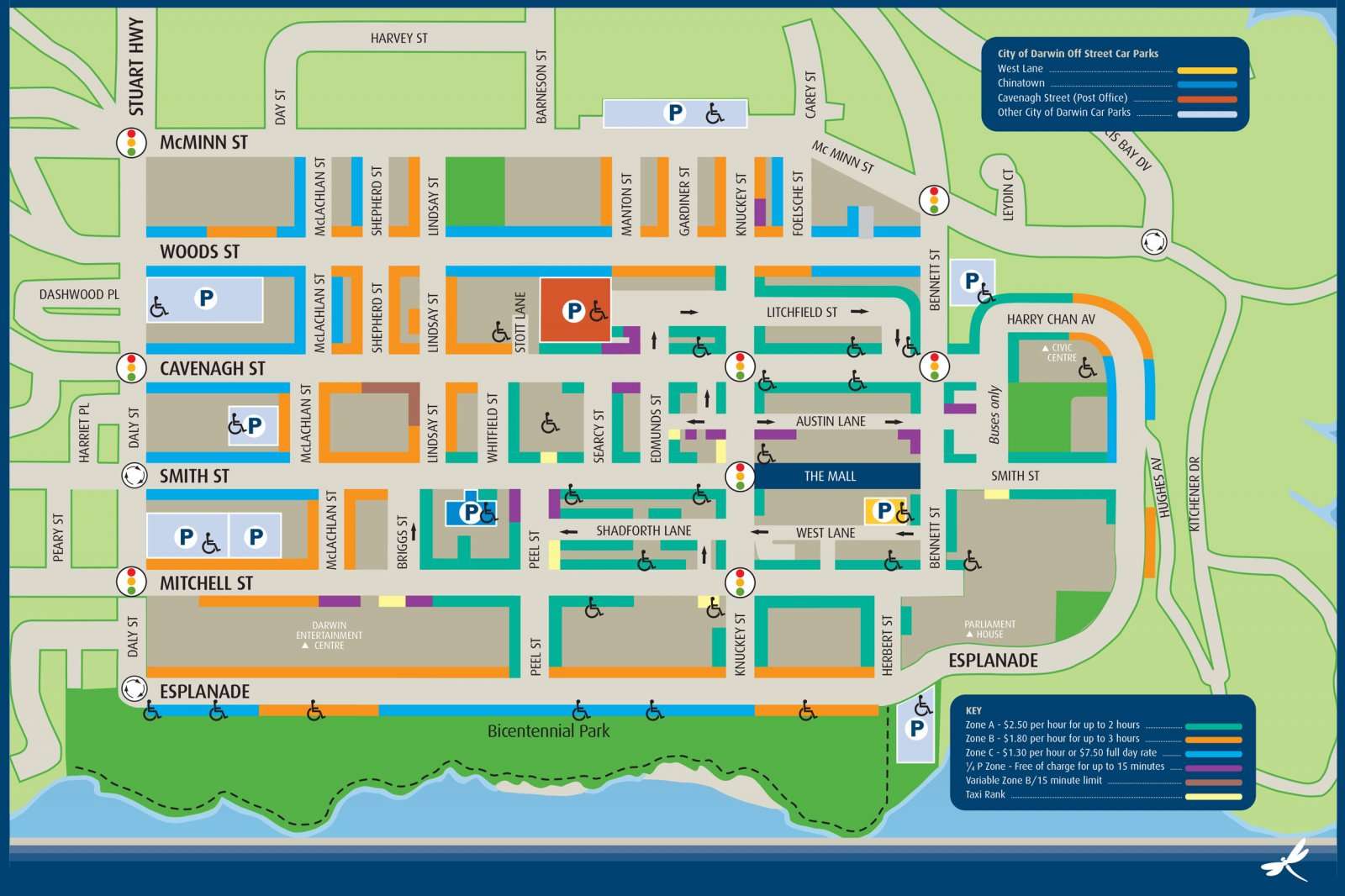 Council parking meters are in operation between 8.00am and 5.00pm Monday to Friday. During the hours of operation, drivers are required to have a valid pay and display ticket displayed on the dashboard of their vehicles.
All motorcycle parking is free, if you park in a designated motorcycle bay.
On-Street Parking
The CBD has three different on-street parking zones. These zones are patrolled regularly for vehicles not displaying a valid parking ticket.
Off-Street Parking
There are eleven off-street city car parks in the CBD. These car parks are clearly marked with the familiar international parking symbol.
The off-street car parks provide over 2000 spaces in the city and have reasonable fees for all day parking. Your daily off-street parking ticket is only valid for the car park you purchase it from. Off-street car park tickets cannot be used for on-street parking.
Overnight Parking in Darwin City
Free overnight parking is available in all off-street open air car parks (except West Lane and Chinatown car parks) every night, 5.00pm - 8.00am. Overnight parking fees apply in West Lane and Chinatown car parks between Monday to Thursday, 5.00pm - 8.00am.
Please be aware that the West Lane and Chinatown car parks are locked at night and your vehicle will not be accessible until the car park re-opens the following day. Signs displaying opening and closing times are displayed at the entrance of these car parks.
Free overnight parking is available all weekend in all of Council's off-street car parks.
 Weekend and Public Holiday Parking in Darwin City
ALL parking throughout Darwin's city centre on weekends and public holidays is FREE all day. Time restrictions have been removed on these days as part of a six month trial. 
More Information
For more information about parking locations and other parking information please contact: