City of Darwin's aim to achieve net-zero emissions by 2030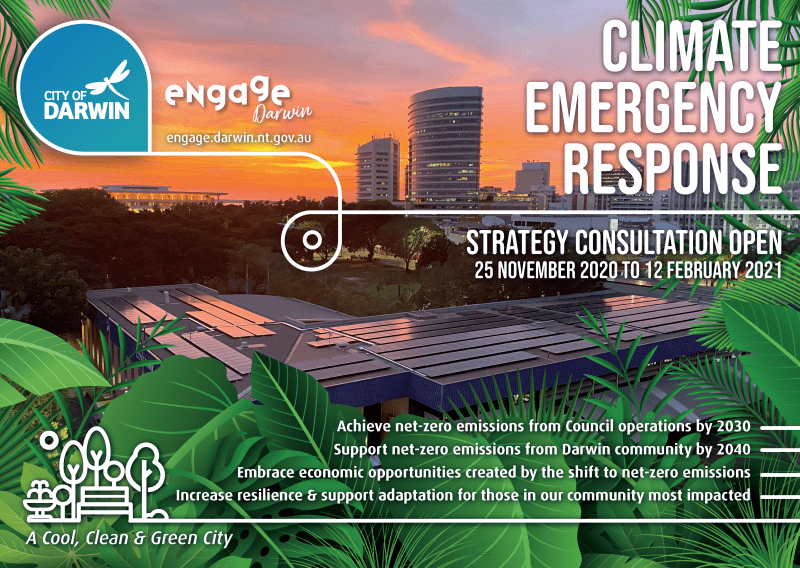 City of Darwin's Climate Emergency Response and draft Strategy, outlining these and a range of other objectives, will now be open for stakeholder and community consultation.
On 31 May 2019 Lord Mayor Kon Vatskalis declared a climate emergency, stating he was alarmed at the escalation of climate impacts in our city and the need for discussions to recognise the economic benefits of climate action.
In December 2019 Lord Mayor Vatskalis hosted Climate Emergency Roundtables for community and business leaders, making a commitment to identify opportunities to reduce City of Darwin's greenhouse gas emissions and adapt to the impacts of climate change.
Since then, City of Darwin has facilitated the development of an emissions profile for the Darwin community, determining that the Darwin community is responsible for producing approximately 2 million tonnes of greenhouse gas emissions annually – across transport (60%), electricity (34%) and waste (6%).
A Discussion Paper has been developed that captures the unique considerations of our climate emergency, gaining support and input from climate change experts and academics from around Australia. The Discussion Paper informs and underpins City of Darwin's draft Climate Emergency Strategy.
City of Darwin's draft Climate Emergency Strategy details Council's four key goals – promoting resilience and adapting to climate change, identifying economic opportunities, achieving net-zero Council-controlled emissions by 2030 and supporting our community to achieve net-zero emissions by 2040.