City of Darwin has declared its commitment to take action to combat the devastating effects of climate change.
The Lord Mayor's Climate Emergency Roundtable has allowed for a discussion with business leaders, government and the community about the priorities for Council in the development of its Climate Emergency Response Plan.
A consensus among participants was reached on key actions required to mitigate the impact of climate change.
Agreed priority areas for City of Darwin to focus on
Decarbonisation 

 

The world is past the point of business as usual being acceptable, we can no longer just reduce current emissions (although still important), we need to look at ways to sequester and offset emissions.

Education

Advocating for and engaging with the community. The roundtable being the first step of many for collaboration and knowledge sharing with the Darwin community.

Adaptation 

Investing in new technology and identifying innovate ways to deal with the changes likely to impact Darwin.
Everyone who attended the roundtable came away with a deeper understanding of the risks associated with inaction and the need to mitigate long term impacts.
All the ideas and information collected on the day and in follow up correspondence will feed directly into the Climate Emergency Response Plan. In early 2020, the newly appointed City of Darwin Climate Emergency Project Officer will be developing and implementing the project with the aim of further collaboration with stakeholders.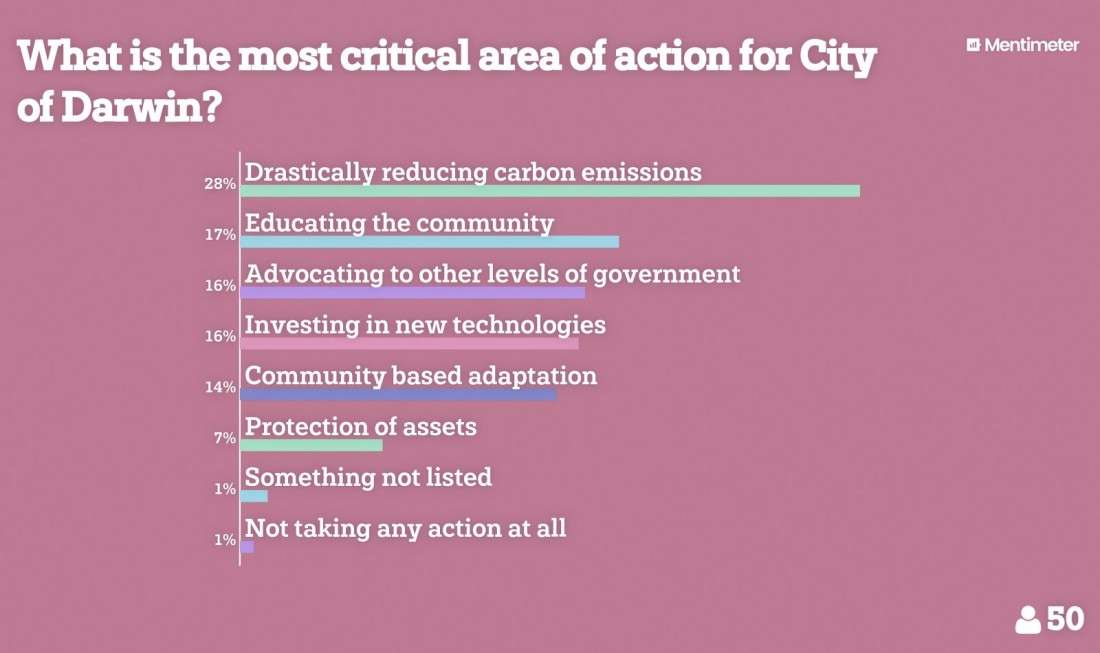 Image: Poll results from the Roundtable Event
---
Information from the day
Lord Mayor's Emergency Climate Change Roundtable Program
Guest Speakers