We provide a variety of equipment that assist in making community events and activities at some of our popular recreation locations to be more accessible.
Accessible Flooring
The Accessible Flooring can be hired for use at community events to assist with access for people with mobility issues where a flat surface is needed.
For more go to Accessible Flooring
Swimming Pool Access Equipment
Each of Darwin's public swimming pools has an aqualift to assist people to get in and out of the water.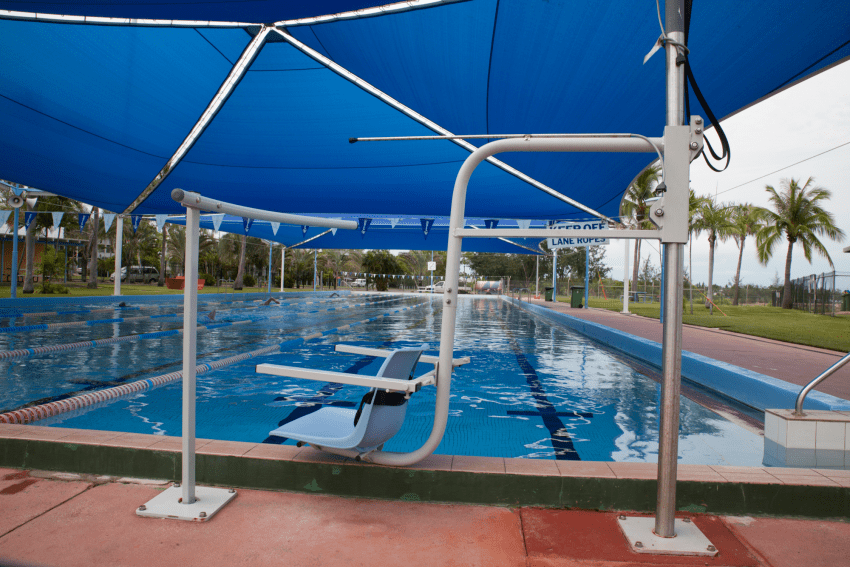 Casuarina Swimming Pool has an aqualift, a pool sling hoist and an adult change table with a ceiling hoist in the accessible bathroom.
Nightcliff Swimming Pool has an aqualift chair, a shower on pool deck, and an accessible toilet.
Parap Pool has ramps to access both the 25m and 50m pools, with a water wheelchair provided. There are two all-access bathrooms next to the cafe.
For more go to Public Swimming Pools
Liberty Swings
There are two Liberty Swings available for use by people with mobility limitations. The swings are located in two of the city's regional playgrounds.
The Variety Liberty Swing is located at the Water Gardens Regional Playground, Freshwater Road, Jingili.
A Liberty Swing, partly funded by Department of Social Services, is located at the Lake Alexander Regional Playground, East Point Reserve, Fannie Bay.
The Liberty Swings are designed for use by people of all ages and have room for a wheelchair to be strapped into them as well as a pop-up internal seat with a seat belt attached.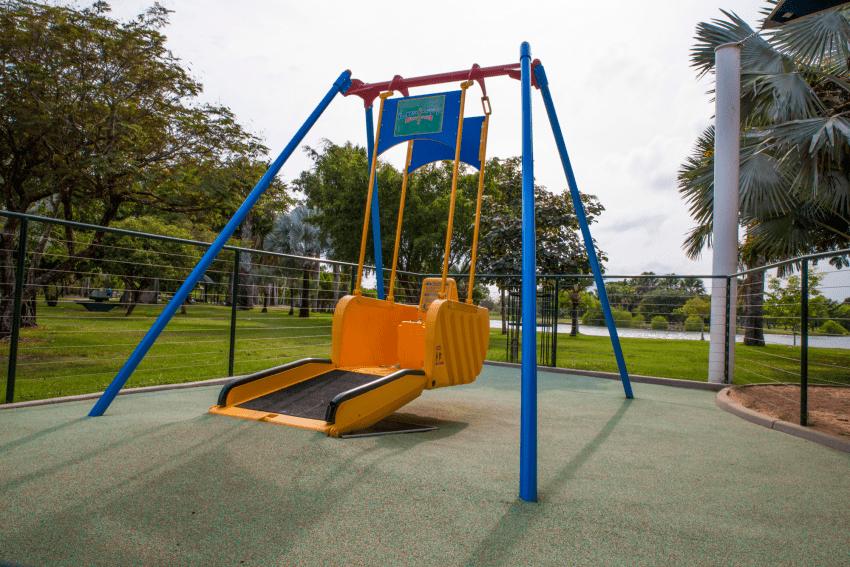 Access to Liberty Swings
The swings are locked when not in use for safety reasons, and keys are available free of charge. To obtain a permanent key to access the swings, complete the application form and send it via:
fax: 8930 0644
post: GPO Box 84, Darwin, 0801
in person: Civic Centre, Harry Chan Ave, Darwin
The key for the Liberty Swings also accesses the Peter Mahony Fishing Platform (further details below).
Peter Mahony Fishing Platform
The Peter Mahony Fishing Platform is located on Casuarina Drive, near the Rapid Creek footbridge. The fishing platform is designed specifically for wheelchair access. Peter served twenty-two years on the City of Darwin Disability Advisory Committee and was still an active member at the time of his passing on 19 May 2014. Peter was an avid and very prominent advocate on behalf of people with disability and was instrumental in advocating for the construction of the fishing platform. The platform was named in his honour on International Day of People with Disability, 3 December 2014.
The Fishing Platform is fitted with adjustable panels to allow casting from a low height. The panels are kept locked for safety associated with the reduced barrier height; however, keys to unlock the adjustable panels are available free of charge.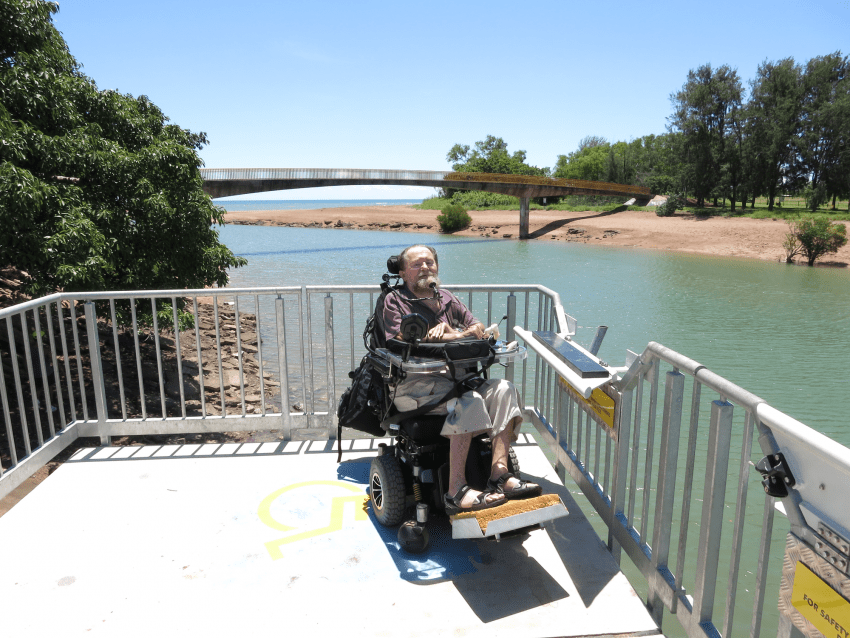 Access to Peter Mahony Fishing Platform
To obtain a permanent key to the Peter Mahony Fishing Platform panels, complete the application form and return it via
fax 08 8930 0644
post: GPO Box 84, Darwin 0801
in person at the Civic Centre, Harry Chan Ave, Darwin
More Information
For further information on the Liberty Swings and their locations or the Peter Mahony Fishing Platform, contact: