Info: Subheading
YourDarwin Data
City of Darwin provides both on-street and off-street parking across the Central Business District (CBD). Parking is regulated Monday to Friday between the hours of 8am to 5pm and Saturday between 8am to 2pm (Zone A only), unless otherwise sign posted. On-street parking provides for multiple durations from maximum 2 hour stays to all day parking across our Zones A (2 hour), B (3 hour) and C (all day), this allows for high-turnover.. Off-street parking provides short, medium and long stay parking in a convenient location. City of Darwin provides some free motorbike parking and 15 minute car parking spaces across the CBD. Payment for the parking can be made at the meters or via Paystay using the app, call, or text. Revenue received from parking goes back into the community helping City of Darwin to deliver services to the people of Darwin.
Usage Analysis
There are a number of options when it comes to parking in Darwin. City of Darwin currently supplies 3,621 car parking spaces in total for use.
There are three different on-street parking zones, 10 off-street car parks, and numerous assessible, motocycle, electric vehicle, bike, short term and loading bay parking spaces.
Off Street vs. On Street Usage & Durations
Off Street Durations:
Short Stay - 2 hours or less
Mid Stay - between 2-3 hours
Long Stay - more than 3 hours
Over 94% of off-street users stay for more than 3 hours. The off-street parking areas are frequently used by workers who come into the Central Business District each day and stay for the working day.
The off-street parking is not limited to all day use with just over 4% of users staying 2 hours or less and less than 1% staying between 2-3 hours.
The on-street parking is utilised more by users staying 2 hours or less with the Zone A parking bays being used over 60% of the time.
On Street Usage by Zone
On Street Durations:
Zone A - 2 hour maximum parking
Zone B - 3 hour maximum parking
Zone C - All day parking
Zone A is the most frequented zone of the on-street areas providing 2 hours or less of parking to users.
The charts show that of Zone B, which has a 3 hour limit, almost half of the users are staying in those bays for a 2 hour period, whilst just under 45% of users are staying in the parking bays for the full 3 hour time duration allowed.
Zone C is the all day on-street parking bays and as the chart shows over 81% of users are utilising the space for the full day period. Less than 5% of users stay for up to 3 hours and the remaining 13% stay for just 2 hours.
This data shows that of all the on-street parking zones, the 2 hour parking and all day parking are the most used options.
Visitor Usage (all travellers outside NT)
The graph above shows data used from PayStay which is a vehicle registration system used for customers to make payment for parking. This data shows that by the vehicle registration the Top 3 visitors to Darwin in the 2022/23 financial year have come from QLD, VIC & WA.
NT vs. Visitor Comparison
Parking Financials
Parking throughout the CBD is controlled by paid parking, which is required between 8.00am and 5.00pm Monday to Friday and between 8.00am and 2.00pm Saturday (Zone A only). There is no overnight fee for on-street parking. Parking is free outside of these hours, public holidays and weekends in Zone B & C.
Pay and Display parking metres are located throughout the CBD. All metres accept coins and a number of off-street car parking locations accept Visa PayWave or Mastercard PAYPASS(TM) payments. Alternatively, all parking can be paid using the PayStay parking app.
The parking fees vary depending on location, the fees are detailed below: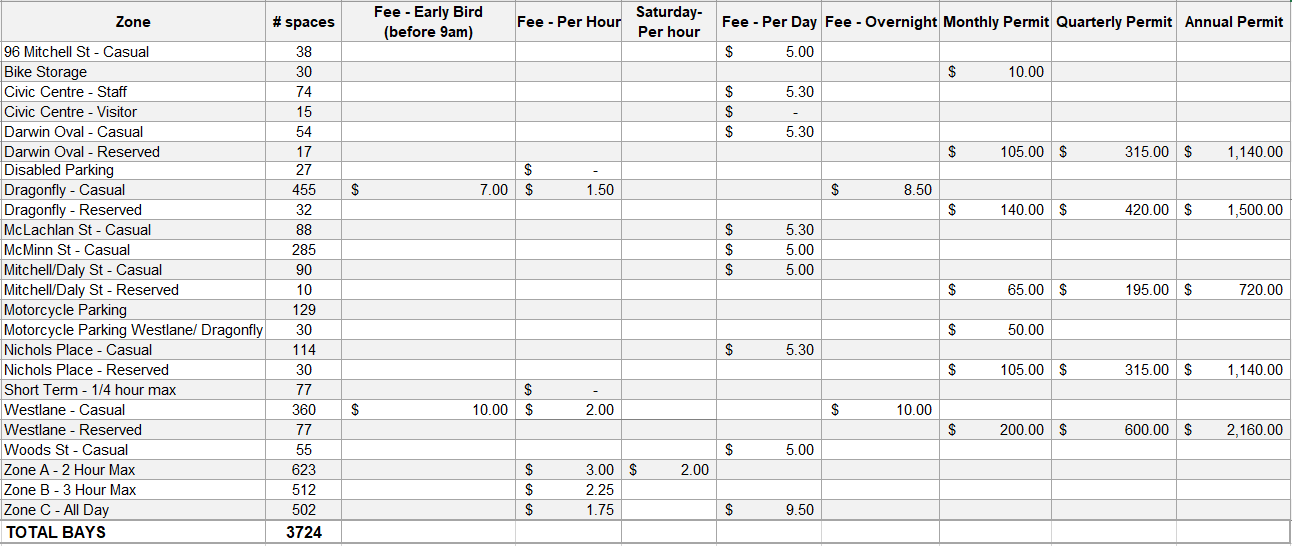 Parking Revenue
The below graphs provide an overview of the revenue received from the on & off-street carparks, and methods of payment.
Off-Street vs. On-Street Revenue
The revenue for off-street car parking arises from our everyday off-street parking users and those who still hold reserved bays. For the financial year ending 30th June 2022 Council received over $1.9M in off-street revenue and $2.1M in on-street revenue. 
For both off and on-street parking, Paystay is the preferred method of payment representing over 70% of payments made.
On-Street Revenue by Zone
Zone A - 2 Hour Max Parking
Zone B - 3 Hour Max Parking
Zone C - All Day Parking
As Zone A is in close proximity to The Mall and the retail shops in the centre on the CBD, this parking zone gets high turn-over and as such we see the most revenue from this zone.
Zones B and C are for longer durations of car parking and are located a further distance from The Mall and retail businesses, as such while good revenue is generated from these zones, they generate less than half of Zone A.
Combined On & Off Street Methods of Payment
City of Darwin introduced Paystay as a new method of payment in February 2018. Since the launch of Paystay it has become the most popular method of payment from our parking users in both the on and off-street parking areas. Paystay now accounts for over 70% of all payments received, while cash is around 20% and credit card less than 10%.
Off Street Methods of Payment
The off-street methods of payment are a mix between Paystay, credit card and cash. Paystay is the preferred method for off-street users followed by credit card.
On Street Methods of Payment
The on-street meters in the CBD do not accept credit card, meaning that users can choose between using Paystay or cash. Paystay accounts for more than half of the on-street parking transactions generated for parking.
Parking Regulation
City of Darwin officers are authorised under the Local Government Act to enforce legislation that City of Darwin is responsible for. This includes on-street parking regulations under the Northern Territory Traffic Act and Northern Territory Traffic Regulations, which include the Australian Road Rules. The key purpose of City of Darwin regulating on-street parking is to maintain public safety and amenity. As an example, Officers may encourage the regular turnover of parking bays through parking restrictions so that drivers can have fair access to areas with a limited parking, such as school zones.
Infringement Revenue by Location
City of Darwin Officers may enforce the parking regulations by issuing fines to people who do not comply with them. It is preferable that people comply with the parking regulations, rather than be issued fines. The graph below displays the total number of parking infringements issued. The infringements are shown by the area in which the infringement was issued; CBD on-street parking, car park parking, and on-street parking in the remaining suburbs of Darwin.
Infringements by Type
Under the Northern Territory Traffic Act and Northern Territory Traffic Regulations, which include the Australian Road Rules, there are a range of regulations that must be adhered to. The graph below displays the total number of infringements issued by type of regulation, for example, 'fail to display voucher' or 'stopping within a loading zone'.