We offer a household waste and recycling collection service through our contractor, JJ Richards and Sons. Everything you need to know about your bin service can be found here.
Skip straight to:
About Your Bin Collection
We offer two types of waste and recycling collection services:
Household - up to three properties in one complex
Multi-dwelling - units, townhouses and apartments with four or more properties in one complex
Find out more about your household bin collection service below.
Household Collection Service
This service is available to houses or unit blocks with up to three dwellings on the site. These bins are emptied as part of the kerbside collection service with automated trucks.
Included in this service is:
one red lid household waste bin, emptied weekly
one yellow lid recycle bin, emptied fortnightly.
Find your bin day
You can find out your bin collection day and import the dates into your calendar with our My Bin Day tool.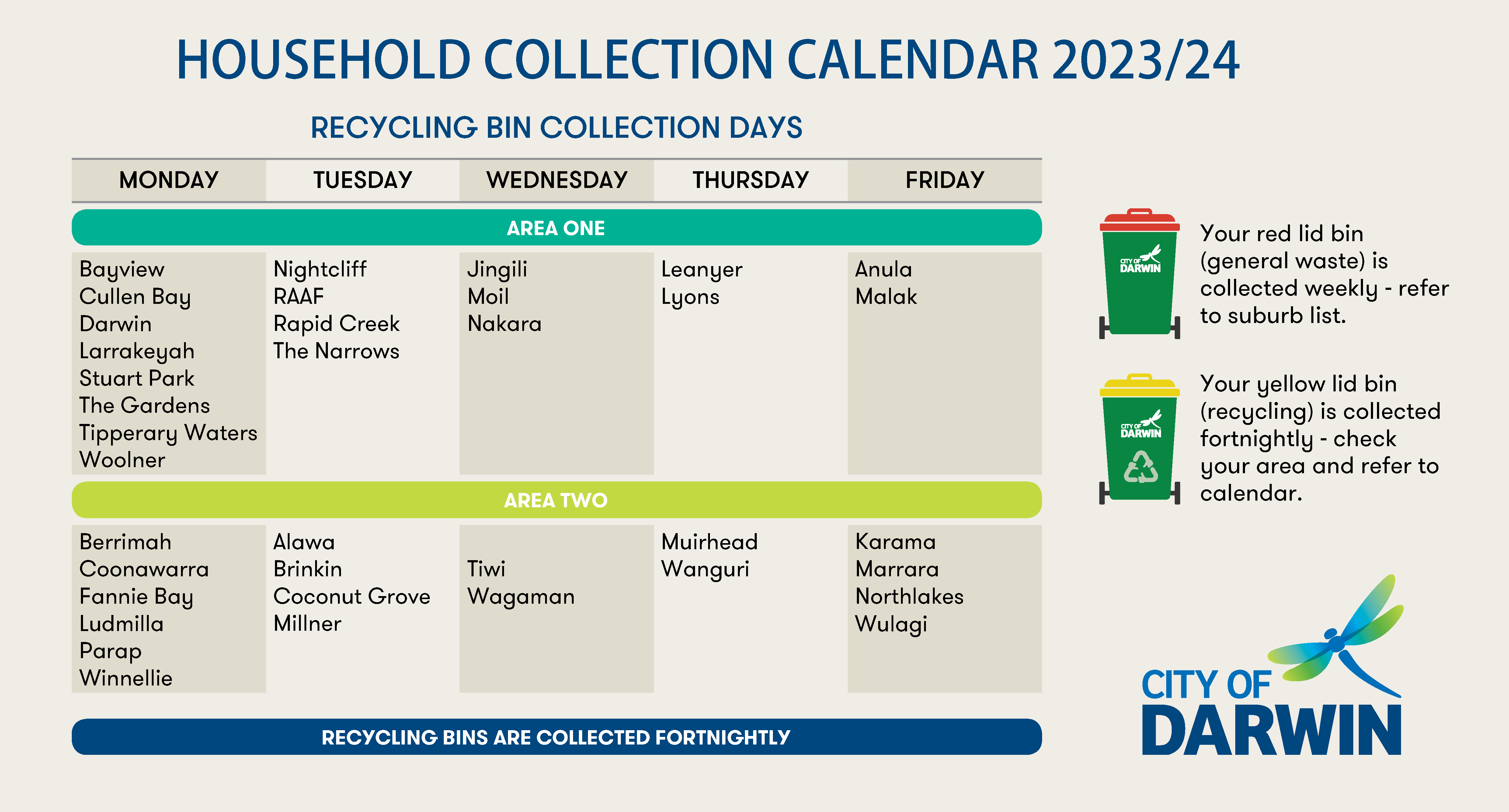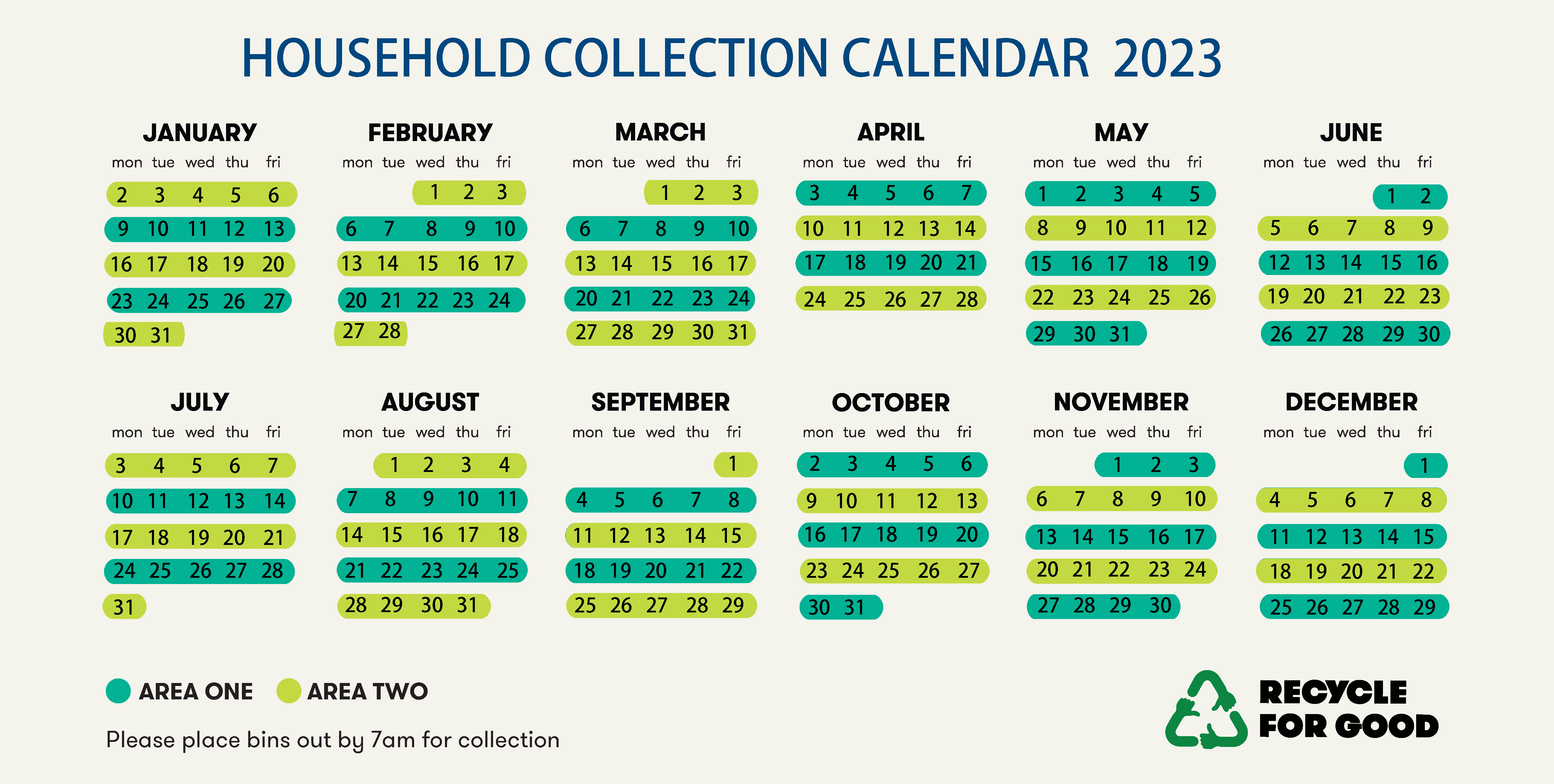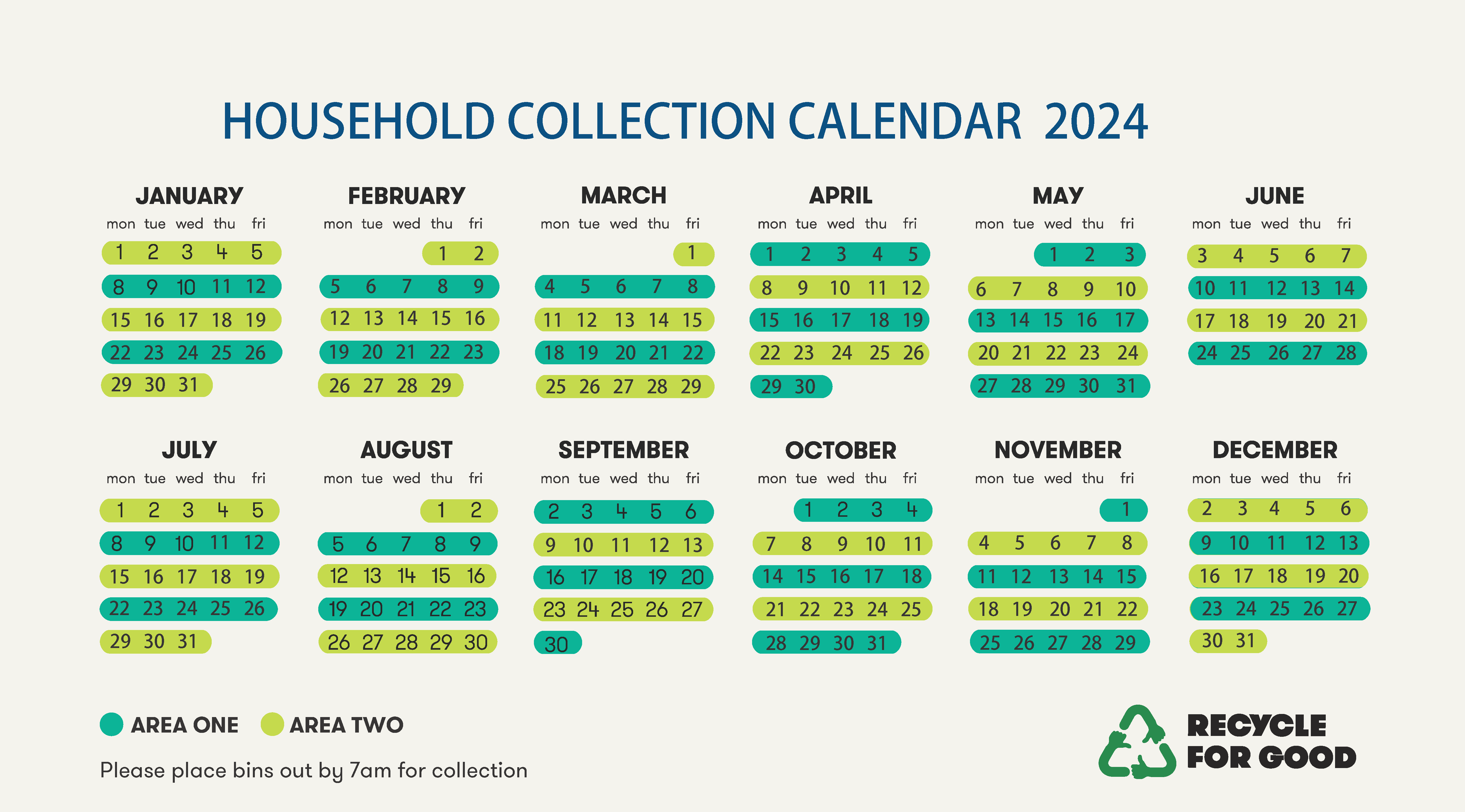 You must place your bin on the kerb for collection either the night before or by 7.00am on the day of collection. We remind you to bring your bin back in within 24 hours of collection.

How to make sure your bin gets emptied:
Place bins at least half a metre apart on kerbside (not the road)
Place bins out by 7.00am
Make sure the wheels are facing your property.
Keep the bins clear of overhanging branches and obstructions
No overflowing bins
Close the bin lid
Bins must not exceed 70kg.
All materials in your yellow lid recycle bin are taken to the JJ Richards and Sons Materials Recovery Facility (MRF) where they are sorted, bailed and sent to market for reprocessing, BUT if your yellow lid recycle bin is found to have too many non-recyclable items in it then the entire bin contents will go to landfill.
Missed Collection, Damaged, Missing or Stolen Bin
City of Darwin's Waste Contractor, JJ Richards is happy to help you with your waste collection services matters and can be contacted on
1800 290 581  8.00am to 5.00pm Monday to Friday.  There is no after hours phone number for JJ Richards.
Alternatively report your issue through our web forms and JJ Richards will be in contact within 1 business day.
After hours please contact JJ Richards using the web form or via email.
If you would like to discuss your waste collection services directly with City of Darwin we would love to hear from you, contact us on
8930 0300
Apply for a New Service 
To arrange a new service, a New Waste Collection Form will need to be completed and submitted to City of Darwin. Allow at least five working days for the new service to be arranged and for the bins to be delivered.
Frequently Asked Questions 
Looking for more information about your household service? Try our FAQs.
Can I get my bin emptied twice this week?

No, you can't get your bin collected twice in one week. But you can get an extra bin if you need it. Please fill in the Additional Kerbside Service Form.

Can I get an extra bin?

If you would like an additional bin, please fill in this form Additional Kerbside Service Form

What time will my bin be emptied?

Collection can take place any time between 7.00am and 5.00pm.

Will my bin be emptied on a public holiday?

Collections are maintained on public holidays and any changes to the collection schedule will be notified in the local press and City of Darwin website.

I am elderly or a person with mobility limitations. Can you help me out?

A special service is available for the elderly and persons with mobility limitations. To find out more about this service please contact us on 08 8930 0300
A few simple mistakes can send tons of good recycling to landfill, so recycle your thinking and learn to recycle for good.