Landfill Gas Capture 
Council currently has a Landfill Gas Contract in place with LMS Energy (LMS), granting LMS exclusive rights to the landfill gas generated at the Shoal Bay Waste Management Facility until 30 October 2024.
LMS owns the landfill gas infrastructure, covers the capital and operational costs and pays Council a royalty on revenue received from the project.
Council and LMS have undertaken significant investment across Shoal Bay since the contract's inception in 2004. This includes the development of the landfill gas collection system across the site and the commissioning 1.1MW landfill biogas-to-energy facility. 
LMS operate the 1.1MW facility at Shoal Bay to generate power from the landfill gas extracted from the Shoal Bay landfill. The facility has provided many significant environmental benefits over the years including: 
•    exporting over 122,000MWh of base-load renewable energy
•    destroying over 85 million cubic metres of landfill biogas 
•    saving more than 17 million litres of potable water annually (when compared to traditional coal-fired generation) 
•    abating more than 800,000 tonnes of CO2e, creating over 340,000 Australian Carbon Credit Units.
Currently, the LMS facility is operating at its full capacity of 1.1MW. Council and LMS have discussed the future of the site and are aiming to increase the site's capacity to allow for the generation of more base-load renewable energy, instead of flaring surplus biogas.
Council and LMS have recently conducted works onsite to improve the collection of the gas at Shoal Bay and plan to undertake further works to increase this capacity.
What is Landfill Gas?
Landfill gas is a form of renewable biogenic energy that is derived from the decomposition of the organic component of waste deposited landfill, which is mainly a mixture of carbon dioxide and methane. Without appropriate management, gases from landfill can escape into the atmosphere and cause problems for the environment.
How it Works
The landfill gas is harvested from landfill to produce renewable electricity to approximately 1000 Darwin homes every year. The below table outlines the electricity generated by the facility in the past financial year. This table will be updated each quarter.
| | |
| --- | --- |
|   | Net generation (MWh) |
| August 2022 | 644.812 |
| September 2022 | 742.877 |
| October 2022 | 706.180 |
| November 2022 | 719.338 |
| December 2022 | 769.969 |
| January 2023 | 756.472 |
| February 2023 | 653.578 |
| March 2023 | 763.567 |
| April 2023 | 761.173 |
| May 2023 | 763.809 |
| June 2023 | 725.620 |
| July 2023 | 773.352 |
| August 2023 | 772.020 |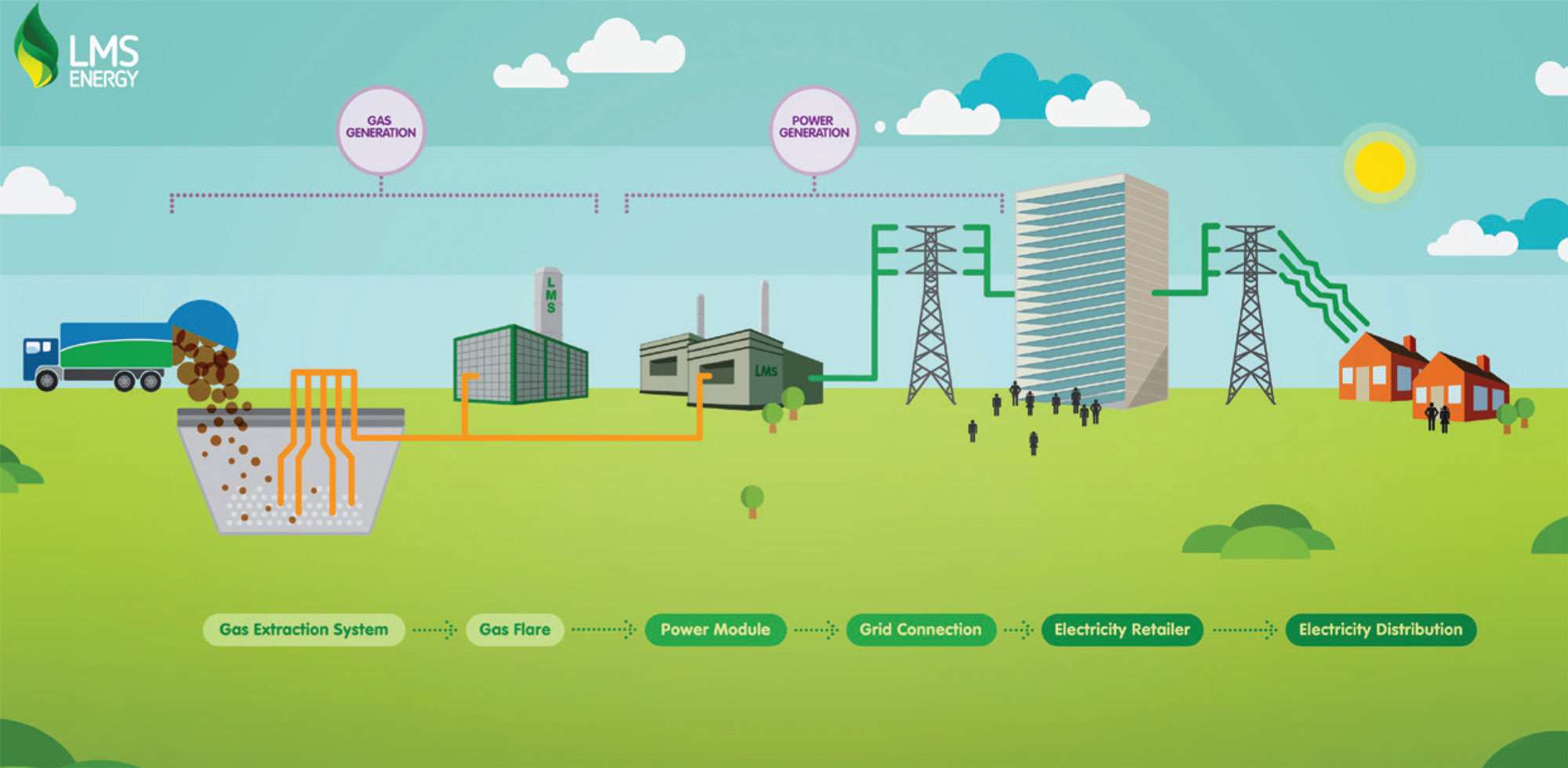 *Homes powered is based on average Darwin electricity use per home.