The Hon. Kon Vatskalis was elected as Darwin's Lord Mayor in the August 2017 Council elections.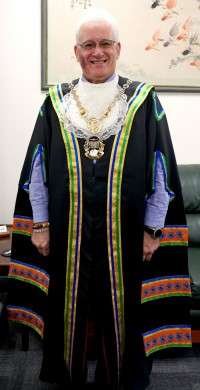 Lord Mayor Protocol
Name
The Hon. Kon Vatskalis
Title
Lord Mayor of Darwin
Official Form of Address - Invitations, plaques, official correspondence
The Right Worshipful The Lord Mayor of Darwin, the Hon. Kon Vatskalis 
Letters - Addressee Details

Lord Mayor of Darwin 
The Hon. Kon Vatskalis 
City of Darwin
GPO Box 84
DARWIN NT 0801

Letter - Commencement
Dear Lord Mayor
Personal Address
"Lord Mayor"
The Lord Mayoral Robes
Initially adopted, when Mayors were responsible for law and order in their civic districts, the robes served as a symbol of authority. They continue to serve as a symbol of the position of authority. City of Darwin Mayoral robes once recognized as a local government body in 1957, were red.
In 1979 it was declared by HRH Queen Elizabeth II that the Corporation of the City of Darwin Mayor would be further known The Lord Mayor of the City of Darwin. At this time new robes were introduced for the Lord Mayor. These robes have traditionally been black with gold trim.  
In 2020, due to significantly consistent high temperatures in the City of Darwin, a new robe was designed to allow more comfort for the Lord Mayor when the occasion called for the Mayoral robes to be worn. The new robes are representative of the Darwin multicultural community as a whole while maintaining the traditional style. The body of the robe is black cotton with the silk lining being ochre, representing the land and Country. 
The following colours within the braid work represent:
Ochre - the Land and Country
Gold - our Chinese heritage and Asian community also identifying the original heritage of the robe
Blue - our Greek influence
Green  - our Italian and Greek Communities
The Larrakia design print is by local Larrakia Artist Gary Lang and has been manipulated to work on the sleeve tails. The design is of a weaved matt, and the image represents 'Place'. It is also used in marriage/unity ceremonies in the local culture.