Our sound equipment provides an affordable and accessible alternative for community members who need a small sound system for events.
Our MIPRO portable sound system is available to not-for-profit organisations, community groups and charities for non-commercial events that are open to the public (sorry, no backyard parties!)
The cost is as per our currently endorsed Fees & Charges.
Equipment Options
We have one MIPRO portable sound system available:
All in one speaker on wheels with retractable handle
Runs off a rechargeable battery for portable use
Comes with one vocal microphone (with 3.5m cable)
Offers two inputs – plug in either two mics, two instruments or one of each
Suitable for a small crowd of around 50-100 people max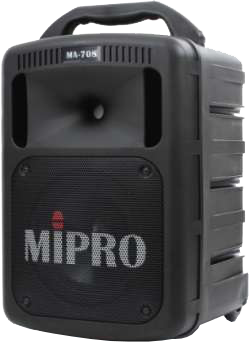 Some examples of what the MIPRO is great for:
MCs, welcome to country and other speeches to small crowds
Playing pre-recorded music from phones, laptops, ipods or CDs
Solo singers using a pre-recorded backing track or with one instrument eg keyboard or guitar
Walking tours of historical sites or gardens (on paths or firm, dry ground)
A full list of equipment that comes with the MIPRO can be found here -
MIPRO - list of included equipment
Important Information on using the sound equipment
Please note to use the sound equipment:
The event must take place within the Darwin municipality
The event must be non-commercial in nature and open to the community to attend
The event must have public liability insurance cover
The equipment cannot be loaned out until the application form, public liability insurance certificate and payment have all been received
The equipment is to be transported in an enclosed vehicle
How to Book
If you are interested in using the sound equipment or would like to know more about it
or phone Customer Services
Once availability has been checked and a tentative booking made, complete an application form via the web form or PDF -
Event Equipment Application Form (Webform)