2020/21 Municipal Plan and Annual Budget
2020/21 Municipal PlanFees and Charges 2020/21
2020/21 Budget HighlightsSupporting our city through COVID-19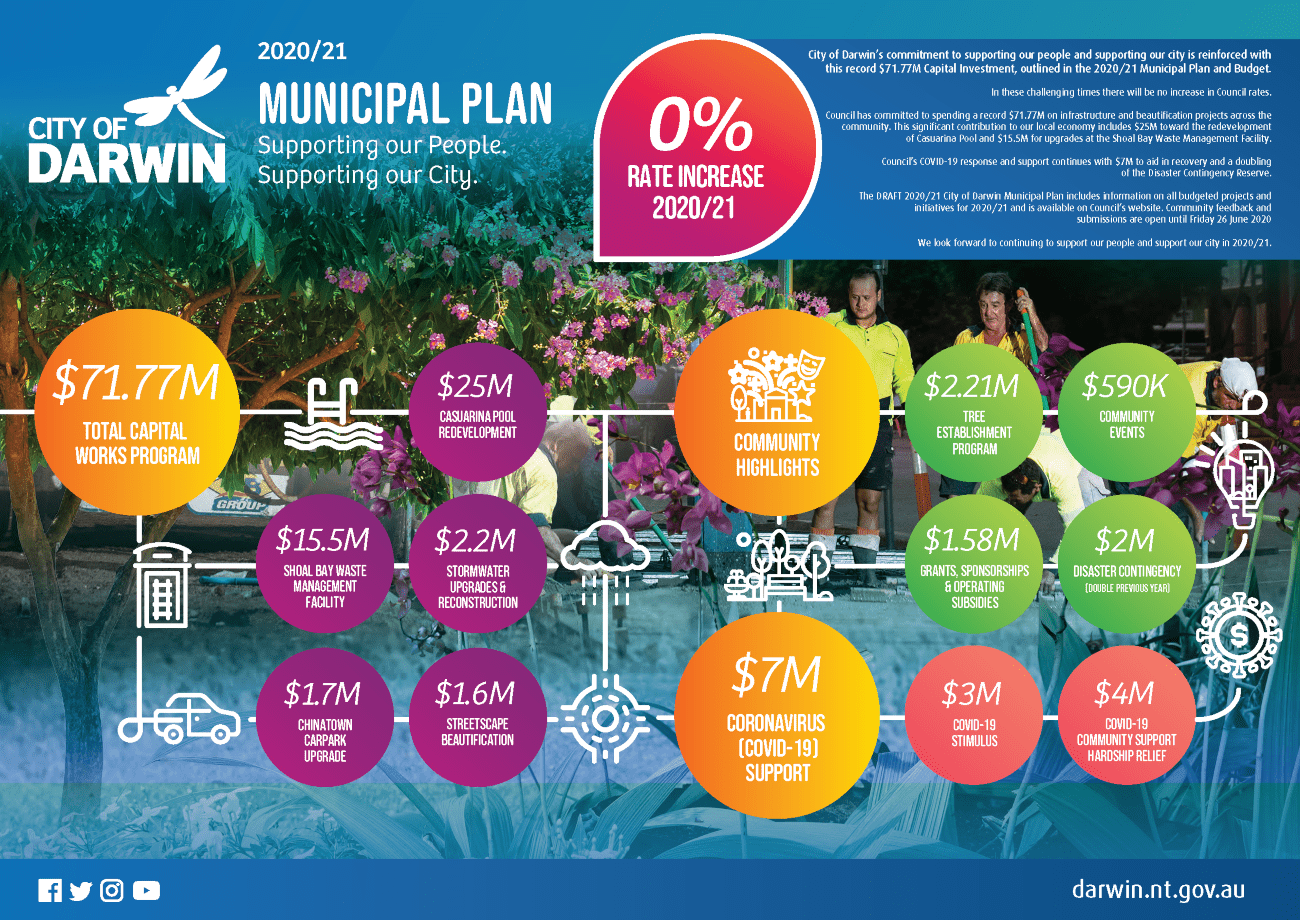 The 2020/21 Capital Works program totals a record $71.77M, building on the unprecedented $53.07 2019/20 investment in community infrastructure, smart technology and environmental initiatives across the Darwin municipality.
The record 2020/21 Expenditure focusses on delivering economic stimulus to our city through significant investment in construction and infrastructure.
Key Projects 
Key projects include major works and upgrades at the Shoal Bay Waste Management Facility, Casuarina Pool redevelopment, stormwater upgrades and beautification projects across the municipality.
Casuarina Pool Redevelopment

2020/21 Project Budget - $25.0M

The Casuarina Pool Redevelopment project will result in a facility that has an emphasis on fun activities,
is functional and meets the health and recreational needs of the local community and visitors.

Coronavirus (COVID-19) Stimulus – Municipal Wards

2020/21 Project Budget - $3.0M

Building on our commitment to recover the City from COVID-19, City of Darwin has allocated $3.0M to small projects across the municipality.
Small projects are focussed on improving the amenity of Darwin and delivering services specific to each Ward. Small projects have arisen from the community's effective engagement with Elected Members.

Coronavirus (COVID-19) Community Support

2020/21 Project Budget - $4.0M

Council will receive a $4.0M grant from the Northern Territory Government to support the implementation of Policy 091, Financial Hardship Support.
This will be the largest community support packages ever delivered by Council, with funds utilised to offset a budgeted reduction in rates income as a result of financial hardship. Through the package support can be provided to residential and commercial ratepayers who experience financial hardship.

Stormwater Upgrades and Reconstruction

2020/21 Project Budget - $2.20M

City of Darwin has allocated a total of $2.20M to upgrade and reconstruct stormwater culverts and drains across the municipality. $700K is allocated to upgrade culverts on Dick Ward Drive and $375K to reconstruct stormwater drains in Killian Crescent. A further $350K in operational funds is allocated to undertake new condition assessments of all of Council's stormwater assets.
Stormwater upgrades and reconstruction are important risk mitigation strategies and these projects ensure Council is delivering on its long-term Asset Management Plans.

Streetscape Beautification

2020/21 Project Budget - $1.60M
(annually for five years commencing 2019/20)

City of Darwin has resolved to dedicate funds annually for five years to the upgrade of streetscapes across the municipality. Each of the four Wards will receive equal budgets in 2020/21. Streetscape Beautification Projects are designed to improve amenity and are key projects to achieve Council's vision of a 'City of Colour'.

Velodrome Redevelopment

2020/21 Project Budget - $10.50M

The Northern Territory Government announced funding totalling $10.50M for the City of Darwin to upgrade the Darwin Velodrome. The upgrade aims to modernise the facility and bring its specifications in line with the requirements of local and national competition standards, therefore allowing better use of the facility for competitive cyclists and the general public.

Shoal Bay Waste Management Facility

2020/21 Project Budget - $15.55M

Shoal Bay Waste Management Facility services the greater Darwin region and is the only licensed landfill in the area. The facility receives over 190,000tonnes of waste per annum and has a forecasted operational life to 2034.
In 2020/21 Council will draw down a loan of $13.2M to deliver the Leachate Treatment System at the Shoal Bay Waste Management Facility. This project is carried over from the 2019/20 budget. The Leachate Treatment System will boast an innovative design that will ensure Darwin is recognised as a national leader in the treatment of leachate and is estimated to be delivered by the end of 2021.
In 2020/21, $1.90M has been allocated to upgrade the entrance and weighbridge at the facility.
A further $300K is allocated for leachate management at the site and $150K to undertake the design for capping of cells 3 and 4.

China Town Car Park Refurbishment

Project Budget - $1.7M

Council has allocated $1.70M for capital upgrade works to the façade and awning of the Chinatown Car Park. The upgrade is expected to be completed in October 2020 and will include upgrades to the street façade, inclusion of an LED backlighting system, installation of a wider awning at street level and the removal of some ground level car parks to relocate and upgrade end of trip facilities.