Did you know the average Australian household produces a busload of waste every year?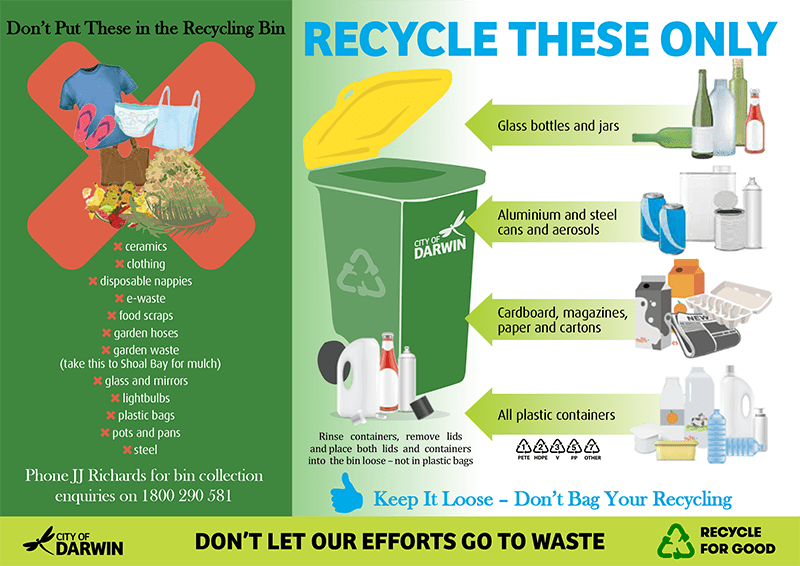 There are so many ways that you can reduce the amount of waste that you produce from ending up as landfill.
From making better choices about what you buy to using the correct bin to dispose of waste –you can make a difference.
Your yellow lid recycling bins make it easy for you to recycle many of your everyday household items.
Don't let our efforts go to waste. A few simple mistakes can send tons of good recycling to landfill. So recycle your thinking and learn to recycle for good.
The Waste Hierarchy
The waste hierarchy is a universally accepted guide on how to prioritise how we use, reuse and dispose of material for the best environmental outcome for now and the future.
Put simply, the higher up the hierarchy you act, the better for the environment.
Avoid - Avoid producing waste in the first place. For example, before buying something ask yourself 'Do I really need it?'
Reduce – Reduce the amount of waste created. For example, choose products with less packaging.
Re-use – Use things more than once or donate to an op-shop. For example, use clean ice-cream tubs to store loose items.
Recycle – The items placed in your recycling bins are turned back into raw materials to make new products.
Recover – Industry can generate energy from waste. For example, at Shoal Bay Renewable Energy Facility a gas extraction system turns waste into energy.
Dispose – As a last resort, dispose of waste in landfill.