John Stokes Squares Redevelopment - Bus stop 86 relocation

Bus stop 86 near the Progress Drive shops will be temporarily closed during construction. Passengers and school buses normally using this bus stop will be able to use a temporary bus stop set up on Pavonia Place from 12 April.
This temporary bus stop will be in effect for approximately 6 months.
A number of car parks will removed temporarily along Pavonia Place, Phoenix Street and Oleander Street near the back of the Nightcliff shops to allow the bus to access the temporary bus stop.
Please see attached flyer for more information about the temporary bus relocation.
For further information about the project or to provide feedback on the planned traffic changes, please email feedback@truenorthcomm.com.au, call the project hotline 1800 517 341, or visit dipl.nt.gov.au
Your patience and understanding is appreciated whilst work is being undertaken.
Apologies for any inconvenience this may cause.
All Day Parking Map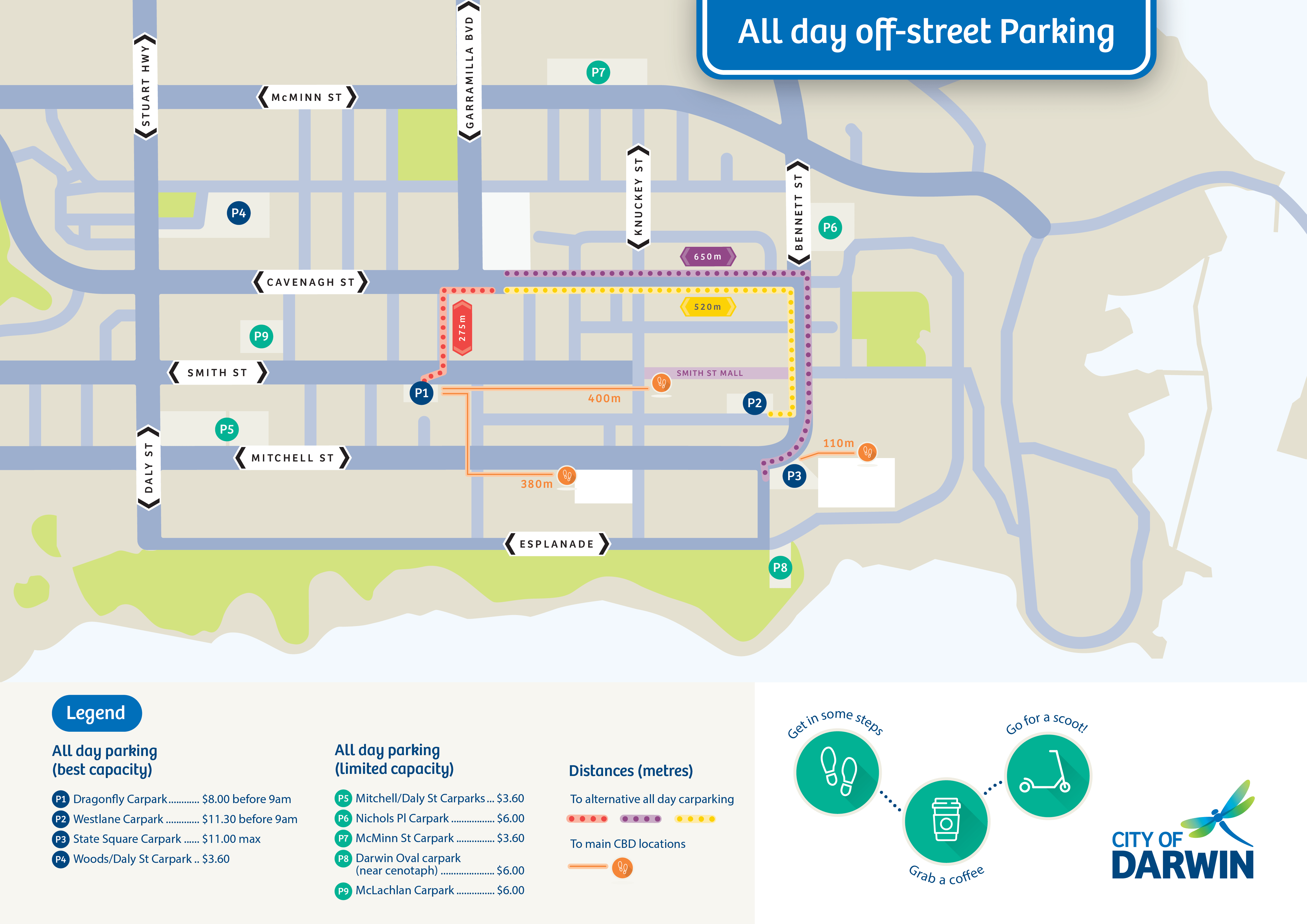 State Square Car Park
The State Square Car Park (located Corner of Mitchell and Herbert Street) is part of the Civic and State Square Master Plan developed by the Northern Territory Government.
The car park has a total of 450 parking bays with a minimum of 150 available for public use.
While the facility will remain an asset of the NT Government, City of Darwin will operate the car park under an interim arrangement transitioning to a full management agreement as soon as possible.
The existing above-ground car parks will begin the transition to the new State Square Car Park in February - eventually turning back into green spaces.
For more information and fees see Multi-Storey Car Park Fees
Free Weekend Parking in the CBD!
Did you know? Parking in the CBD is FREE and UNLIMITED all weekend.
All city parking zones have unrestricted parking on weekends and public holidays! This means you can park, enjoy brunch, and finish your shopping without having to worry about returning to your car in time.
When parking in the city centre on weekends, please only park in designated parking bays.
Regulating Traffic and Parking in Darwin
Council Officers are authorised under the Local Government Act to enforce legislation that we are responsible for.
This includes on-street parking regulations. Council enforces on-street parking under the Northern Territory Traffic Act and Northern Territory Traffic Regulations which include the Australian Road Rules.
For a full outline of the Northern Territory Traffic Regulations visit Northern Territory Traffic Regulations.