About Shoal Bay Waste Management Facility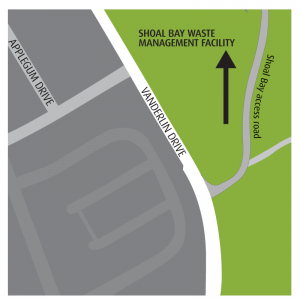 Shoal Bay Waste Management Facility
Location
Shoal Bay Access Road (off Vanderlin Drive) Karama 
| | |
| --- | --- |
| Opening Hours |   |
| Monday - Sunday* | 7.00am - 6.00pm |
| Christmas Day | 7.00am - 2.00pm |
| *Including Public Holidays |   |
Shoal Bay is the home of City of Darwin's waste and recycling management facility and our renewable energy facility. A recycle shop and mulch facility are also on site.
Shoal Bay Waste Management Facility services the greater Darwin region and is the only licenced landfill in the area and operates under EPL-188. The facility comprises of a lined putrescible waste landfill and an inert landfill cell.
Shoal Bay Waste Management Facility receives over 180,000 tonnes of waste per annum and has a forecasted operational life until 2034. To improve ongoing operational management and meet increasing regulatory and environmental standards, a number of upgrades are underway to advance the facility for the future.
Our aim is to reduce the volume of material entering the landfill at Shoal Bay by encouraging the separation of materials that can be recycled from general waste before being disposed.
Recycle Shop 
The Recycle Shop is operated independently by Helping People Achieve (HPA): a community based organisation that provides opportunities for people with disabilities to undertake various activities within the community and to learn the skills required to move into the world of employment.
Before you head to the transfer station, pop into the Recycle Shop and visit the friendly team from HPA to see if your items can be repurposed or resold.
The Recycle Shop has commenced trading in late August. You can buy pre-loved items as well as drop off goods for repurpose or resold.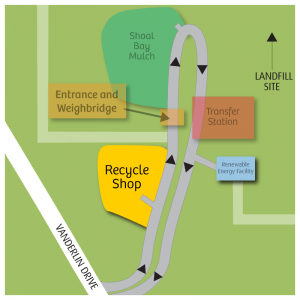 The Recycle Shop
Location
Shoal Bay Access Road (off Vanderlin Drive)     
| | |
| --- | --- |
| Opening Hours |   |
| Monday to Sunday* | 8.00am - 4.00pm |
| *Closed Public Holidays |   |
Why take your items to the recycle shop?
Dropping off goods that can be reused at the recycle shop will:
reduce the amount of unnecessary waste sent to landfill
lighten your waste load prior to heading on to the weighbridge and cost you less
provide an affordable and environmentally friendly item to someone else in the community.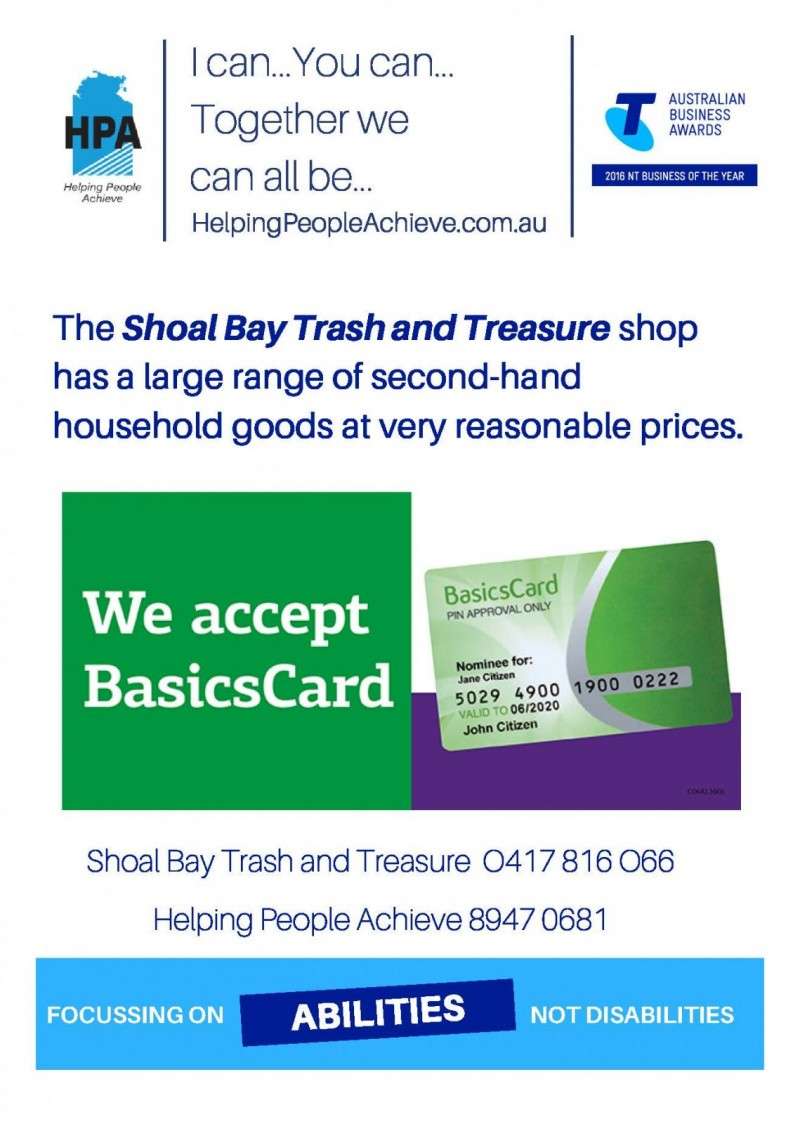 Items Accepted by the Recycle Shop
The following goods will be accepted at the Shoal Bay Recycle Shop subject to an inspection to determine their quality.
car batteries
bed bases and frames
plastic bottles and containers
glass bottles and jars
kitchen utensils
household goods such as TVs, computers and printers
books, CDs, DVDs
building materials such as pavers and tiles
e-waste (TVs, computers, mobile phones etc)
large flattened cardboard boxes
plastic film such as shopping bags, clean glad wrap and packaging plastic
household batteries
scrap metal.
Shoal Bay Mulch 
Shoal Bay Mulch receives and recycles green waste materials and offers mulch products for purchase.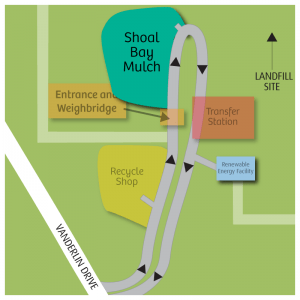 Shoal Bay Mulch Organics
Location
Via the Shoal Bay Access Road, through the entrance and weighbridge (access tag required to enter)
Contact
0429 803 919
| | |
| --- | --- |
| Opening Hours |   |
| Monday - Sunday* | 7.00am to 5.00pm |
| Christmas Day | Closed |
| *Including public holidays |   |
Accepted Green Waste Items
Shoal Bay Mulch accepts the following green waste:
grass clippings
general garden clippings
palm fronds
tree branches
small tree trunks up to 800mm in diameter.
Contaminated Loads
Please ensure your greenwaste load is not contaminated with:
wire or nails
plastic string, ties or other non-organic material
organic waste from food production or processing.
Contact Shoal Bay Mulch for further information.