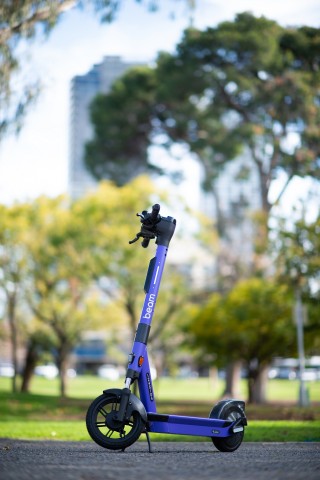 After a competitive tender process, City of Darwin is pleased to announce that it has entered into an operating agreement with one of Australia's largest micromobility companies, Beam, to provide a range of electronic vehicles to residents and visitors in the city.
Across the past three years, City of Darwin has embraced emerging technologies and transport solutions that benefit the environment, local residents, businesses and the tourism industry, including the use of e-scooters in the municipality.
After comprehensive appraisal, in which the assessment panel considered safety, diversity of micromobility options, innovation, operational capability and sustainability, it was determined that City of Darwin would enter into an operating agreement with Beam for a two-year period.
City of Darwin Chief Executive Officer, Simone Saunders, said it was exciting to have Beam on board and thanked the current provider, Neuron Mobility, for establishing the micromobility culture in Darwin.
"City of Darwin would like to extend its sincere thanks to Neuron Mobility for being the trial provider of e-scooters in our city and for their partnership across the past three years. 
"As we transition to a new era of mobility, we want to acknowledge the positive impact Neuron has made on our community. 
"The operation has been a game-changer in our city, offering convenience, sustainability and an eco-friendly mode of transportation that our residents and visitors have used since its introduction. 
"We now welcome Beam to the city, a provider with impressive and extensive operational experience, an excellent safety record, reputation and commitment to partnership, safety, innovation and sustainability," Ms Saunders said.
City of Darwin Lord Mayor, Kon Vatskalis, said he was looking forward to seeing the new initiatives and experiences that Beam will bring to Darwin.
"Motorised scooters are a great option for commuters, providing a quick, effortless and inexpensive mode of transport to move around the city," Mr Vatskalis said.
"They provide a great opportunity to activate areas of the city that have been under-utilised and also help to achieve our goal of creating a cool, clean and green city by reducing emissions.
"Beam has committed to supporting both the 2030 Movement Strategy and the Greening Darwin Strategy, as well as partnering with local businesses and the community, which is great news for our residents and our city," he said.
Beam has an ISO-certified quality, safety and environment management system in every state and territory in which they operate and they have a range of innovative vehicles in their fleet, including scooters, sit-down scooters, freight e-bikes and family friendly e-bikes.
Beam offers a range of localised initiatives, including supporting local businesses, groups and events via the 'Beam Booster' program which supports retail vitality, the 'Beam Stars' Loyalty Program that incentivises use with discounts for repeat riders, and the 'Beam for All' program with discounts for concession and healthcare card holders.
Beam is part of the Micromobility Research Partnership, an independent research body, made up of academics and researchers, that conducts research on sustainable transport to identify and promote pathways to reduce global transport emissions and other topics.
"City of Darwin has committed to achieving net-zero emissions by 2030 and supporting the community to achieve net-zero emissions by 2040, and Beam's commitment to sustainability supports City of Darwin's vision of becoming a cool, clean and green city," Ms Saunders said.
"Beam is climate-neutral certified and has pledged to be carbon negative by 2025, which strongly aligns with City of Darwin's climate emergency goals for net-zero emissions," she said.
Beam micromobility vehicles will be operational within Darwin from Friday 1 December 2023.
Quotes attributable to Beam General Manager (ANZ) Tom Cooper:
"Adoption of shared e-scooters in Darwin is way past the point of being used only by early adopters, and is now a mainstream transport choice for significant numbers of the population who have access to them.
"We see Darwin as an optimal city for us to be introducing new technology and new vehicle types, with an increased focus on accelerating modal shift away from cars in a safe, sustainable and affordable way.  
"We look forward to bringing new technology to support safe riding and introducing additional vehicle types like seated e-scooters, to encourage further uptake of micromobility in Darwin.
"As we prepare to commence our operations in Darwin, we are committed to forming partnerships with local community members and organisations and engaging in discussions around the safe operation of e-scooters to ensure the safety of riders, pedestrians and other road users." 
Quotes attributable to Jayden Bryant, General Manager, Australia and New Zealand, Neuron Mobility:
"Since setting up the City's first micromobility programme in early 2020 we are proud to have moved Darwin's riders millions of kilometres around the city in a safe and sustainable way."
"We would like to thank the City of Darwin, our wonderful riders and also the countless number of local businesses and community members for their support. We would also like to acknowledge and thank our fantastic local Neuron team who have worked tremendously hard to make the program a success."