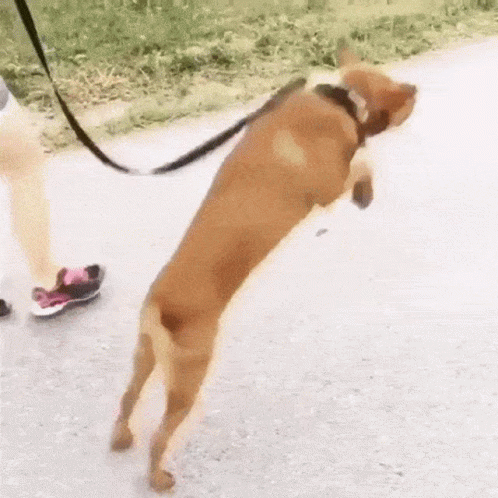 Why do dogs pull when they walk? Have you watched your dog wandering around the backyard, playing with its friends? Dogs rarely walk in a straight line and unless we teach them how to walk, being right next to us is not a natural position for them. While it is important to have our dog next to us, it's also important for them to be able to walk in a way that feels natural to them too. There can be other reasons our dogs pull when walking. These issues can be related to reactive behaviours such as aggression or excitement. They can also be stress related, so it's important to figure out the base cause for the issue and work with your dog accordingly.
Sometimes having a pleasant walk with your dog can be as simple as giving them a bit more length on the lead to move and then teaching them to walk by our side when needed. For a bigger dog, it is often difficult for them to keep pace with us and to walk with their natural stride.
 Let's look at ways to encourage our dogs to walk with us when needed. 
Reward your dog when they are walking in a position that you like. Often the only time we talk to or communicate with our dogs while on a walk is when they are pulling or being "naughty". 

Take the headphones out and spend time talking and communicating with your dog while they are exhibiting behaviours that you like. 

Go back to basics. We may have a grown dog that has never had proper training on leash manners. No matter the age, we should take our dogs back to basics and practice until they are confident. 

Practice in a space with low distraction before increasing it to a more distracting environment (when they are ready) 
Going to basics, how do we teach our dog to walk nicely on a lead from the beginning? It's all about teaching our dogs to make good choices and encouraging them to make better choices. We can do this using rewards and redirection to explain what we want from our dog. 
Try this exercise:
Prepare some treats and place your dog on a lead.

Show your dog that you have treats by telling them they are good (when they are being good, not when they are pulling on the lead) and giving them a treat.

Keeping your lead loose (hold only the handle), take a few steps. 

If your dog is walking with you, drop a treat on the ground right in front of them. 

Ensure you give your dog a chance to find the treat and then continue with another few steps 

If your dog is not walking with you, try changing directions. As soon as your dog is in a position you like, drop a treat.

Continue this exercise in small sessions, so your dog is focused on the game and doesn't get bored.

Continue with multiple sessions. As your dog gets more confident walking with you, you can extend the number of steps between treats (remember to reward verbally, too, so that your dog associates the praise with the treat) 

 Try finishing your training session by playing with your dog. Play its favourite game, dogs that have a play session after learning are more likely to retain the information they learned from that session. 

Keep all training sessions short and fun. Lots of short and fun training sessions throughout the day will get you success much quicker than one long, dull training session.
Start this exercise at home under minimal distractions. As your dog gets better with its walking skills, start walking in areas that are a little more distracting. Try not to expect your dog to walk perfectly in a busy environment while still learning. They are like toddlers trying to figure out how society wants them to behave. Work up to the busy environment.