An exceptional example of sustainability and community spirit is back on Darwin's market calendar for 2023!
Esther Lloyd-Taylor returns as the #RecyclingHero behind Darwin's infamous and ever popular upcycling Too Much Stuff? market. Bringing her passion and determination to reshape our relationship with consumption and waste, the market offers a platform for everyone to sell, donate, repurpose, restyle, recycle or upcycle.
"The market is a chance for the community to think about their unused items in a new light – clothes, shoes, jewellery, plants, books, fishing gear, and so much more. It's a chance to clear out clutter, share a stall with a friend, and the best part? Thanks to the City of Darwin, it's entirely free to participate," says Esther.
As well as coordinating over sixty stallholders at each market, Esther manages a dedicated recycling table at the event, which is much more than a drop-off point. As the host, she has created a hub of information on participating in the circular economy and promoting a positive recycling culture. Her enthusiastic nature inspires others, and she consistently encourages eco-friendly recycling habits in every aspect of her life.
Esther's commitment to helping people understand the ins and outs of recycling and reusing is evident in the time and effort she has dedicated to providing information on hard to recycle items.
At the market, Esther has a sorting station for people dropping off their different plastics for recycling that can't go in yellow kerbside bins. These are then either used in local art projects for making recycled plastic furniture and other products at the Darwin Plastic Makers Space, or sent to TerraCycle for recycling.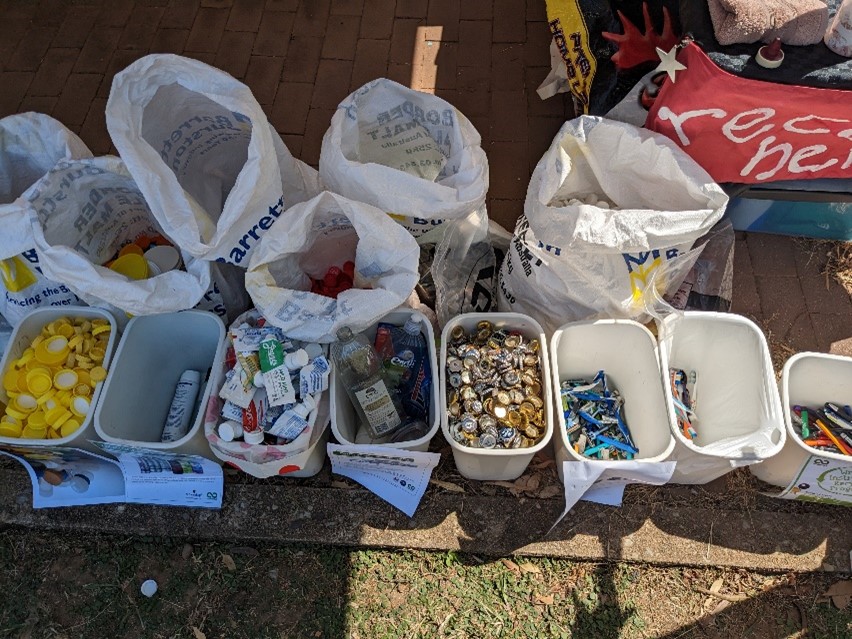 Esther's sorting station tips

Item's accepted:

Plastic bottle caps. Clean and sorted.
Plastic *ONLY* bread tags. *Cardboard tags rip easily, so easy to tell them apart; just put them in a used envelope to recycle them
Dishwashing liquid bottles (including caps)
Dishwashing tablets flexible packaging (including snap locks and zip locks)
Air freshener aerosol cans and spray bottles (including spray and trigger heads, not pump)
Plug-in air fresheners and refills (including plastic outer packaging) Clip-on car fresheners and refills (including plastic outer packaging)
Pens, textas & highlighters that no longer work
CDs & DVDs
Disposable razors
*Nespresso aluminium coffee pods *Can also be dropped off at The Good Guys
*Plastic toothbrushes & empty toothpaste tubes *not bamboo toothbrushes.
*Electric toothbrushes, battery toothbrushes
*Makeup packaging glass or plastic tubes, tubs, bottles, sprays *Not make-up wipes
*Hair care packaging. Any brand of used hair care, hair colour or hair aerosol packaging! *Not shampoo or conditioner bottles (this program has strict shipping guidelines due to the transportation of hair dye.) Please read through this check list before dropping off

Remove excess hair dye - Excess hair dye must be emptied and disposed of in your general waste bin.

Triple rinse containers - All hair dye bottles and tubs (both liquid and powder) must be triple rinsed.

Empty tubes - All hair dye tubes must have residual dye squeezed out.

 

Item's not accepted:

Empty Deodorant, Shampoo, Conditioner, Sunscreen, Moisturiser, Hand soap bottles and tubes – these go into your yellow-lid recycle bin at home.

Soft plastics go to landfill – only until further notice

When in doubt, leave it out. Not sure about something, ask and we'll find out how.

     
The Too Much Stuff market is more than just an event; it champions the importance of recycling to save natural resources, conserve energy, and reduce the need for landfill space, contributing significantly to a healthier, more sustainable planet.
City of Darwin is proud to sponsor Too Much Stuff.  These markets align with the objectives of our 2030 Waste Resource and Recovery Strategy, and promote a circular economy by reducing waste to landfill and consuming less resources by recycling and reusing.
Mark your calendars for the Too Much Stuff Recycling & Upcycling Market in 2023.
Sunday 25 June
Sunday 30 July
Sunday 27 August
Sunday 24 September
Sunday 29 October and 
Sunday 3 December. 
Be sure to visit the next market, apply for a free market stall or join in the conversation: https://www.facebook.com/toomuchstuffdarwin.