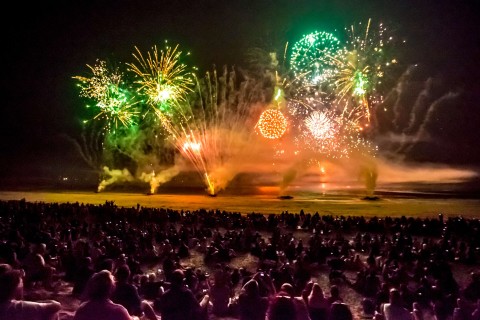 Territory Day is here and we are excited to celebrate with a magical night of fireworks shows, concerts from local and national musicians and community celebrations!
Pets on Territory Day:
A reminder that while impound fees have been waived for fireworks-affected pets impounded, why not avoid picking up your pets from the pound by following a few simple tips: 
-    Keep your furry friends indoors, windows shut and curtains closed, air conditioning and plenty of food and water.
-    Keep a TV/radio on for background noise.
-    Treating your pets to "creature comforts" – chew toys, treats, a safe and snug place like a kennel, cat cave, etc. 
-    Micro-chipping, registration and ID tags with current contact details up to date – this can avoid impoundment and your animal getting returned to you safe and sound!
If you do lose your pet on Territory Day, call Council's after-hours number on 08 8989 2843.
The City of Darwin will be waiving release fees for animals that are impounded due to fireworks from the 1st to the 5th of July.
See our Great Pets Start With You page for more information.
Territory Day Cleanup
Help keep our beaches beautiful and join us for the Territory Day Cleanup on Saturday, 2 July 2022. 
This event runs in partnership with Sea Shepherd Darwin and Rotary Club of Darwin and aims to minimise the impact of firework debris on beaches, supporting a cool, clean and green city. 
Time: 07:00 am – 11:00 am
Where: Bundilla Beach, East Point and Nightcliff Foreshore
Bring: Hat, gloves, sunscreen & reusable water bottle
For more info visit the event page