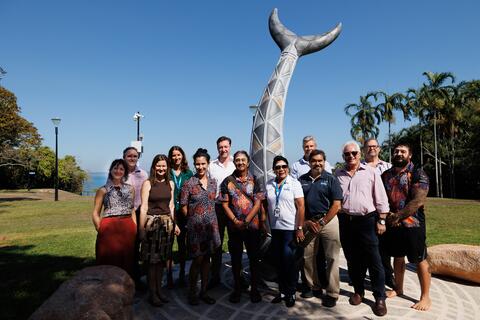 City of Darwin has released its 2022/23 Annual Report, which outlines our progress towards achieving actions set out in its strategic plan, Darwin 2030 - City for People. City of Colour. 
Lord Mayor Kon Vatskalis said he was delighted by City of Darwin's achievements across the past financial year.
"It is great to see our accomplishments highlighted, as well as to provide transparency to the community around our performance against our financial and strategic goals," Mr Vatskalis said.
"During the past financial year, we celebrated several wins, including being granted the Outstanding Strategic Planning Project Award from the Planning Institute of Australia for our 2030 suite of strategies, including the Climate Emergency, Movement and Greening Darwin Strategies.
"City of Darwin also invested more than $43 million into community infrastructure, including new pathways, public lighting, plants, equipment, parks and reserves," he said.
Other highlights from the report include:
Releasing the 2023-25 Reconciliation Action Plan, which aims to drive meaningful reconciliation across the community through collaboration with First Nations organisations.
Release of an Economic Development Strategy which saw more than $668,000 worth of sponsorships going to local organisations and attracted over 405,000 visitors to Darwin.
Giving away more than 14,500 plants as part of our popular native plant giveaways.
Receiving an honourable mention at the 2023 National Awards for Local Government in the Waste Management category for our industry-leading leachate treatment plant, which became operational at the Shoal Bay Waste Management Facility.
City of Darwin's Annual Report provides a breakdown of deliverables and reports on achievements made against the goals set out in the annual Municipal Plan.
The Annual Report forms part of City of Darwin's overall governance framework and commitment to transparency and accountability.
To view the 2022/23 Annual Report visit darwin.nt.gov.au/council/2022-2023-annual-report