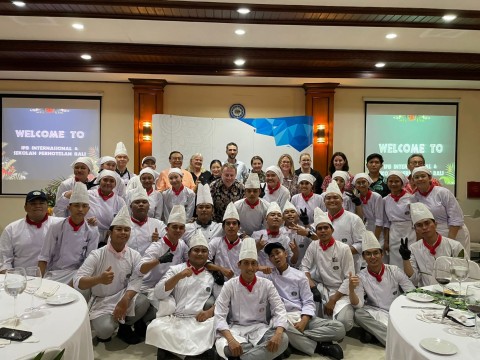 City of Darwin's Lord Mayor led a delegation to Denpasar this week with key partners including Northern Territory Government, Alana Kaye College, Charles Darwin University, Chamber of Commerce NT, the Australian Indonesia Business Council NT and others to finalise a Sister City Agreement between Denpasar and Darwin.
Lord Mayor, Kon Vatskalis says, "Education providers for international students in Darwin create a practical pipeline of appropriately skilled, qualified people that our local business community need to run and grow their business.
"Alana Kaye College produces students with the skills we need in hospitality, for early childhood education and care, project management, aging support, community services and security operations."
City of Darwin's delegation was an holistic approach to driving outcomes for Darwin business.
In addition to Alana Kaye College and CDU, MigrationNT were on hand to provide advice on the range of visa options available including skilled migration visas, training visas and other options.
The Lord Mayor says, "We appreciate NTG working alongside us to ensure Indonesian students with an interest in Darwin have all the details they need to progress that interest into action.
"Immigration, temporary permissions to work and visa categories is a complex area to negotiate and the rules and requirements can change quickly, making MigrationNT's involvement critical to the success of our plan to bring 1000 skilled workers from Denpasar to Darwin."
Alana Kaye's Chief Executive Officer says, "The visa arrangement that most of our international students are here on permits them to work more than 40 hours a week. 
"While the students are acquiring practical work experience and making an income, Darwin benefits from the services they provide.
"The College provides high quality training matched to real world skill shortages.  We want our students to qualify with strong employment prospects.  And we want our students to be competitive in the job market."
CDU's new Vice-President Global and External Relations, Jenny Roberts, said we are establishing closer ties with Indonesia and promoting study and partnership opportunities to Denpasar businesses and workers.
"Indonesia is one of Australia's closest neighbours and a country of great strategic importance to us," Ms Roberts said.
"Many of our international students at CDU come from Indonesia and Indonesian studies is a popular study area for domestic students."
"The delegation visit was an opportunity to build connections with local universities and businesses and promote CDU in Indonesia."
"The strategic focus on building strong external relations and fostering interest from potential international students is essential if we are to actualise CDU's objective of developing Darwin's future skilled, qualified workforce."
Miss Yayu Indrawati Deputy Dean for Finance and General Affairs, University Udayana was keen to discuss areas of collaboration between universities in Darwin and Denpasar.
"The first one is collaborative work in research specifically in the area of tourism and hospitality. Secondly, in exchange of lecturers and students to gain international experience. These future collaborative works are so relevant in order to have new insights into working in different academic environments and gaining international experiences."
President Dr. I Made Sudjana of the International Institute of Tourism and Business welcomed the City of Darwin delegation to his establishment. "My dream is to send our young qualified students to Darwin for work." The Institute's 3,500 students would welcome capability and human resource development in Australia.
The Memorandum of Understanding for a Sister City relationship with it's five year action plan aims to develop economic and cultural ties between Darwin and Denpasar.
"When the training and education courses on offer in Darwin align with our need for skilled workers it creates a pool of candidates that we already know enjoy Darwin as a place to live, settle, raise a family and educate their children.