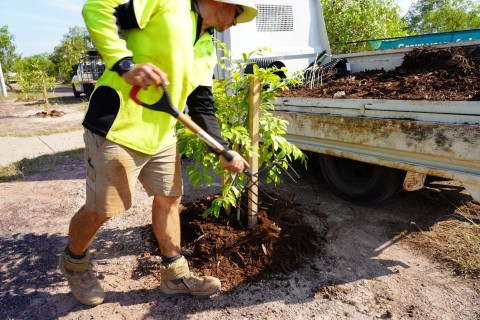 City of Darwin is undertaking more tree planting across the city in Alawa and at East Point Reserve.
 
Around 100 trees were planted along Lakeside Drive in Alawa this week, between Dripstone Road and Trower Road to provide more cooling, shading and greening in our suburbs. All part of Council's 2020/21 Tree Establishment program to plant 4,000 trees across the municipality.
 
A community planting day is also happening on Saturday, 26 June from 8am to 10am and community members are invited to join Council at East Point Reserve where an additional revegetation program of up to 3,000 trees, shrubs and seedlings are expected to be planted and you can enjoy a free bbq after all your hard work.
 
Lord Mayor Kon Vatskalis said: "I made a commitment that City of Darwin would plant more trees across Darwin, and we are doing that.
 
"We have already had great success replanting trees that are robust and resilient after the devastating effects of Cyclone Marcus, and we are planting more trees through our Greening Programs that include the tree establishment program, streetscape beautification and community planting revegetation days.
 
"Community planting days are an important part of our replanting focus. If you would like to get involved in replanting Darwin, we would love to see you there.
 
"City of Darwin aims to build a resilient urban forest and council officers will be on hand to discuss the replanting program and provide advice on establishing a resilient urban forest with cyclone resistant tree species."
 
Refreshments, equipment and sunscreen will be provided. Please wear closed in footwear, bring gloves, a hat and water bottle.
 
For more information call 08 8930 0300 or email darwin@darwin.nt.gov.au.