Bicentennial Park will soon be the location for City of Darwin's newest major public artwork.
The artwork takes the Larrakia word for bamboo raft, mirragma gunugurr-wa, and will depict a story of Darwin's traditional owners, the Larrakia.
Lord Mayor Kon Vatskalis today announced preliminary site work would start this week for the installation of mirragma gunugurr-wa.
"This will be City of Darwin's first public art installation in a number of years and one of the central elements of the work will be a bamboo raft," Mr Vatskalis said.
"It is fitting that City of Darwin's latest investment in public art tells a Larrakia story and reflects the Larrakia's strong saltwater connection," he said.
The artwork is fabricated from aluminium and set into a concrete base. Larrakia words relevant to the mirragma gunugurr-wa story will be set into the base of the work. There will also be an accessible pathway allowing people to connect with the work.
Larrakia artists Roque Lee and Trent Lee developed the concept for mirragma gunugurr-wa in conjunction with public art consultants GARUWA Creative, a First Nations creative agency. The location for the artwork was selected in collaboration with Larrakia Nation Aboriginal Corporation and City of Darwin.  
City of Darwin established an MOU with Larrakia Nation Aboriginal Corporation who selected the two Larrakia Artists Roque Lee and Trent Lee.  City of Darwin then invited expressions of interest from public art consultants nationally and GARUWA Creative were successful in their bid to lead this work.
Quotes attributable to Larrakia Elder and artist Uncle Roque Lee:
"It is a pretty big honour to be able to create this artwork. I've been fortunate enough to have some cultural knowledge of the use of bamboo rafts to bring to this, which I hope will be carried on by the younger generation."
Quotes attributable to GARUWA Creative Co-Director Genevieve Grieves:
"It has been an honour for GARUWA to work with the artists, Uncle Roque and Trent Lee, to create mirragma gunugurr-wa. They are highly skilled artists who have been deeply committed to the process and were so generous with their time and knowledge."
Quotes attributable to Larrakia Nation Aboriginal Corporation's David Kurnoth:
"Roque and Trent Lee have designed a fantastic piece that is not only beautiful, it tells of Larrakia place and Larrakia culture. Like the very best pieces of art throughout the world, it tells a story and challenges the public to look deeper and ask questions about the unwritten history of Darwin through a Larrakia lens. It's an invitation to delve into our history, our culture and our songlines."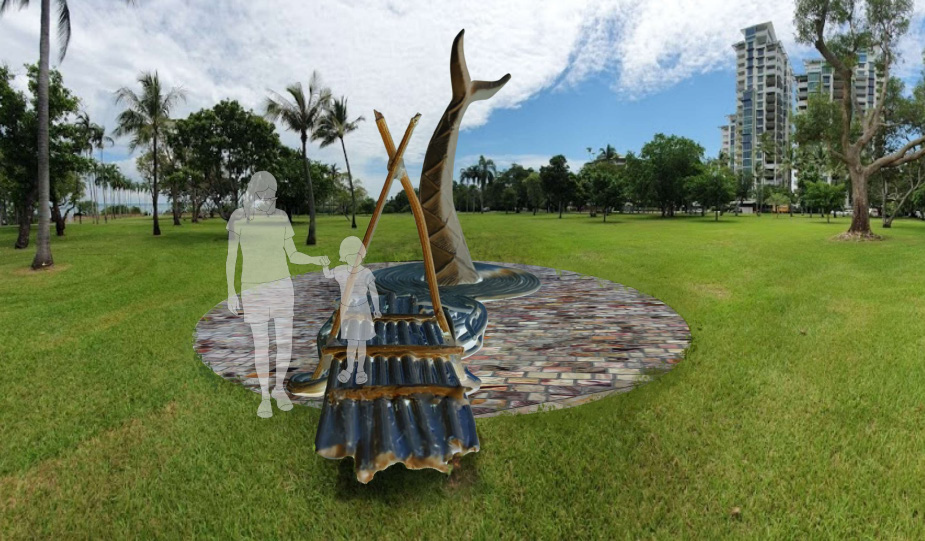 Picture: Concept design only. Final design subject to change.