The City of Darwin THRIVE Public Art Project for Bicentennial Park is getting closer, with the two Larrakia artists and public art consultants meeting up for the first time in person to discuss art concepts and scoping.
City of Darwin is working closely with the Larrakia Nation who have chosen local artists Trent Lee and Daniel 'Roque' Lee to design this piece of public artwork.
Following an EOI process, Garuwa Creative, a Melbourne-based public art maker, has been chosen to assist the artists with the concept, design, fabrication and installation of the public artwork. Garuwa Creative is a Worimi company, First Nations owned and operated with co-director Genevieve Grieves possessing strong ties to the Darwin region.
Lord Mayor Kon Vastalis said that this project focuses on the contribution of Darwin's First Nations' history, through bringing a Larrakia story to life through the concepts articulated by artists Daniel 'Roque' and Trent Lee.  
"Public art enhances our natural and built environments, it builds upon our cultural heritage, diversity, sense of identity and provides opportunities for our artists to contribute to the development of the city's creativity and vibrancy.
"It also builds a greater sense of community ownership, connectedness and belonging, and I am very excited to see what the Larrakia artists will develop to complement other public art projects around the City.
"By embracing and celebrating the story of public art throughout Darwin, Darwin will be a more attractive place for both residents and visitors," said the Lord Mayor.
Trent Bundirrik Lee is from Darwin and is an accomplished mural artist and traditional carver, healer, dig player, mentor and cross-cultural facilitator. He was a featured artist in Bruce Munro's Tropical Light Festival, 2020 Darwin Street Art Festival and 2020 Palmerston Youth Centre mural.
Daniel 'Roque' Lee (traditional name: Gullawun) is Larrakia, and a Traditional Owner of the Darwin Region. He paints, sculpts and crafts from the environment and depicts the knowledge and stories passed on to him from his mother. Roque is a self-taught artist with an established art portfolio, including public art projects at Freight Link Train, Rain Tree Park, West Lane in Darwin and Palmerston Central. His traditional crafts have been gifted to national and international dignitaries.
Trent and Roque said that they are honoured and excited to be part of this project and to share their culture, art, designs and stories.
"As Larrakia people, this is a great opportunity for us to work with City of Darwin to create cultural art on a large scale and be able to explore different mediums and forms. Hopefully, our art piece will allow the community to learn about the Larrakia culture and how important it is for us Larrakia to share this with locals and other people when they come to Darwin," they said.
Director of Garuwa Creative, Genevieve Grieves, said: "I feel deeply honoured to be part of the group who have been selected to help create this artwork.
"Uncle Roque and Trent are really significant artists who have such deep knowledge of this place and its stories and a strong commitment to their culture. It's really wonderful to see City of Darwin embracing opportunities to share local stories and culture, contributing to the vibrant city and community here.
"I know we will create something dynamic that people from Darwin and visitors will love and enjoy. This artwork will be a beautiful way for people to connect with Larrakia country."
The standalone public sculpture, costing around $260,000, will be installed at the Daly Street end of Bicentennial Park, with the exact location to be determined in collaboration with Larrakia Nation and the City of Darwin project steering group.
More information on public art is available at:  https://www.darwin.nt.gov.au/community/programs/arts-culture/public-art.
- Ends -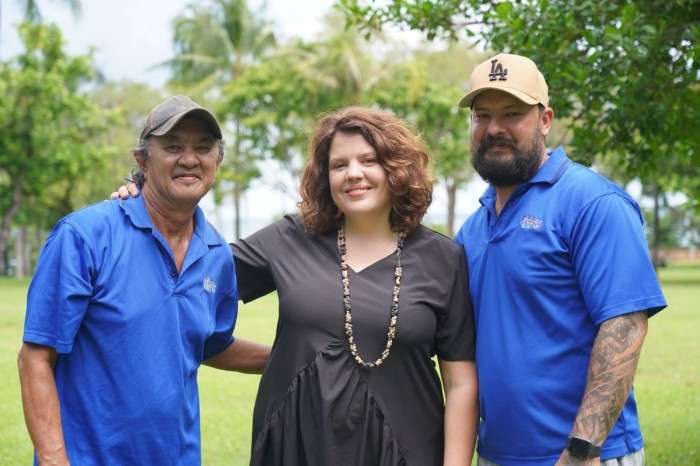 The photograph shows (left to right): Roque Lee, Genevieve Grieves and Trent Lee