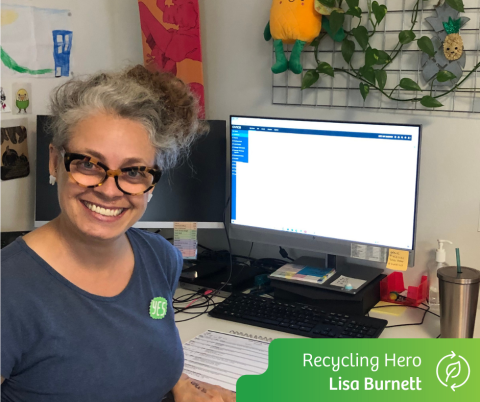 Say hello to Lisa Burnett, City of Darwin's very own Youth Coordinator and #RecyclingHero who is challenging our attitudes towards waste. Lisa lives by the 'refuse, reduce, reuse, repair' mantra, turning to recycling only when all other options are exhausted. She's inviting us all to see waste as a resource for re-use, not just something destined for the landfill.
Lisa credits her grandfather for her inner 'womble' (a reference to the imaginary animals in London who helped the environment by collecting and recycling rubbish in creative ways). Her grandfather worked in a scrap metal yard and filled his home with intriguing and magical displays of items he rescued. The pieces sparked Lisa's passion for breathing new life into discarded items. Although the salvaged items might not have any inherent enchantment, Lisa's innovative perspective and creativity transform what others see as waste. By fostering a greater appreciation for everyday items, Lisa's message is that we can all become better guardians of our planet. And here's a fun fact: even Lisa's dog, Ripley, is a testament to her commitment to re-use as she adopted Ripley from the RSPCA and council pound!
Lisa has a passion that is incredibly relevant to City of Darwin's strategic priorities and drive for sustainability. And fittingly so, Lisa's actions led to her earning the Environmental Sustainability Award at last year's City of Darwin's Employee Awards.
Lisa was recognised for her active role in encouraging recycling in the broader community, for being a cyclone clean-up repurposer extraordinaire, her natural inclination towards shaping the minds of young individuals and for being a role model for her entire team. She embodies an ethos of repurposing and encourages the responsible recycling of discarded items, helping to prevent waste from areas across council.
By highlighting Lisa's work, we hope to inspire others in our community to join us in reducing the amount of waste going into our landfill. Together, we can make a significant difference.