City The next tranche of works under City of Darwin's 10-Year Bagot Park Master Plan is set to kick off from Monday.
 
Around $5 million in funding from City of Darwin, the Australian Government, the Northern Territory Government and Football NT has been secured to upgrade Bagot Park.
 
Lord Mayor Kon Vatskalis said this early injection of funding would see works fast-tracked to deliver a new car park, landscaping, football goal storage, female change rooms and shared pathways.
 
"Council is investing in Bagot Park," Mr Vatskalis said. "Confirmation of this funding in the early stages of the master plan process and the progress we have seen to date is proof of that.
 
"City of Darwin has just delivered the $2.5 million upgrade of the velodrome, funded by the NT Government, to ensure the community can use it for the next 15 years.
 
"The next project in the pipeline is the redevelopment of the car park, and construction of some shading and shared paths, which will deliver much-needed enhancements to this key community asset.
 
"When complete, the new car park will have around 245 sealed bays, including five for disabled parking, as well as landscaping, lighting and way finding."
 
The $1.5 million Bagot Oval Car Park project was by the Australian Government through the Local Roads and Community Infrastructure Program. The program supports local councils to deliver priority projects across Australia, supporting jobs and the resilience of local economies to help communities bounce back from the COVID-19 pandemic.
Football NT will contribute $1 million to deliver female change rooms and football goal storage at Bagot Oval.
Mr Vatskalis said the Bagot Park Master Plan would provide a safe and functional park that meets community expectations now and into the future, and combined stakeholder and professional input.
 
It will also deliver:
Community recreation hub, including play and exercise facilities for all ages and abilities
Shared sporting club rooms, toilets, and community space.
 
Find out more about the Bagot Park Master Plan at www.darwin.nt.gov.au/council/about-council/publications-and-forms/bagot-park-master-plan
 
Quotations that can be attributed to Member for Solomon Luke Gosling
 
"As the Federal Government representative in Solomon, I am delighted to deliver $1.5 million for this car park upgrade."
"We understand that a big part of developing the north is investing in our Top End communities to maintain and improve the quality of life for Territorians."
"Building and improving facilities across our community is vital."
"This is great for residents and great for local jobs."
 
Quotations that can be attributed to Minister for Sport, Hon Kate Worden MLA
"The Northern Territory Government understands the real benefits that participation in sport brings to people and communities."
"Safe and active participation in sport at all levels relies on the development and maintenance of the necessary infrastructure."
"The delivery of new facilities at Bagot Park, including the upgrade to the velodrome, is an example of how governments can together ensure that sporting groups can continue to lead the development of active sports in our community. "
 
Quotations that can be attributed to Football NT Chief Executive Officer Bruce Stalder
 
"Football NT thanks the Federal Government for the provision of the funding for the upgrade of Mindil Aces Football Club, the largest community club in the NT."
"We look forward to working with all parties particularly the Friends of Bagot in bringing this Master Plan to life."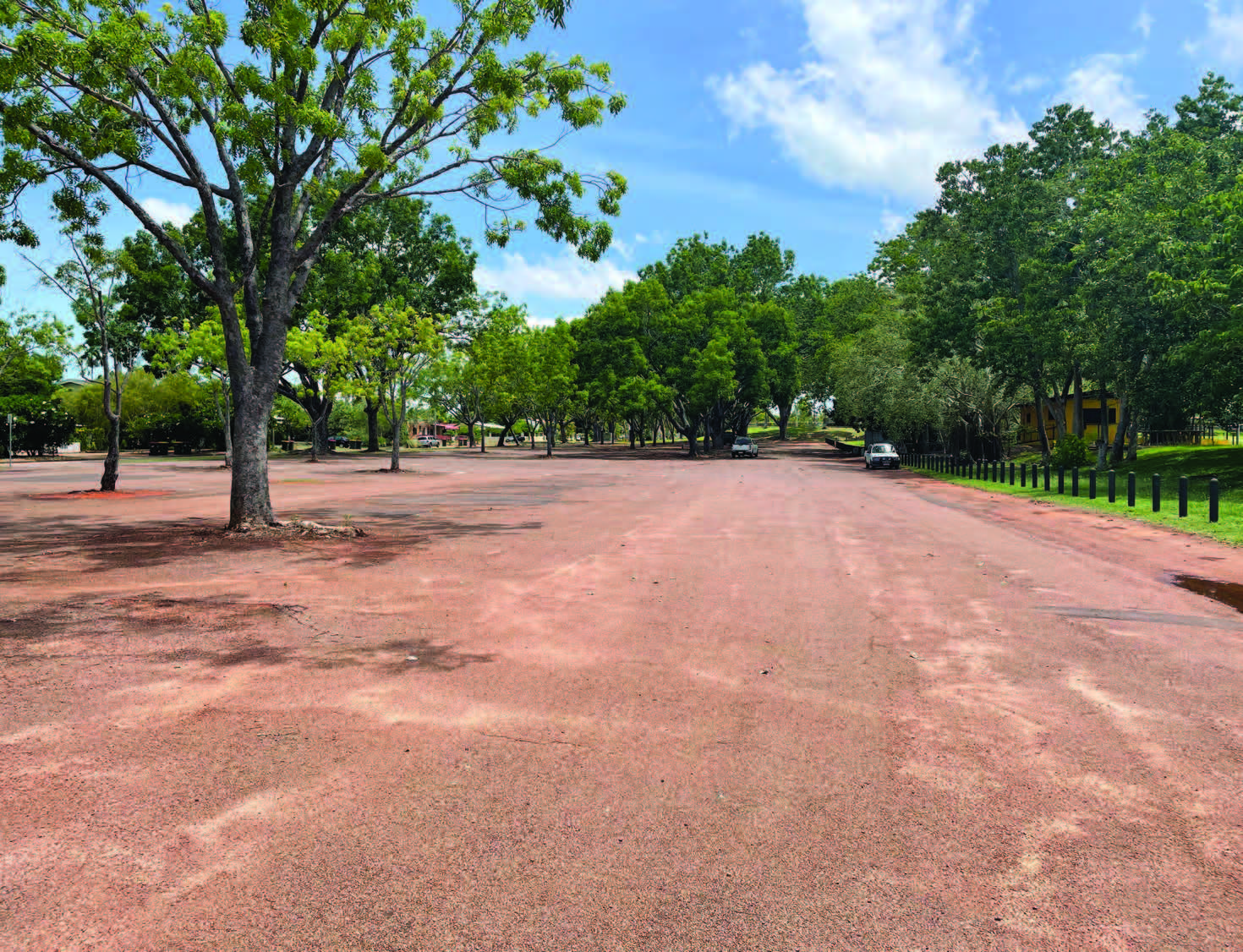 The existing carpark is set to be replaced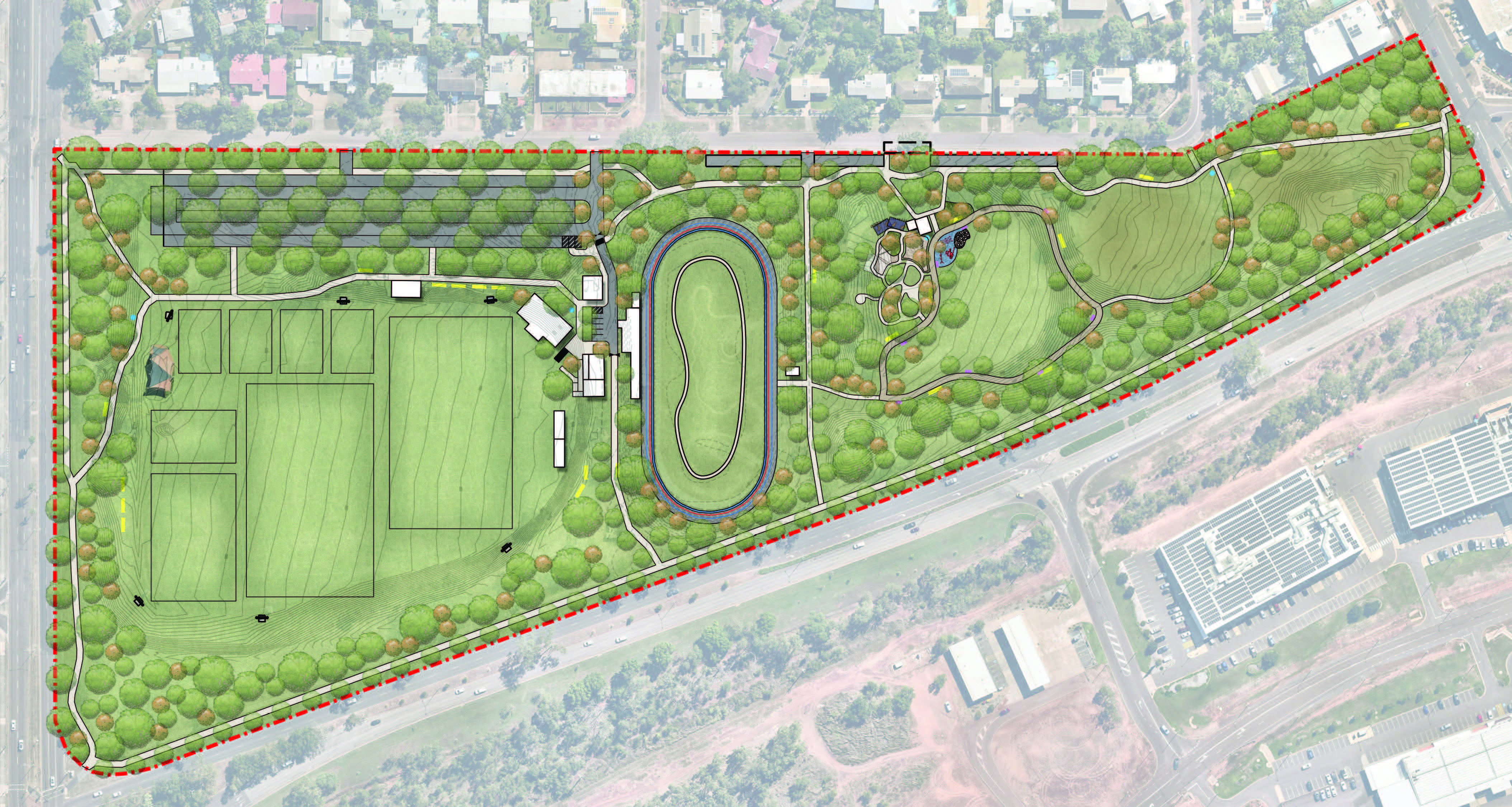 Bagot Park Masterplan design concept