Think before you ignite
Keeping your family, pets and city safe and secure this Territory day

This Territory Day acknowledges 41 years of Self Government and many Territorians will celebrate this special occasion with their own fireworks display.
The flip side of these celebrations is scared and lost pets, damaged property and injuries caused by the irresponsible use of fireworks.
Calls to City of Darwin reporting lost pets quadruple on Territory Day and pet dogs in particular become highly stressed by the noise of fireworks. So we encourage owners to take precautionary action to ensure safety and well-being of their pets.
City of Darwin has some top tips to keep your pet safe on Territory Day - 
Keep your pet inside while fireworks are going off
Turn on the radio or television to provide background noise
Ensure you boundary fence is secure and your pet can't escape
Make sure your pet is microchipped so it can quickly and easily be reunited with family.
In preparation for Territory Day City of Darwin is taking a number of measures to protect pets and community assets including
Extra rangers to pick up animals at large
Locking community tennis courts from 12noon 1 July to 7.00am 2 July
Fencing synthetic cricket wickets and turf wickets
Locking the gates to East Point at 5pm on 1 July
Providing additional skip bins in key areas for people to dispose of used fireworks.
If you do lose your pet on Territory night, please call the Council's after hours service - 08 8989 2843 between 5pm – 8am.
During business hours please call Council's Regulatory Services Team on 89 300 600
For more information and tips on keeping your pets safe during fireworks please visit "Great Pets Start with you". 
Keeping our open spaces, playgrounds and facilities safe and clean
Help us look after our open spaces, playgrounds and sports day facilities this Territory Day. 
Be mindful of where you let off fireworks
Bin your used fireworks at the end of the night 
To report an issue to Council call 89 300 300(during business hours) or after hours on Territory Day 08 8989 2843.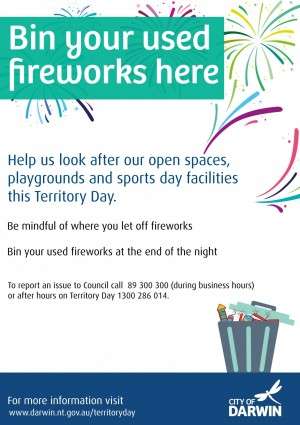 We've arranged skip bins at some of our public spaces. You could bin your used fireworks here. Look out for the attached signage.