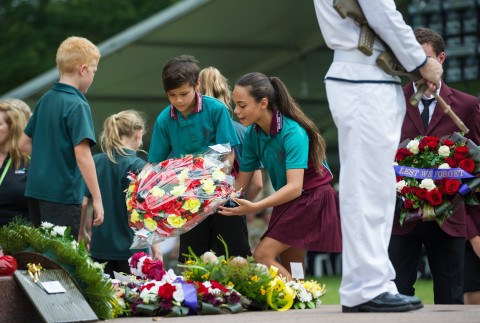 The Bombing of Darwin Commemorative Service at The Esplanade in Darwin, will be livestreamed from 9.30am to 11am on Saturday 19 February.
80th Anniversary - On 19 February 2022 from 9.30am-11am, please join us to acknowledge, and pay your respects to the men and women who fought during the first Darwin air raids on 19 February, 1942.
Just before 10am on 19 February 1942, World War II forced itself onto Australia's mainland for the first time, when formations of 188 Japanese aircraft mounted a deadly air raid on Darwin and the terrible sound of whistling bombs rang in the ears of allied troops and civilians alike. 
Allied aircraft mounted a counterattack and gallant anti-aircraft gunners fought to protect the City and Harbour, but sadly, by the day's end at least 235 people were killed, more than 400 were wounded, 30 aircraft were destroyed, 9 ships were sunk and many civilian and military facilities were damaged.  
It was the largest single attack ever mounted by a foreign power on Australia. 
Each year, 19 February is a Day of National Observance, and we come together as a city and a nation to commemorate and pay tribute to the men and women who were there.
Territorians of all ages come together to honour those who lost their lives and remember the community who survived.
Join us at the Cenotaph, 9:30am, Saturday the 19th of February, to commemorate the Bombing of Darwin and honour the history and spirit that defines us.  
Cost: Free
A Covid safety plan is in place. Help us stay Covid-safe:
Practice good hygiene
Keep your distance
Use the check-in app
Stay home if you feel unwell
For more information – www.darwin.nt.gov.au/BODD