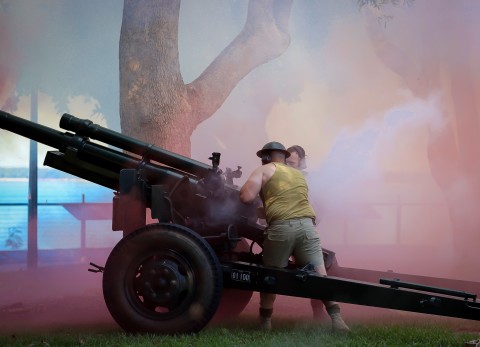 City of Darwin is encouraging the Darwin community to attend a commemorative service to mark the 81st anniversary of the Bombing of Darwin.
Lord Mayor Kon Vatskalis said he expected thousands of locals and visitors to converge on The Cenotaph on Sunday 19 February 2023 for the service, which will honour those who bravely defended, those who were evacuated, and those who lost their lives.
"February 19, 1942, and the first Japanese bombing raids on Darwin, mark the day we experienced the first ever enemy attack on Australia soil," Mr Vatskalis said.
"The annual Bombing of Darwin Day is one of the most important chapters in the story of our city."
Mr Vatskalis said preparations were well advanced as City of Darwin prepared to accommodate an expected crowd of up to 4000 people for this year's commemoration service.
"February 19 isn't important for Darwin alone," he said. "It is also part of our national story."
"Bombing of Darwin Day is now recognised along with Anzac Day and Remembrance Day as a National Day of Observance, which is a unique honour for an Australian city.
Mr Vatskalis said what happened here on Australia's frontline wasn't just about the military response; civilians also paid a heavy price.
"Half of the Darwin community were evacuated, and despite assurances they would be well cared for, in so many cases that did not eventuate," Mr Vatskalis said.
"The trials endured by Darwin's wartime refugees were tough. As were the lives awaiting them on their return. So many Darwin families have stories of the tests their parents and grandparents endured during that period.
"This is all part of our story and it's something we must all remember," Mr Vatskalis said.
The 81st Anniversary of the Bombing of Darwin commemorative service will be held on Sunday 19 February at The Cenotaph, The Esplanade, from 9.30am. The event is free and open to the public.
For more information about the event, go to: https://www.darwin.nt.gov.au/bodd
To download a media kit, go to: https://www.darwin.nt.gov.au/bod-media-kit
On the day, view the livestream.