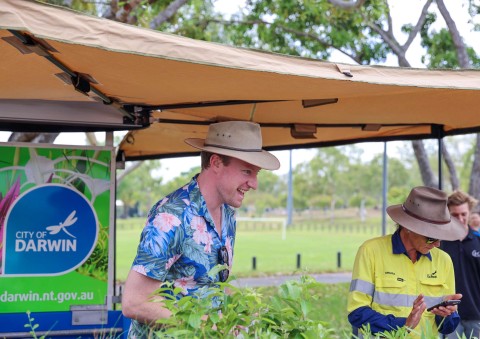 City of Darwin has planted over 12,500 trees and plants over the past couple of years as part of Greening Darwin and now it's time for Darwin residents to spruik up their own properties and balconies with free native plants.
Council has around 3,600 native plants to give away free to residents that will be available for collection across a number of locations throughout Darwin from Friday, 24 September 2021.
 
You can also contact Council's Parks Team on 89 300 300.
 
Lord Mayor Kon Vatskalis Elect said: "I made a commitment that City of Darwin would plant more trees across Darwin, and we are doing that.
 
"We've already had great success replanting trees that are robust and resilient after the devastating effects of Cyclone Marcus, and we are planting more trees through our greening programs, streetscape beautification, and community planting days.
 
"This time we want the people of Darwin to get on board with planting more natives in their own backyard. We have a variety of tube stock available that will grow into fabulous ground cover and grasses, shrubs, and small, medium, and large trees.
 
"City of Darwin aims to build a resilient urban forest across Darwin and council officers will be on hand to give you hints and tips on planting for your own garden or balcony. I encourage everyone to get on board and get those green fingers working."
Native plants generally require less water than exotic species, are low maintenance, and provide a reliable food source and valuable habitat for native wildlife.
There are up to 600 native tube stock plants available and you can take up to six per household. People are asked to bring ID with address as proof of residence.