Secondhand Wonderlands - Op Shop Guide
If you're not already down with the fantastic world of second hand shopping, you are really missing out. We reckon pretty much everything you need can be found second hand, rented or borrowed. Saving you money and the environment!


By encouraging the community to upcycle and consider creative ideas for recycling and reusing items.


By prioritising environmental sustainability, community connectedness and supporting charities.


By reducing the amount of waste ending up in landfill, and in turn, reducing carbon emissions.
Donate it! Don't ditch it!
Did you know over 4% of landfill is clothing! That's a lot of clothes that missed out on having a second life!
Upcycling
Converting 'useless' waste products into new exciting products.
Recycling
Reducing the need for new raw materials by reprocessing used materials into new products
Free-Cycling
Giving away to others rather than throwing away unwanted items.
Trashion
The art of refashioning old clothes into designer pieces by upcycling.
Preloved store location map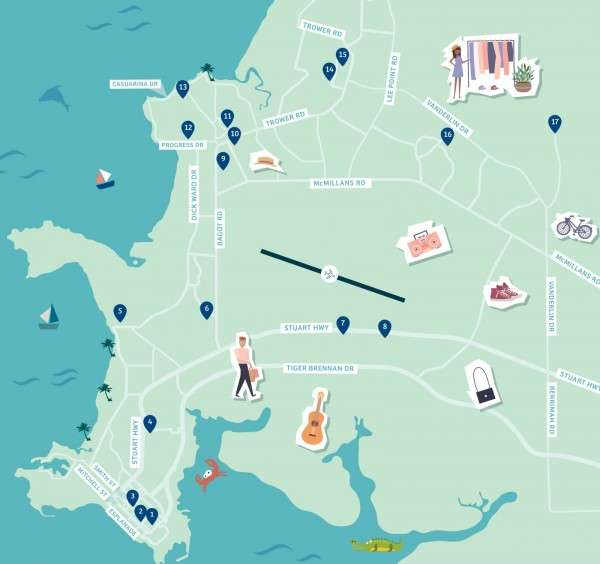 1- Red Cross Darwin CBD

The Mall
Smith St, Darwin City

Monday to Friday 9am to 5pm
Saturday   9am to 3pm

2- Vinnies Darwin

17 Knuckey street, Darwin City

Monday to Friday 9am to 4pm

3- Darwin Memorial Uniting Church

78 Smith Street, Darwin City

Monday to Friday 9.30am to 3pm
Saturday 10am to 12pm

4- Vinnies Stuart Park

2 Westralia St, Stuart Park

Monday to Wednesday, Friday 9am to 4pm
Thursday 9am to 6pm
Saturday 9am to 12pm

5- Vinnies Fannie Bay

Shop 1
13 Fannie Bay Place, Fannie Bay

Monday to Friday 9am to 4pm
Saturday 10am to 12pm

6- Anglicare ReStore

5 Nemarluk Drive, Ludmilla

Monday to Friday 9am to 4.30pm
Saturday 9am to 2pm

7- Salvos Winnellie

458 Stuart Highway, Winnellie

Monday to Friday 9am to 5pm
Saturday 9am to 3pm

8- Vinnies Winnellie

486 Stuart Highway, Winnellie

Monday to Friday 9am to 5pm

9- Red Cross Millner

Jape Homemaker Village
356 Bagot Road, Millner

Monday to Saturday 9am to 5pm
Sunday 10am to 3pm

10- Anglicare Op Shop - St Peters

Cnr Sabine and Trower Rd, Rapid Creek

Monday to Friday 9am to 4.30pm
Saturday 9am to 2.30pm

11- Nightcliff Uniting Church Op Shop

21 Cummins Street, Rapid Creek

Monday to Friday 9am to 6pm
Saturday 9am to 12pm

12- Salvos Nightcliff

48 Progress Drive, Nightcliff

Monday to Friday 9am to 5pm

13- Henbury Op Shop

Opportunity Knocks
62 Aralia Street, Nightcliff

Monday to Friday 9am to 3.30pm
Saturday 10am to 3pm

14- Vinnies Casuarina

3 Bradshaw Tce, Casuarina

Monday to Friday 9am to 5pm
Saturday 9am to 4pm

15- Salvos Casuarina

Cascomm Centre
13 Scaturchio Street, Casuarina

Monday to Friday 9am to 5pm
Saturday 9am to 2pm

16- Red Cross Malak

84 Malak Crescent, Malak

Monday to Friday 9am to 5pm
Saturday 9am to 2pm

17- Shoal Bay Trash and Treasure

Shoal Bay, Access Road, Karama

Monday to Sunday 8am to 4pm
Other second-hand stores
Shoal Bay Trash and Treasure, Tip shop by HPA
Cash Advantage Darwin City / Nightcliff
Cash Converters, Coconut grove.
Berrimah Second Hand Building Supplies
NT Second Hand Store
Casuarina Community Book exchange
Markets and other places to find preloved items
The Rails Suitcase Market
Too Much Stuff Market
Trailer Boat Club Car boot sale
Greenies Real Foods (freebie table)
Last modified
16 Aug 2019