Muirhead
Project type
Roads & Pathways
Lee Point Road Upgrade - Update September 2023
City of Darwin has been successful in obtaining Australian Government funding for the upgrade of Lee Point Road, through the Local Roads and Community Infrastructure (LRCI) Programme.
City of Darwin wishes to advise construction for the duplication of a section of Lee Point Road will commence from 3 October 2023.
The upgrade works will include the duplication of Lee Point Road from Asche Street intersection to Coleman Street intersection, creating two lanes in each direction. The duplication will be completed within the existing road reserve and once works are complete, the new road will be closer to properties which back on to the road reserve. 
A section of Lee Point Road will be closed for the duration of the works from 3 October and is scheduled to be reopened on 15 December 2023, weather permitting. 
Detours will be in place for the duration of the works. Traffic control will be in place to assist road users during this time. Please see below map indicating the closed section of Lee Point Road and the alternative routes.
We thank you in advance for your patience and consideration.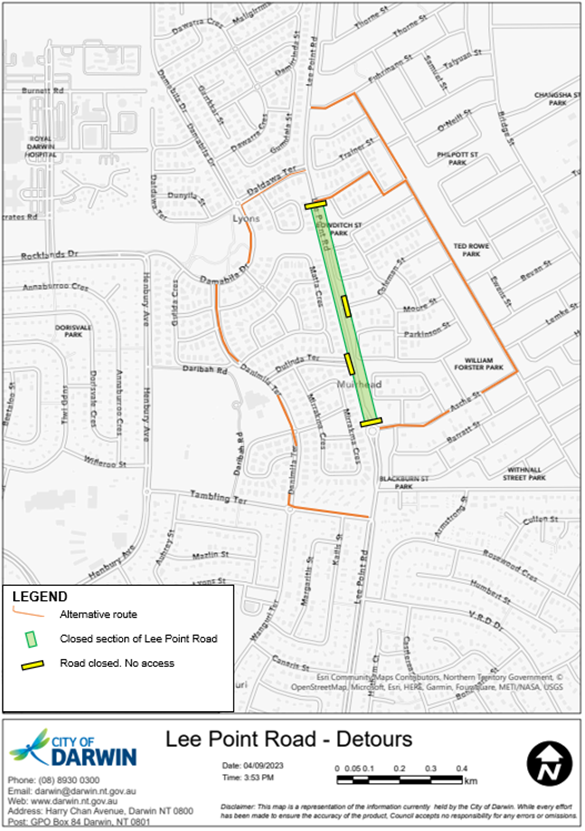 Responsible Officer: Antonios Yiannakos, Senior Coordinator Infrastructure.