The intersection of Smith Street and The Esplanade is now a Shared Zone. Vehicles must slow down to 10 km/hour and give way to pedestrians.
What is a Shared Zone?
A shared zone is an area where the street environment has been modified to be used by both pedestrians and vehicles at the same time. The road surface and environment are changed (i.e. different colours and textures) so that drivers are made aware they are entering an area that is clearly different. Vehicles give way to pedestrians in shared zones at all times.
Some of the advantages of shared zones are:
Increase in safety of pedestrians 
Reduction in speed environment
Provide amenity without affecting access
Alert drivers that they are entering a different driving environment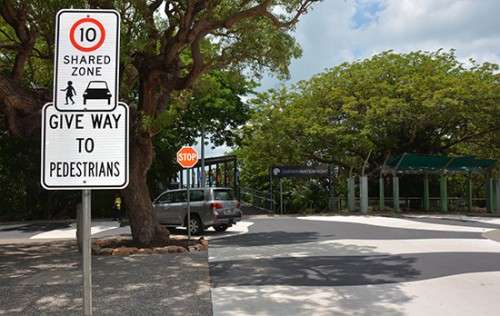 What are the rules at a Shared Zone?
In a Shared Zone vehicles (cars, buses, bikes) must slow down to a maximum speed of 10km/hour. Vehicles must give way to pedestrians – stopping if necessary. Australian Road Rules Reg. 24 Speed limit in a shared zone and Reg 83 Give Way to Pedestrians in a shared zone apply.
The intersection does not need to be clear of pedestrians for a vehicle to slowly enter. A vehicle can only move through the intersection when safe to do so and at a maximum speed of 10 kms/hour.
If necessary a vehicle may need to stop at or on the shared zone to give way to pedestrians.
Normal road rules apply to turning left/right at the shared zone.
Pedestrians need to be aware that this is a Shared Zone and remain alert.
Please follow all road signs.